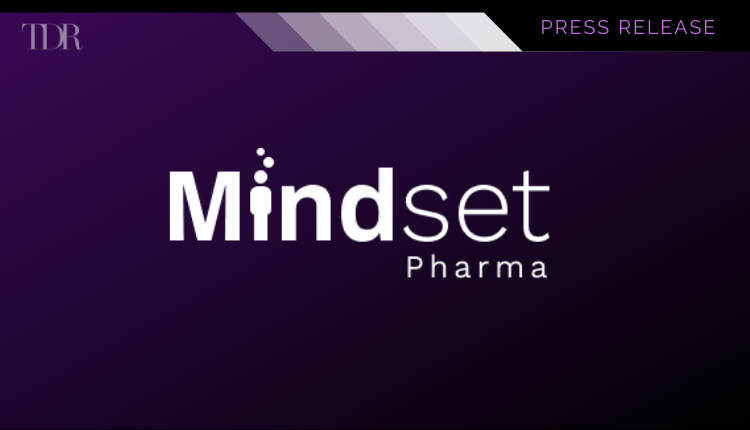 Mindset Pharma Strengthens IP Portfolio with Another New Provisional Patent Application Covering its Next-Generation DMT and 5-MeO-DMT Drug Candidate Compounds
 Mindset Pharma Inc. (CNSX: MSET)(OTCMKTS: MSSTF), a drug discovery and development company focused on creating optimized and patentable next-generation psychedelic medicines to treat neurological and psychiatric disorders with unmet medical needs, announced today the filing of a new provisional patent application that covers new chemical entities (NCEs) that expand the Company's next-generation DMT and 5-MeO-DMT, or 'Family 4', platform, currently under development.
This new patent application exemplifies the Mindset corporate strategy to broaden the therapeutic psychedelic toolbox for patients with mental health disorders who are waiting for transformative medicines and covers novel chemical space while maintaining the functionality of traditional psychedelics.
As we get more human clinical data from first generation psychedelic drugs, we will unravel how different patients respond to different psychedelic therapies. Our expectation is that different patients will respond to different treatments and paradigms. In an effort to build a toolbox that helps the most patients, Mindset continues to build out its patent portfolio. The Mindset 'Family 4' compounds have shown promise in efficacy and safety at a range of doses compared to first-generation DMT and 5-MeO-DMT compounds based on rodent pre-clinical models. Our strong IP position on this family enhances their commercial viability. We are working hard to bring these innovative mental health solutions to the clinic as fast as possible to waiting patients with our collaborators at the McQuade Center for Strategic Research and Development (MSRD).

James Lanthier, CEO of Mindset
Mindset has a broad IP footprint in the psychedelic space with novel chemical entities in development that mimic the functionality of first-generation psychedelic medicines and have optimized pharmacological and safety profiles to address diverse in-clinic needs. The Company uses a differentiated battery of highly specialized in-vitro and in-vivo tests on its patent-pending novel compounds to select the optimal psychedelic drug candidates for progressing towards human clinical trials.
To view the original press release in its entirety click here