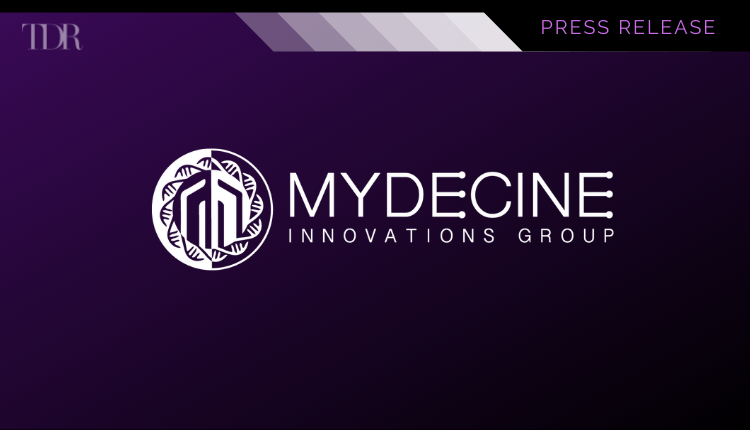 Mydecine Reports Successful Synthesis of Novel Tryptamine Improving the Pharmaceutical Properties of Psilocin
Further strengthens the Company's drug development pipeline of tryptamines by introducing novel psilocin analogues containing enhancements in safety and efficacy tailored for medical use
Mydecine Innovations Group (NEO: MYCO)(OTCMKTS: MYCOF), a biotechnology and digital technology company aiming to transform the treatment of mental health and addiction disorders, today announced that it has successfully synthesized a novel psilocin analogue with improved pharmaceutical properties to further expand its library of patent-pending tryptamines.
The synthesis of this novel psilocin analogue, a tryptamine, is the newest compound to be added to Mydecine's growing library of patent-pending compounds. The inclusion of this compound supports and builds upon Mydecine's strategy to improve the safety and efficacy of its drug development candidates for use in therapy and medical practice. With the addition of this compound, the Company has further demonstrated its ability to achieve proven principles of drug chemistry, improved delivery, time course of action and compound stability.
Our ability to rapidly uncover safer and more efficacious novel compounds, such as this psilocin analogue, is a true testament to the value and success of our AI-driven drug discovery program, bringing us closer to introducing the next-generation of psychedelic-based therapeutics to the market. Utilizing this advanced technology, we have effectively produced an extensive base of preclinical, in vitro data that supports and expands our named drug pipeline. As we progress forward, we see great value from this development as we can now leverage the achieved receptor binding data for serotonin receptor (5-HT2A) and expand our drug pipeline focusing on the agonistic activity of psilocin and other tryptamines at different ratios on serotonin receptors.

Rob Roscow, Chief Scientific Officer of Mydecine
Mydecine's AI-driven drug discovery program is part of a joint research venture between the Company and Applied Pharmaceutical Innovation (API) at the University of Alberta. Since partnering with API in February 2021 and integrating its advanced AI technology, Mydecine has accelerated its natural product research and novel drug design, allowing them to scale faster than would be achievable with traditional research methods.
Further commenting on the strengthened drug development pipeline, Dr. Khaled Barakat, Principal Investigator at API and University of Alberta Associate Professor, added, "Our AI technologies construct billions of new drug candidates and filter them for their ability to modulate the activity of the psychedelic-related targets. These AI models also predict the interactions and affinity of each drug candidate to the level of a single atom. By considering the unique structural and dynamical fingerprint of each target, our AI-drug discovery program paves the road towards designing selective modulators, hence, reducing any potential side effects that may emerge in the future."
To view the original press release in its entirety click here