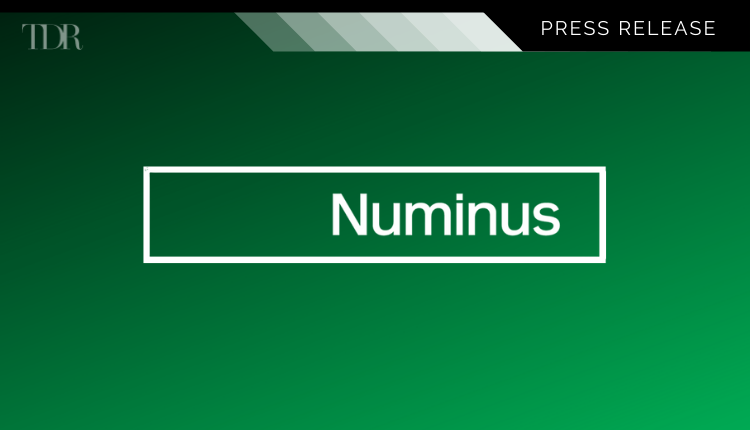 Numinus Wellness Announces Key Leadership Hires to Support Rapid Growth and Innovation
Experienced executives fill senior roles in business development, M&A, clinic operations and design, and corporate communications
Numinus Wellness Inc.(CVE:NUMI), a mental health care company advancing innovative treatments and safe, evidence-based psychedelic-assisted therapies, today announced the appointments of five experienced leaders to support strategic growth initiatives across the Company's three divisions – Numinus Health, Numinus R&D and Numinus Bioscience.
The new hires fill key roles in innovation, communications, business development, mergers and acquisitions, market research and clinic operations. They will support the Company's goals to expand its clinic network internationally, develop and deliver safe and effective psychedelic-assisted psychotherapies, and enhance laboratory capabilities.
At Numinus, our rapidly growing team of proven and experienced medical, business and clinical leaders are building the future of mental health care, Today's new hires are collaborative leaders who have the expertise and ambition to effectively scale our Company while supporting our vision to help people to heal and be well.

Payton Nyquvest, President, CEO and Chair at Numinus
The Numinus team additions include:
Wajahat Ali, Director of Mergers and Acquisitions, is an expert in data-driven corporate finance with extensive experience in private equity, valuations, financial modeling, planning, analysis and restructuring. As director of corporate development, he spearheaded Lifemark Health Group's acquisition strategies and managed the transaction process from offer to integration.
Jason Lapensee, Vice President of National Clinic Operations, is an accomplished leader in the healthcare industry. Most recently serving as Director of Operations at Dawson Dental Centres, he played a key role in developing the operational framework to scale the business from 12 to 35 practices over seven years.
Ian Noble, Chief Communications Officer, is a communications and media executive with deep experience in capital markets, issues management, brand, and integrated awareness and advocacy campaigns. He recently served as VP, Media and Financial Communications, Edelman Vancouver.
Raseel Sehmi, Vice President of Business Development & Strategic Partnerships, offers more than 15 years of international and cross-sector leadership experience, most recently as Director, Global Partnerships & Business Development with ATB Ventures. She has a track record of enabling digital innovation across Canada, and helping pioneering companies accelerate business growth, innovation and social impact.
Pam Sethi, Vice President of Experience Design & Innovation, is an award-winning leader in mental health innovation. She has extensive healthcare and innovation design experience in the public and private sectors, nationally and globally, and most recently served as Chief Innovation Officer at the Institute for Advancement in Mental Health.
Over the past few months, Numinus has also added employees in sales, marketing, people and culture, market research and clinic operations, and promoted clinical leadership from within. The Company continues to grow and add staff, and currently has more than 25 open positions.
Numinus engages market maker
Numinus has retained the services of Generation IACP Inc. ("GIACP") to provide market-making services to the Company. GIACP has agreed to comply with all applicable securities laws and the policies of the TSX Venture Exchange in providing such services to the Company. GIACP will receive a monthly fee of CDN$7,500 plus applicable taxes. The agreement between the Company and GIACP dated April 26, 2021 (the "Agreement") is for an initial term of six months and shall be automatically renewed for subsequent six month periods (collectively, the "Term") unless the Company provides written notice of termination to GIACP at least 30 days prior to the end of the Term or GIACP provides a written notice of termination to the Company. Commencing on the first anniversary of the Agreement, the fee payable to GIACP will automatically increase annually by 3.0%. No stock options or other compensation are being granted in connection with the engagement.   
GIACP is arm's length to the Company. GIACP's market making activity will be primarily to correct temporary imbalances in the supply and demand of the common shares in the capital of the Company (the "Shares"). GIACP will be responsible for the costs it incurs in buying and selling the Shares, and no third party will be providing funds or securities for market making activities.
To view the press release in its entirety click here