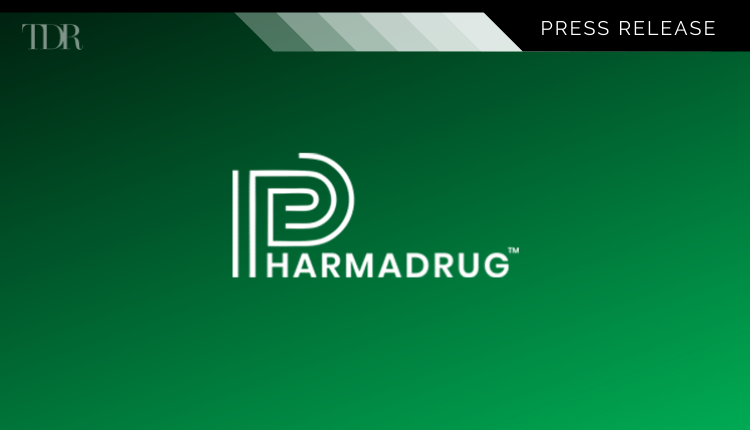 PharmaDrug Advances Product and Clinical Development of Cepharanthine to Treat Rare Cancers and Infectious Diseases
PharmaDrug Inc.(CSNX: BUZZ) (OTCMKTS: LMLLF), a specialty pharmaceutical company focused on the research, development and commercialization of controlled-substances and natural medicines such as psychedelics, cannabis and naturally-derived approved drugs, is pleased to announce that the Company has entered into an agreement with Southwest Research Institute® ("SwRI®"), to initiate non-clinical and clinical manufacturing of Cepharanthine for the Company's rare cancer and infectious diseases programs.
In connection with PharmaDrug's recent acquisition of Sairiyo Therapeutics Inc., the Company has secured an exclusive license from SwRI to develop and commercialize a novel oral formulation of Cepharanthine for all fields of use as well as exclusive rights to U.S. Patent: 10,576,077, titled "Pharmaceutical Salt forms of Cepharanthine and Tetrandrine". Formalization of the current relationship will allow PharmaDrug to expedite development timelines by leveraging SwRI's existing Cepharanthine preclinical data sets and considerable manufacturing know-how.
Cepharanthine is a natural product and an approved drug used for more than 70 years in Japan to successfully treat a variety of acute and chronic diseases. In clinical research, Cepharanthine has been shown to exhibit multiple pharmacological properties including anti-oxidative, anti-inflammatory, immuno-regulatory, anti-cancer, anti-viral and anti-parasitic properties1. However, historically Cepharanthine's low oral bioavailability has represented a major obstacle to realizing its full clinical potential.
The Company is focused on advancing the clinical development of an improved oral formulation of Cepharanthine to treat rare cancers and infectious diseases. Compared to generic Cepharanthine, PharmaDrug's novel formulation has been shown in rodent and non-rodent models to possess markedly superior bioavailability (more easily absorbed). These findings support the development of an orally administered formulation, and in so doing, removes the undesirable requirement for frequent intravenous dosing.
Cepharanthine and Cancer
The antineoplastic properties of Cepharanthine are widely described in peer reviewed literature1,2. Based on compelling preclinical data in esophageal cancer and a streamlined path to approval which comes by way of a recently granted FDA Orphan Drug Designation, the Company continues its plans to pursue Cepharanthine for this indication. In parallel, the Company will initiate high throughput studies to screen a large panel of additional cancers with the aim of identifying additional types of cancer sensitive to the effects of Cepharanthine-alone (monotherapy), or when combined with first and second-line chemotherapy drugs. It is expected that these studies will provide the mechanistic understanding to rationally define a clinical lead program in oncology while also affording the opportunity to secure additional intellectual property around novel findings.
Cepharanthine and COVID-19
Recently, to rapidly identify drug candidates and provide patients with 'off the shelf' treatments for COVID-19, two independent research groups screened approximately 3,000 already approved agents in differing cell culture models of SARS-CoV-2 infection3,4 and have recently published the results. In both cases, Cepharanthine was identified as the most promising lead; showing greater potency at inhibiting infection than existing clinical development candidates remdesivir and chloroquine3. Moreover, Cepharanthine was also found to block viral cell entry of lab-attenuated SARS-CoV and the virus that causes Middle East respiratory syndrome (MERS)4. The anti-viral mechanism of action for Cepharanthine is mediated primarily through direct binding to the virus spike protein; the presence of which is required for viral entry into the cell. The authors note that while interesting, the poor oral bioavailability of generic Cepharanthine would necessitate intravenous administration and would limit patient access3. The Company intends to capitalize on these findings by evaluating the benefit of their novel oral formulation of Cepharanthine in an animal model of SARS-CoV-2 infection. As a potential oral antiviral therapeutic agent to treat mild-moderate COVID-19, the Company will proceed to initiate discussions with health regulators, such as the FDA and Health Canada, to determine the appropriate next steps to advance to human clinical studies that would position Cepharanthine as a potential first-in-class therapeutic against coronaviruses and future pandemics.
Daniel Cohen, CEO of PharmaDrug commented, "We are extremely excited about Cepharanthine and its immense potential. We are working diligently to advance the drug for Esophageal cancer while simultaneously assessing its potential in other rare cancers. We are also determining our mode of action relating to the drug's apparent potential in treating COVID-19."
The Company would like to make it clear that is not making any express or implied claims that its product (Cepharanthine) has the ability to treat, eliminate or cure COVID-19 (SARS-2 Coronavirus) and/or other infectious diseases at this time.
To view the original press release in its entirety click here