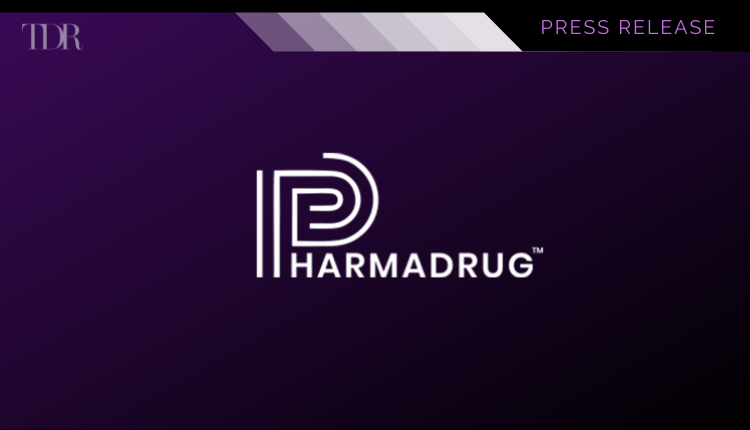 PharmaDrug Advances Psychedelics Program with Analogue DMT Formulations to Treat Eye Diseases
PharmaDrug narrows list of candidate tryptamine molecules for the treatment of primary open angle glaucoma (PAOG)
Terasaki Institute receives PharmaDrug's two candidate DMT analogue molecules
Terasaki Institute, initiates supportive IND-enabling mechanism of action studies to evaluate potency and kinetics of PharmaDrug's DMT analogues
PharmaDrug Inc.(CNSX: PHRX) (OTCMKTS: LMLLF), a specialty pharmaceutical company focused on the research, development and commercialization of controlled-substances and natural medicines such as psychedelics, cannabis and naturally-derived approved drugs, is pleased to announce that the Terasaki Institute for Biomedical Innovation (TIBI) has received and will immediately commence  in vitro characterization studies on PharmaDrug's short-list of DMT analogue molecules, which will support IND-enabling studies for FDA review. PharmaDrug has commissioned TIBI, under a research agreement, to develop a novel ocular drug delivery platform that aims to deliver psychedelic and tryptamine-based pharmaceuticals, related to N, N-dimethyltryptamine ("DMT"), for eye diseases. 
We are extremely excited to finalize the first stage of the program in devising an initial list and selecting a final set of two candidate DMT analogue molecules. Initial in vitro efficacy studies will commence immediately. The next few months will be vital in characterizing relative drug potency and selecting a single lead candidate to take forward for further development. The following phase will focus on IND enabling efficacy studies using a well accepted animal model of POAG.

Daniel Cohen, CEO of PharmaDrug
Based on considerations related to physiochemical properties, resistance to metabolic breakdown and anticipated downstream formulation requirements, the Company has elected to specifically focus its efforts on comparing the potency of two candidate tryptamines, which were narrowed from an initial list of six. Studies underway at TIBI will take place in three phases: 1) in vitro, head-to-head evaluation of potency in cell-based models of glaucoma, 2) evaluation of efficacy (ability to lower intraocular pressure "IOP") when applied as a topical eyedrop in animal models of glaucoma, and 3) development and testing of a medical device capable of delivering sustained, local, sub-psychotropic levels of the development candidate to patients afflicted with glaucoma. The Company expects to provide an update on initial research results late November.
Glaucoma is a disorder of the optic nerve that results in irreversible vision loss and is the second leading cause of blindness in the world, according to the World Health Organization. Glaucoma impacts more than 2.7 million people aged 40 or older in the United States and current treatments are known to have poor rates of compliance of up to 80% of patients. The global market for glaucoma was estimated by Market Scope at $4.8 billion in 2019 with the U.S. market representing $1.9 billion.
Although the exact etiology of primary open angle glaucoma remains poorly understood, and may be variable across patient subsets, it is generally accepted that the observed increase in intraocular pressure (IOP) correlates with progressive vision loss1. Current treatments for POAG primarily consist of eyedrops that can be grouped into three main categories: prostaglandin analogues, carbonic anhydrous inhibitors, and alpha-2 agonists. While these approaches usually provide partial improvement, they often result in side effects such as redness and stinging and require multiple daily applications; all of which diminish patient compliance. Tryptamines are thought to work in a completely distinct way to lower IOP and as such potentially embody a new class of glaucoma medications that may be used alone, or in combination with already approved medications. The Company's streamlined focus on two highly promising, undisclosed tryptamines as a potential therapeutic solution in treating glaucoma represents a potential paradigm shift.
Modulating the serotonin receptor pathway to improve glaucoma outcomes
Key regions of the eye that regulate fluid dynamics, including maintenance of healthy IOP, are known to be richly decorated with various serotonin receptor family members. Previous research has highlighted the role of serotonin receptor signaling in the regulation of IOP2-5. Tryptamines, often hallucinogenic above certain threshold concentrations, constitute a large collection of molecules that selectively act on multiple different serotonin receptors including 5-HT1A and 5-HT2A. Topical application of several different tryptamines have shown early promise in preclinical models of elevated IOP, however formulation, delivery, the potential for undesirable hallucinogenic side effects, and the controlled substances act of 1970 have all contributed to a lack of development of tryptamines to treat this serious threat to vision.
The Terasaki Institute for Biomedical Innovation is a biotechnology institute which develops medical devices and cutting-edge protocols for a variety of diagnostic, monitoring and treatment applications. Their research platforms include work in biomaterials, cellular and tissue engineering, wearable biosensors and organs-on-a-chip, with specific expertise in novel polymer development.
To view the original press release in its entirety click here