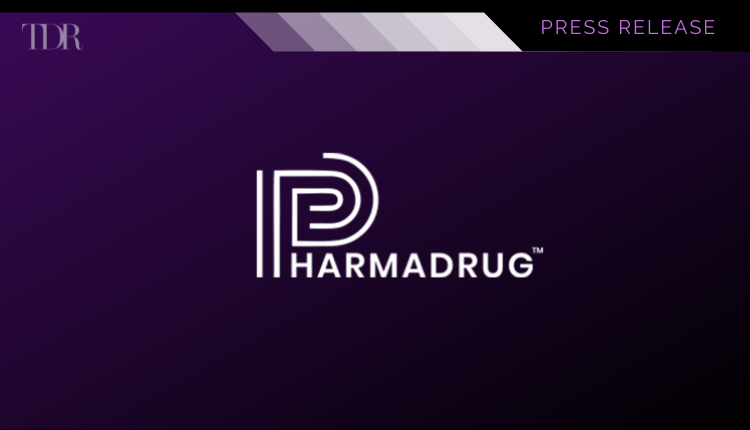 PharmaDrug Announces Positive Research Results for Cepharanthine in the Treatment of Multiple Cancers When Used Alone and in Combination with Chemotherapy
Cepharanthine reproducibly demonstrates potential as a monotherapy in treating multiple cancers with unsatisfactory treatment options
Identified 4 cancer types where cepharanthine provides additive or synergistic inhibitory effects when combined with standard of care (SoC) chemotherapy
Continued focus on esophageal cancer as most highly responsive cancer examined
FDA IND-enabling animal efficacy studies planned for Q4, 2021 examining cepharanthine efficacy alone, and in combination with, SoC chemotherapy to support Phase 1 and 2 clinical studies
PharmaDrug Inc.(CNSX: PHRX) (OTCMKTS: LMLLF), a specialty pharmaceutical company focused on the research, development and commercialization of controlled-substances and natural medicines such as psychedelics, cannabis and naturally-derived approved drugs, is pleased to announce interim positive results for their preclinical cancer study which evaluated the effectiveness of cepharanthine-2HCl alone, or when used in combination with standard of care (SoC) chemotherapy.
Based on the results of a large in vitro cancer screen, the Company had previously identified a short list of 23 cancers that were highly responsive to cepharanthine-2HCl. PharmaDrug was recently provided results for 17 of the 23 cells lines being evaluated by an independent contract research organization and is pleased to announce that greater than 80% of those short-listed cancers once again displayed sensitivity to cepharanthine-2HCl at, or below levels previously determined to be well tolerated in humans. Thus far, esophageal cancer continues to be the most responsive of all cancers tested; with cepharanthine-2HCl displaying at least 2-times greater potency for esophageal cancer than the next most sensitive cancer type. Novel therapeutics in the oncology space are most often assessed as an 'add-on' to SoC agents during clinical development. As such, the current study was designed to evaluate the potential for cepharanthine-2HCl to provide additive or synergistic benefit in such settings. Of the 17 cancer cell lines tested thus far, four instances of drug synergy (cepharanthine+chemotherapy) were revealed.
Daniel Cohen, CEO of PharmaDrug commented, "We are extremely excited about the research results and the potential of cepharanthine to treat various cancers as it allows us to confidently advance our pipeline-in-a-pill strategy for not only infectious diseases, but now also oncology. The current results reinforce the potential of cepharanthine as a monotherapy and now also potentially as a synergistic agent when combined with SoC for the treatment of cancer. As such, the primary focus in our oncology program will continue to be esophageal cancer, for which we have already received FDA orphan drug designation. Encouraged by these recent findings, IND-enabling animal efficacy studies to support future human clinical studies in oncology will commence in November."
That esophageal cancer was shown to be the most highly responsive cancer examined further validates the Company's motivation to expeditiously advance the clinical development of its patented enteric-coated oral formulation of cepharanthine (PD-001) for esophageal cancer and leverage the benefits of its FDA orphan drug designation granted by the FDA earlier this year. Furthermore, the Company intends to use data from the current study, including identification of synergistic drug combinations (cepharanthine+chemo) to file new intellectual property. In anticipation of the positive research results, the Company has recently manufactured a non-GMP lot of PD-001 for planned animal efficacy studies in oncology and will commence production of a cGMP PD-001 lot to support its upcoming IND-enabling studies and potential FDA Phase 1 and Phase 2 clinical studies in 2022.
Rational Use of Cepharanthine to Treat Cancer
PharmaDrug's cancer program is based on cepharanthine's known anti-cancer activities. Cepharanthine has been shown in multiple preclinical efficacy models to inhibit cancer cell proliferation, induce cancer cell apoptosis (death) and restore cancer cell sensitivity to multiple unrelated classes of chemotherapy. Multidrug resistance in particular, continues to represent a considerable clinical challenge. As such, preclinical cancer studies aimed at elucidating the mechanisms that underly chemoresistance; including the critical role drug efflux pumps play in this phenomenon by reducing the intracellular concentration of chemotherapeutic drugs, are of particular interest to PharmaDrug. Cepharanthine has been shown in preclinical studies to potently reverse chemoresistance by downregulating expression of ABCB1, the transcript of which codes for multidrug resistance protein 1, (MDR1, aka P- glycoprotein). Importantly, several prior in vitro and in vivo studies have shown that cepharanthine-mediated reductions in ABCB1 expression restores cancer cell sensitivity to a range of chemotherapeutics including taxanes, vinca alkaloids and platinum-based drugs1–4. Collectively the studies currently being undertaken by the Company aim to identify and provide focus to novel opportunities in oncology by revealing optimal drug combinations and situations where PD-001 can prevent, lessen, or reverse chemoresistance, and/or provide additive or synergistic benefit to existing treatments. PharmaDrug's planned animal efficacy studies, designed around the outcome of the current in vitro study, are most ideally suited to experimentally examine the role of cepharanthine in restoring chemosensitivity.
About PD-001 (Enteric-coated Cepharanthine)
Cepharanthine is a natural product and an approved drug used for more than 70 years in Japan to successfully treat a variety of acute and chronic diseases. In clinical research, Cepharanthine has been shown to exhibit multiple pharmacological properties including anti-oxidative, anti-inflammatory, immuno-regulatory, anti-cancer, anti-viral and anti-parasitic effects5,6. However, historically cepharanthine's low oral bioavailability has represented a major obstacle to realizing its full clinical potential.
The Company is focused on advancing the clinical development of an improved oral formulation of Cepharanthine (PD-001) to treat rare cancers and infectious diseases. Compared to generic Cepharanthine, PD-001 has been shown in rodent and non-rodent models to possess markedly superior bioavailability (more easily absorbed). These findings support the development of an orally administered formulation, and in so doing, removes the undesirable requirement for frequent intravenous dosing.
To view the original press release in its entirety click here