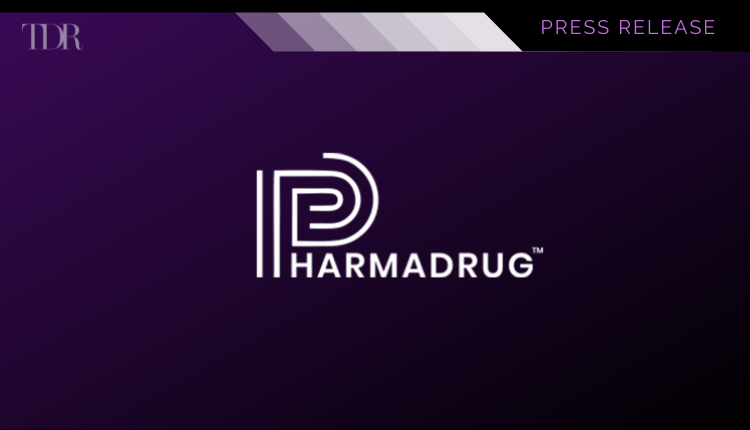 Pharmadrug Announces Successful Completion of Pre-IND Meeting with FDA Regarding Proposed Development of Its Cepharanthine for Treatment of Mild to Moderate COVID-19 Infection
Established alignment with FDA on the path forward for the development of PD-001, a patented enteric-coated formulation of cepharanthine, towards clinical studies for mild-moderate COVID-19 infection
Meeting response validates CMC package for PD-001 as an oral anti-viral to treat COVID-19 infection
PharmaDrug intends to pursue FDA Expedited Programs, such as Breakthrough Designation pending future clinical study data for PD-001
PharmaDrug plans to initiate clinical studies in the second half of 2022
Focusing on building a pipeline in a pill strategy with PD-001 targeting rare diseases and life-threatening conditions
PharmaDrug Inc.(CNSX: PHRX) (OTCMKTS: LMLLF), a specialty pharmaceutical company focused on the research, development and commercialization of controlled-substances and natural medicines such as psychedelics, cannabis and naturally-derived approved drugs, is pleased to announce the successful completion of its Type B pre-IND meeting with the U.S. Food and Drug Administration (FDA), for which a pre-IND briefing package and meeting request letter was submitted in September 2021. The FDA has provided written responses to the Company regarding its clinical development plan for PD-001, a patented enteric-coated formulation of cepharanthine, as a potential oral antiviral pill for COVID-19. PharmaDrug believes the written response provides a path to agreements on IND-enabling studies, the design of a Phase 1/2 clinical study, and the overall clinical development plan to move PD-001 forward as an oral treatment for COVID-19. By extension, the FDA guidance also provides important insights on advancing PD-001 as a potential treatment for oncology indications as part of the Company's ongoing strategy of targeting rare and life-threatening conditions. The Company continues to focus on completing the remaining IND-enabling studies to support future clinical studies in 2022.
As the pandemic has evolved rapidly, so too have the FDA's views and requirements on what pre-clinical and non-clinical data sets will be necessary to support initiation of a first in human clinical trial for COVID-19. In written responses to the questions provided by the Company, the FDA addressed PharmaDrug's questions related to manufacturing, safety/toxicology, pre-clinical efficacy studies, clinical trial design, and rationale necessary to support subsequent human clinical trials. The feedback provides the Company with greater clarity on the current requirements needed to file an IND to initiate a Phase 1/2 clinical trial of PD-001 in patients with COVID-19. Based upon the historical clinical data for generic cepharanthine and the Company's preclinical testing performed on PD-001 thus far, PharmaDrug anticipates filing an IND in the second half of 2022. In addition, PharmaDrug intends to pursue FDA Expedited Programs, such as Breakthrough Designation pending the development of preliminary clinical evidence to support such designation.
PharmaDrug intends to advance its IND-enabling activities for PD-001 as follows based on the written response it recently received from the FDA:
The proposed PD-001 formulation and drug substance specifications are reasonable.
The Chemistry and Manufacturing Control (CMC) module received generally positive feedback for the current stage of development.
Alignment on planned IND-enabling toxicology and primary virology programs established.
Following FDA feedback, the Company plans to continue the development of PD-001 for COVID-19. The Company will be conducting several nonclinical safety, toxicology, virology assessments, as well as scale-up of drug product manufacturing. The currently described work is necessary to bring PD-001 to the clinic for COVID-19 and is highly complementary to the safety/tox/manufacturing efforts already underway for its cepharanthine program in oncology.
The FDA's response to our recent pre-IND submission will allow us to be efficient and systematic about completing the remaining activities necessary to safely transition our cepharanthine program from pre-clinical into full clinical evaluation as a novel, oral antiviral to treat COVID-19. The continued emergence of COVID-19 variants, including the recent Omicron variant, some of which may eventually evolve to evade the protection afforded by existing vaccines, underscores an urgent need to develop an effective and diverse arsenal of orally active antiviral medications.

Dr Van Slyke, Chief Scientific Officer of PharmaDrug
The Company would like to make it clear that is not making any express or implied claims that its product (cepharanthine) has the ability to treat, eliminate or cure COVID-19 (SARS-CoV-2) and/or other infectious diseases at this time.
Cepharanthine For COVID-19
Approved for more than 70 years in Japan, cepharanthine has been used safely and effectively to treat a variety of acute and chronic diseases. To date, several third party validated library screens of approved and investigational drugs have identified cepharanthine as a forerunner candidate molecule in the treatment SARS-CoV-2, the virus that causes COVID-191,2,3. In fact, cepharanthine has now been shown to be highly effective at blocking cell death following exposure to multiple different coronaviruses, including COVID-19, lab-attenuated SARS-CoV (original SARS) and the virus that causes Middle East respiratory syndrome (MERS)1,2,3.In November 2021 an independent research group examined the potential of cepharanthine to limit the cytopathic effects of the South African COVID-19 variant, B.1.3514. It was found that cepharanthine was at least 6-times more active against the South African variant strain than original SARS-CoV-2, and that cepharanthine was the most effective of all the drugs used in the in vitro screen that was perfomed4. Although the recent Omicron variant discovered in South African nations shares several features in common with the previous South African variant, B.1.351, it remains to be determined how well cepharanthine will perform at treating this emerging threat. Despite the promising findings for cepharanthine noted above, translation into clinical application has thus far been hampered by the need for the generic formulation of the drug to be delivered by intravenous due to its intrinsically poor oral bioavailability. As such, it is believed that the Company's novel oral formulation of cepharanthine, PD-001 would be an ideal candidate to evaluate as a potential treatment for mild to moderate COVID-19. By leveraging its exclusive rights to U.S. Patent: 10,576,077, titled "Pharmaceutical Salt forms of Cepharanthine and Tetrandrine", PharmaDrug intends to develop and commercialize PD-001 as an oral antiviral treatment for patients with mild to moderate SARS-CoV-2 infection.
How Cepharanthine May Work to Block Coronavirus Entry
In a recent peer reviewed manuscript cepharanthine was shown to display greater antiviral potency against SARS-CoV-2 than existing clinical development candidates remdesivir, lopinavir, favipiravir, nelfinavir and chloroquine1. Researchers identified a putative binding site on the surface of SARS-CoV-2 spike protein known to facilitate viral docking with the human ACE2 receptor. Consistent with this mechanism of action, application of cepharanthine to cells exposed to SARS-CoV-2 fully blocked viral internalization and subsequent production of viral particles 24 hours post infection1.
About PD-001 (Enteric-coated Cepharanthine)
Cepharanthine is a natural product and an approved drug used for more than 70 years in Japan to successfully treat a variety of acute and chronic diseases. In clinical research, Cepharanthine has been shown to exhibit multiple pharmacological properties including anti-oxidative, anti-inflammatory, immuno-regulatory, anti-cancer, anti-viral and anti-parasitic effects5,6. However, historically cepharanthine's low oral bioavailability has represented a major obstacle to realizing its full clinical potential.
The Company is focused on advancing the clinical development of an improved oral formulation of cepharanthine (PD-001) to treat rare cancers and COVID-19. Compared to generic cepharanthine, PD-001 has been shown in rodent and non-rodent models to possess markedly superior bioavailability (more easily absorbed). These findings support the development of an orally administered formulation, and in so doing, removes the undesirable requirement for frequent intravenous dosing.
To view the original press release in its entirety click here