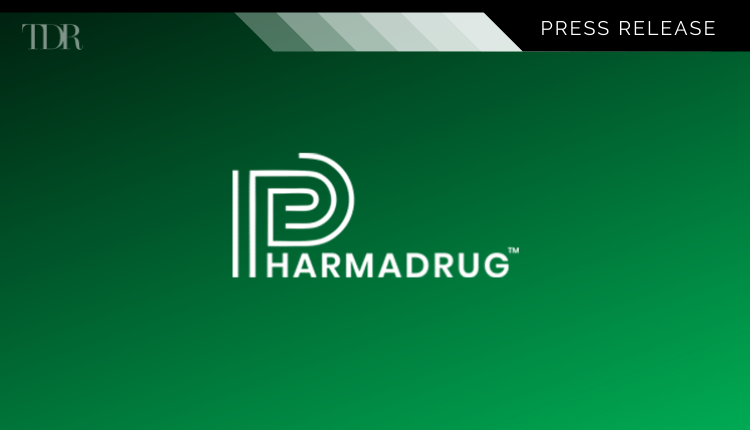 PharmaDrug Initiates Preclinical Study of Cepharanthine to Both Broaden Its Cancer Scope and to Streamline Its Strategy for Esophageal Cancer
PharmaDrug Inc.(CNSX: BUZZ) (OTCMKTS: LMLLF), a specialty pharmaceutical company focused on the research, development and commercialization of controlled-substances and natural medicines such as psychedelics, cannabis and naturally-derived approved drugs, is pleased to announce that it has entered into a service agreement with a respected contract research organization (CRO) with deep expertise in preclinical oncology model development and drug testing, to evaluate the Company's patented enteric-coated formulation of Cepharanthine ("PD-001") in a broad panel of human cancers.
We are focused on advancing the clinical development of our novel Cepharanthine formulation that not only has significant potential for infectious diseases, but also in select rare forms of cancer with high unmet medical needs. Our research and development strategy to identify highly probable uses of PD-001 in select cancer indications will allow us to de-risk and accelerate development of preclinical and clinical studies while building core competencies and scientific data for future partnering opportunities with pharmaceutical companies.

Daniel Cohen, CEO of PharmaDrug
Based on multiple, positive preclinical data sets1,2,3 and a recent decision from the FDA to grant Orphan Drug Designation (ODD) for Cepharanthine in the treatment of esophageal cancer, the Company remains committed to fully exploring this clinical opportunity. However, in parallel, the Company will undertake efforts to confirm and expand on Cepharanthine's noted benefit in previously examined cancers, while also assessing potential benefit across a panel of untested cancer types.
The Company's current study, which will examine the anti-cancer properties of PD-001 in a large panel of solid and liquid cancer cell types, will be conducted under study conditions that will facilitate valid head-to-head comparisons of relative drug potency. A planned follow up study will use data generated from the first study to examine the benefit of PD-001 alone (monotherapy) or when combined with relevant first and second-line chemotherapy drugs. In most cases, adoption of any novel anti-cancer therapeutic occurs as an 'add-on' to an established multidrug standard of care. Development of chemoresistance after repeated and prolonged exposure to chemotherapy remains a significant clinical challenge4. Cepharanthine has been shown in preclinical efficacy models to restore cancer cell sensitivity to multiple unrelated classes of chemotherapy.
Collectively the studies being undertaken by the Company aim to identify and provide focus on novel opportunities in oncology by revealing optimal drug combinations, situations where PD-001 can prevent, lessen, or reverse chemoresistance, and/or provide additive/synergistic benefit to existing treatments. Data collected during these studies will be used to help inform the Company's downstream clinical development efforts while also potentially creating opportunities to secure additional intellectual property around any novel findings.
About PD-001 (Enteric-coated Cepharanthine)
Cepharanthine is a natural product and an approved drug used for more than 70 years in Japan to successfully treat a variety of acute and chronic diseases. In clinical research, Cepharanthine has been shown to exhibit multiple pharmacological properties including anti-oxidative, anti-inflammatory, immuno-regulatory, anti-cancer, anti-viral and anti-parasitic properties5. However, historically Cepharanthine's low oral bioavailability has represented a major obstacle to realizing its full clinical potential.
The Company is focused on advancing the clinical development of an improved oral formulation of Cepharanthine (PD-001) to treat rare cancers and infectious diseases. Compared to generic Cepharanthine, PD-001 has been shown in rodent and non-rodent models to possess markedly superior bioavailability (more easily absorbed). These findings support the development of an orally administered formulation, and in so doing, removes the undesirable requirement for frequent intravenous dosing.
To view the original press release in its entirety click here