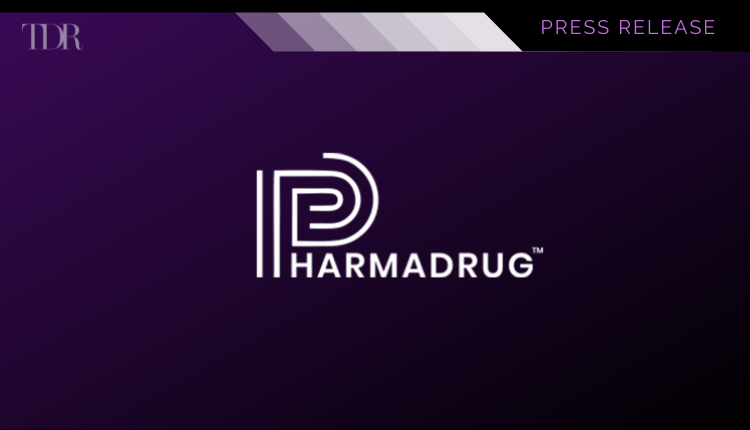 PharmaDrug's Super Smart Launches Slim MycoWeRx Brand of Functional Mushrooms
PharmaDrug Inc.(CNSX: PHRX) (OTCMKTS: LMLLF), a specialty pharmaceutical company focused on the research, development and commercialization of controlled-substances and natural medicines such as psychedelics, cannabis and naturally-derived approved drugs, is pleased to announce that its Super Smart division is launching its own premium blend of functional mushrooms. MycoWe℞ Infinite will initially debut for sale in the United States before also being made available through Super Smart's ecommerce platform in Europe. The first commercial lot of product has already been manufactured and the Company expects to start shipping orders mid-October.
MycoWe℞ Infinite will be positioned as a premium brand in a rapidly growing marketplace that is primarily occupied by high price, low potency functional mushroom products. Based on evolving consumer trends in the health supplements space, the Company understands that health-conscious individuals are often reluctant to take large numbers of pills, several times per day as part of their health regimen. For this reason, the Company's initial product release has been formulated as a once a day complete 6 functional mushroom dose in one pill that does not compromise on the quantity of active ingredients. To accomplish this, high potency concentrates, prepared only from the mushroom fruit body are processed using an optimized hot water and/or hot water/alcohol extraction. Our approach compares favorably to many competing products that contain only mushroom mycelium (roots of the mushroom) which are often contaminated with the grain materials that are artificially grown on. The MycoWe℞ line only uses mushroom fruit bodies cultivated from a mushroom's natural substrate to ensure maximum potency in every capsule.
The focus of the brand will be on product transparency and rigorously vetted research. Each MycoWe℞ package will contain a QR code that will link consumers to the corresponding Certificate of Analysis for their particular product lot as well as peer reviewed scientific literature that supports the product's unique formulation. Information on the product can been seen by scrolling down on the homepage of the revamped U.S. site www.slimwinkel.com.
We are extremely excited to be launching our new line of functional mushrooms. I have personally been a mushroom forager and user for over 20 years. My desire has always been to seek products that are closest to what I can forage for myself in nature. Our ingredients and quantities will always be clearly defined on the label so that consumers can make the best, informed decisions about their health and wellness journey.

Dr. Paul Van Slyke, Chief Scientific Officer of PharmaDrug
Super Smart Update
Super Smart hired a Director of E-commerce in June and began working on an overhaul of the U.S. website in July while refining the Slim Winkel brand and message. In the meantime, the company has been building traffic, developing its social media network, and increasing its followers. The cornerstone of the revamped strategy will focus on the Slim MycoWe℞ brand but will also be augmented with researched and curated bundles from several suppliers to meet the suggested requirements of specific users. The Company has also been engaging influencers and micro influencers to champion both the Slim MycoWe℞ brand and the Slim Winkel website.
PharmaDrug's executive team flew to The Netherlands to visit the current store in Tiel as well as several locations in both Amsterdam and Rotterdam in August. Management was able to visit over 30 stores, including several stores currently for sale. The conclusion was that the retail market is still under tremendous pressure. The cost of purchasing existing stores is prohibitive and the building of greenfield locations in a competitive environment is not economically viable, especially since the market is relatively small and not currently exhibiting any signs of significant growth.
Super Smart will continue with the European online effort and will undertake to overhaul the site and develop a strategy to reflect the distinct market within North America by adapting an e-commerce only model. In formulating this decision, management met with director of e-commerce candidates with direct European branding expertise. Future focus will be on a launch of a Slim psilocybin product for The Netherlands complemented by a functional mushroom offering in all of Europe including the Slim functional products once they are established in the United States.
To view the original press release in its entirety click here