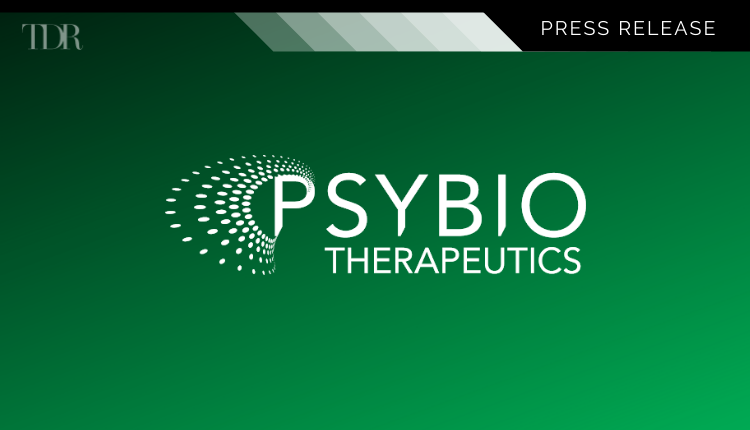 PsyBio and Miami University Broaden Partnership Agreement to Continued Advancement of its Neuropsychiatric Drug Discovery Platform
PsyBio Therapeutics Corp.(CVE: PSYB)(OTCMKTS: PSYBF), a biotechnology company pioneering the next generation of targeted psychoactive medications, announces today that it has amended its master sponsored agreement with Miami University based in Oxford, Ohio (the "Amended Agreement") to extend and expand the research efforts of the laboratory of Dr. J. Andrew Jones in the Department of Chemical, Paper, and Biomedical Engineering (the "Jones Lab"), to include additional research efforts of the laboratory of Dr. Matthew McMurray in the Department of Psychology (the "McMurray Lab"), and to provide an additional US$1.5 million in funding until May 2023 to Miami University to support all such research.
This continued collaboration with Miami University is anticipated to expediate progress towards the filing of an Investigational New Drug ("IND") application with the US Food and Drug Administration ("FDA").
The initial collaboration between PsyBio and Miami University has resulted in the discovery and scaled production of two medically-relevant tryptamine molecules that are naturally present in psychoactive magic mushrooms, psilocybin and norbaeocystin. The compounds have been efficiently synthesized and further studied in our labs and have now moved out of our labs into venerated commercial development facilities. PsyBio believes that it can synthesize these molecules cheaper, faster, and greener than any other published method, and is unaware of any other biotechnology company synergistically developing these natural alkaloids with the intent of commercial medical use. We have filed intellectual property on the preliminary synergistic properties of these natural alkaloids, and PsyBio is developing a portfolio of similar and various intermediates and combinations thereof in multiple plants, fungi and non-natural substrates, with the endeavor for the study of and testing for improved human clinical treatment.

Evan M. Levine, CEO of PsyBio
"We are extraordinarily fortunate to have the resources and relationships at Miami University to attract institutional investment capital that is interested in advancing a paradigm shift in the potential treatment of mental health," stated Dr. J. Andrew Jones, Chairman of PsyBio's Scientific Advisory Board ("SAB") and Assistant Professor at Miami University. "Our work with the McMurray Lab and PsyBio is expected to enable the Jones Lab's discoveries to advance from discovery to in vivo validation and industrial application, ultimately with a goal of shortening the time between potential discovery and treatment of patients, once all necessary approvals have been obtained and safety and efficacy proven."
"I am extraordinarily excited to bring my unique skills and resources to this collaboration between PsyBio and Miami University," stated Dr. Matthew McMurray, Member of PsyBio's SAB and Assistant Professor of Psychology at Miami University. "I bring my expertise in cognitive neuroscience, neuropsychopharmacology, and biopsychology, along with my extensive experience in animal models of mental health disorders to incorporate broad animal studies in combination with Dr. Jones' biosynthetic production platform. Together, I believe we are leading a paradigm shift in drug development and potential neuropsychiatric treatment."
Pursuant to the terms of the initial master sponsored agreement with Miami University dated May 14, 2020, PsyBio acquired the global, exclusive, and perpetual right to license a platform technology developed in the Jones Lab that enables the rapid generation of its formulation for its lead compound psilocybin, biosynthetic psilocybin, and other targeted tryptamines through a biosynthetic process using genetically modified bacteria. Under the Amended Agreement, the Jones Lab plans to develop elite microbes capable of efficient production of a range of medically-relevant alkaloids. The compounds of interest originate from a variety of plants and fungi, including magic mushrooms. Additionally, Dr. J. Andrew Jones and his research team are expanding efforts to study and produce compounds that do not exist in nature, but based on their ongoing studies, have demonstrated early indications of unique therapeutic characteristics predicted by structural similarity to known bioactive compounds.
The McMurray Lab plans to conduct a myriad of IND-enabling, animal behavioral studies to verify the antidepressant, anxiolytic, anti-addictive effects of the alkaloids produced in the Jones Lab using both adult and adolescent animal models of disease. These studies will be performed at Miami University and will screen leading drug candidates in preparation for human trials. Preliminary studies have already detected evidence of an unexpected synergy between psilocybin and norbaeocystin, and the Company has advanced both drug candidates to commercial process development.
To read the original press release in its entirety, click here.