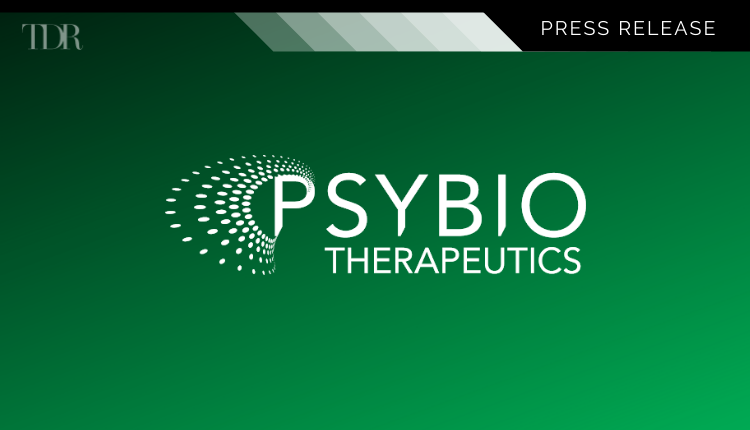 PsyBio Therapeutics Appoints Pharmaceutical Veteran Bob Oliver to its Board of Directors
PsyBio Therapeutics Corp.(CVE: PSYB)(OTCMKTS: PSYBF) , a biotechnology company pioneering the next generation of targeted psychoactive medications, is pleased to announce the appointment of Mr. Bob Oliver to the Company's board of directors (the "Board"), effective immediately. The Company is developing a platform technology that produces tryptamines, such as psilocybin and its intermediates, for intended therapeutic use. Mr. Oliver has extensive experience in launching pharmaceutical products into global markets offering  invaluable depth to our team.
PsyBio is at the forefront of clinical innovation and research for the potential treatment of mental illness and neurological disorders. As we progress our robust pipeline through process and clinical development, it is imperative that we continue to add talent and expertise to our management team and Board. Bob brings decades of leadership and extensive expertise having held senior level positions at Wyeth and Johnson & Johnson and President and Chief Executive Officer of Otsuka America Pharmaceutical. Bob has been recently added to the Power List 100 of the World's Most Inspiring African Americans alongside John Legend, Beyoncé, Michael Jordan, Neil deGrasse Tyson and The Obama family. We are extremely fortunate to have Bob join our team and are confident that he will add tremendous value in helping PsyBio research the safety and efficacy of potential treatment options for those who unfortunately suffer from mental health challenges globally.

Evan Levine, Chief Executive Officer of PsyBio
"I am very pleased to join the Board of such a distinguished organization doing important research of targeted psychoactive medications," commented Mr. Oliver. "I look forward to leveraging my extensive experience in guiding therapies through clinic protocols to commercialization and am excited to participate in PsyBio's future growth and development of its pipeline. PsyBio's vision is completely aligned with my mission, values and aspirations for offering better potential treatment options for patients with unmet medical needs."
As President and Chief Executive Officer of Otsuka America Pharmaceutical, Mr. Oliver delivered a US$6 billion P&L while managing a diverse and growing product portfolio across the cardio-renal, neuroscience, oncology, and medical device markets. Having compiled more than 25 years of experience in the pharmaceutical industry, across commercial and general management roles for premium companies within industry he was instrumental in building ABILIFY®, Abilify Maintena®, SAMSCA®, SPRYCEL® and Rexulti®. As Vice President and Global Business Manager for Oncology at Wyeth, he led the global launch of Torisel for RCC and later assumed responsibility for U.S. Commercial Operations. Bob began his career in pharmaceuticals with Johnson & Johnson where he held positions of increasing responsibility. During his tenure at Otsuka, Bob held senior level executive roles including President & COO for North America and ultimately Bob was in the role of President & CEO of Otsuka America Pharmaceuticals, Inc. He previously held the position of Board Chairman for Otsuka Canada. More recently Bob served as CEO for V ClinBio an early stage Biopharmaceutical Technology Platform. Bob is currently Executive Advisor and a member of the Board of Directors for Hyalo Technologies; as well as Executive Advisor for Cellix Bio Sciences, Inc., which recently merged with V ClinBio; additionally, he is a Board Member of Neurotez a Biotech start up focused on Alzheimer's Disease. Previously Bob served on the board of Immunomedics, a publicly traded company focused on Oncology. Bob holds a BA from Rutgers University and an MBA from the Haub School of Business at Saint Joseph's University.
In connection with the appointment of Mr. Oliver as a director of the Company, the Board has approved the granting of options to Mr. Oliver to purchase up to five hundred thousand subordinate voting shares in the capital of the Company, pursuant to the Company's stock option plan. The options are exercisable at a price of $0.35 per share for a period of three years from the date of grant. Mr. Oliver replaces Gerald Goldberg, who has resigned from the Board.
To read the original press release in its entirety click here.