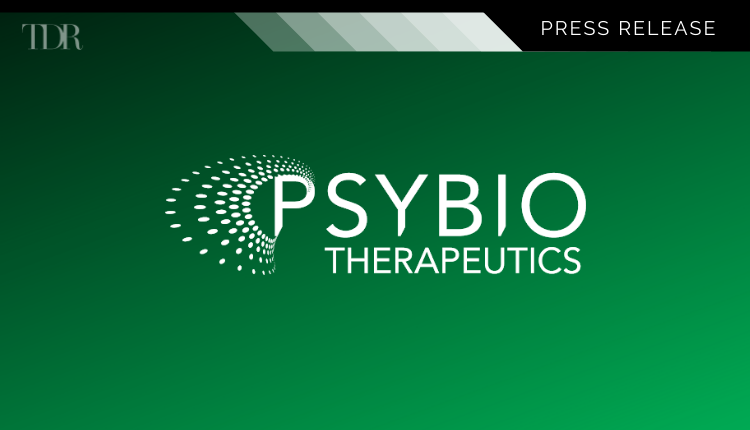 PsyBio Therapeutics Initiates Pilot Scale Development of Proprietary Biosynthetic Psilocybin with Global Contract Research, Development and Manufacturing Organization
PsyBio Therapeutics Corp. (CVE: PSYB), a leader in the field of psychedelic research and drug development, has initiated pilot scale-up of its proprietary biosynthetic formulation of psilocybin in collaboration with Albany Molecular Research Inc. ("AMRI"), a leading global provider of advanced contract research, development and manufacturing solutions, with expertise in synthetic biology and fermentation development. The Company has completed Phase I of this process, including technology transfer activities, preparation of strain banks, and the adoption of analytical methods and looks forward to communicating additional progress.

These amendments are not just exciting for Numinus and our researchers, but also for our partners, clients and potentially academic collaborators in the psychedelics space. The amendments dramatically expand the work we can do with a far larger group of psychedelics, and open up market-leading and revenue-generating opportunities for Numinus in R&D, psychedelic formulations, research and analysis. Moreover, we can now develop and implement standardized psychedelics testing on top of our existing high throughput capabilities, and formulate and produce psychedelic compounds in finished packaged products for clinical trials, clinical use under exemption, and export.

Sharan Sidhu, Science Officer and General Manager for Numinus Bioscience.



"Our proprietary platform technology allows our Company to generate high concentrations of psilocybin without needing to incorporate the actual fungus or rely on toxic and costly chemical synthesis reagents. Our methods to produce psilocybin and other tryptamines are expected to result in cheaper, faster and cleaner products than any other published methods."
Pharmaceutical grade psilocybin is currently being produced for clinical trials and research activities using a chemical synthesis process. This method uses reagents such as heavy metal catalysts and toxic solvents, creates multiple unstable reaction intermediates, and undergoes numerous purification steps resulting in low carbon yield. This long reaction scheme takes approximately 5 to 15 days. The published literature on this process also states that the active pharmaceutical ingredient costs approximately US$2,000 per gram and attempting to purchase research grade psilocybin garners prices between approximately US$7,000 to US$10,000 per gram.(1) PsyBio has developed a biosynthetic process using readily available materials, which undergoes a two to four day, one pot autocatalytic process. The result is a product with high temperature stability and the pre-purified material currently costs approximately US$10 per gram to produce.
J. Andrew Jones, Ph.D., Chairman of the Company's Scientific Advisory Board, added, "I'm excited to see one of my lab's discoveries moving towards commercialization. Our talented team's unwavering commitment has continued to energize us to reach this significant milestone on our way to developing a transformative potential therapy for millions of patients worldwide."
The underlying technology was developed at Miami University by a team led by Dr. Jones, a faculty member in the Department of Chemical, Paper, and Biomedical Engineering. This technology is expected to enable the sustainable production of promising tryptamine drug candidates by fermentation of genetically engineered bacteria and is exclusively licensed to PsyBio on a worldwide, exclusive, perpetual basis, subject to the terms of the licensing and master sponsored research agreement dated May 14, 2020 between the Company and Miami University.
To view the original press release click here