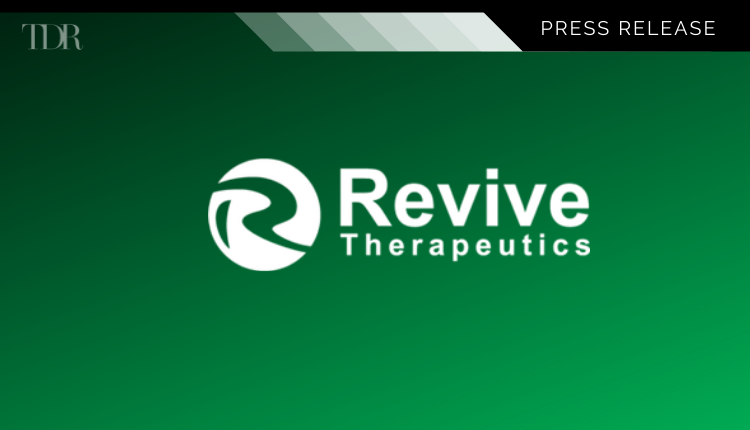 Revive Therapeutics Enters Into Research Agreement with UCSF For Bucillamine As Potential Treatment For Severe COVID-19
Revive Therapeutics Ltd. (CNSX: RVV, OTCMKTS: RVVTF), a specialty life sciences company focused on the research and development of therapeutics for medical needs and rare disorders, is pleased to announce that it has entered into a sponsored research agreement with University of California, San Francisco ("UCSF") to explore the utility of Bucillamine as a treatment for severe COVID-19. The agreement will support research in the laboratory of Dr. John Fahy to test the efficacy of Bucillamine in pre-clinical models of COVID-19 and to design protocols that test the utility of Bucillamine in human trials.
We are excited to expand the use of Bucillamine as a potential treatment for severe COVID-19 with our research agreement with UCSF and Dr. Fahy as Principal Investigator. Revive is focused on proving Bucillamine's clinical utility for all forms of COVID-19. Evaluating Bucillamine for severe COVID-19 along with our dedication in completing our ongoing Phase 3 clinical study for mild-to-moderate COVID-19, which has grown from 14 clinical sites to now 26 participating sites in 10 U.S. states, will position Bucillamine as a potential oral treatment option for mild-moderate to severe COVID-19.

Michael Frank, CEO of Revive
Dr. Fahy is the senior author of a recent study, titled "Thiol-based drugs decrease binding of SARS-CoV-2 spike protein to its receptor and inhibit SARS-CoV-2 cell entry" showing that thiol-based drugs, like Bucillamine, decrease the binding of SARS-CoV-2 spike protein to its receptor, decrease the entry efficiency of SARS-CoV-2 spike pseudotyped virus, and inhibit SARS-CoV-2 live virus infection. These findings uncovered a vulnerability of SARS-CoV-2 to thiol-based drugs and provide rationale to test thiol-based drugs such as Bucillamine as novel treatments for COVID-19.
Dr. John Fahy, MD, MSc is a Professor of Medicine in the Division of Pulmonary and Critical Care Medicine and the Department of Medicine at the University of California, San Francisco and is a director of UCSF's severe asthma clinic. He also directs the UCSF Airway Clinical Research Center. His research receives funding from the National Institutes of Health for studies of lung disease and for studies of thiol-based drugs to treat mucus pathology in the lung. Dr. Fahy earned his medical degree at the University College Dublin. After internal medicine training in Dublin, he completed fellowship training in pulmonary and critical care medicine at UCSF. He is the Michael S. Stulbarg Endowed Chair in Pulmonary Medicine.
The Company is not making any express or implied claims that its product has the ability to eliminate or cure COVID-19 (SARS-2 Coronavirus) at this time.
To view the original press release in its entirety click here