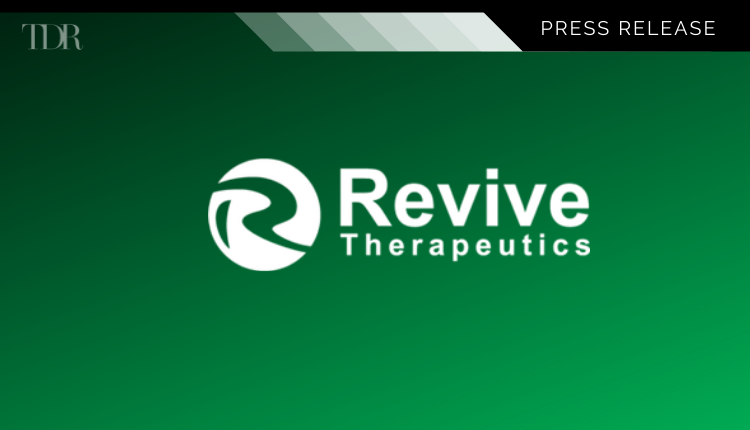 Revive Therapeutics Files for FDA Orphan Drug Designation for Psilocybin in TBI
Revive Therapeutics Ltd. (CNSX: RVV, OTCMKTS: RVVTF), a specialty life sciences company focused on the research and development of therapeutics for medical needs and rare disorders, is pleased to announce it has filed an application with the U.S. Food and Drug Administration ("FDA") to receive Orphan Drug Designation ("ODD") for Psilocybin to treat moderate to severe traumatic brain injury ("TBI").
There are no FDA approved treatments for cognitive impairments due to TBI. Moderate to severe TBI is a subset of TBI and can lead to a physical, cognitive, emotional, and behavioral changes over the course of a person's life. These changes may affect a person's ability to function in their everyday life. Approximately 50% of people with severe TBI will experience further decline in their daily lives or die within 9 years of their injury. People with TBI are fifty times more likely to die from seizures and six times more likely to die from pneumonia.[1]

Psilocybin offers a potential solution to manage moderate to severe cases of TBI. Psilocybin has the potential with its neuroreparative effect to improve loss of cognitive function after TBI lessening disability. The clinical effect of psilocybin appears to be related to its attenuation of traumatically-induced glutamate excitotoxicity during the early post-injury period. In preclinical studies conducted at the National Health Research Institutes, which was part of the research program acquired from PharmaTher Holdings Ltd. (CSE: PHRM) (OTCQB: PHRRF), characterized the potential neuroreparative effect of psilocybin compared to being treated with a vehicle (saline) using a TBI mouse model. Adult mice were randomly assigned to 4 groups: (1) control, (2) TBI+vehicle, (3) TBI+low dose psilocybin, and (4) high dose psilocybin. Cognitive function was examined by the Morris water maze test after the injury. It was found that psilocybin, given after injury, improved cognitive function in TBI mice. Also, there were no adverse effects observed with psilocybin.
The FDA orphan drug application for psilocybin to treat moderate to severe TBI is an important milestone for Revive as we focus on building a robust product pipeline focused on novel uses and delivery forms of psilocybin to treat significant unmet medical needs. We are currently seeking to evaluate psilocybin in a clinical trial for moderate to severe TBI and advancing our development of a proprietary oral thin film psilocybin product for the potential treatment of certain neurological disorders, such as brain damage caused by all forms of TBI and stroke, and other related mental health and substance abuse disorders.

Michael Frank, CEO of Revive
The Orphan Drug Act grants special status to a drug or biological product to treat a rare disease or condition upon request of a sponsor. This status is referred to as orphan designation (or sometimes "orphan status"). The FDA grants ODD status to products that treat rare diseases, providing incentives to sponsors developing drugs or biologics. The FDA defines rare diseases as those affecting fewer than 200,000 people in the United States at any given time. ODD would qualify psilocybin for certain benefits and incentives, including seven years of marketing exclusivity if regulatory approval is ultimately received for the designated indication, potential tax credits for certain clinical drug testing costs, activities, eligibility for orphan drug grants, and the waiver of the FDA New Drug Application filing fee of approximately USD $2,400,000.
Source:
To view the original press release in its entirety click here