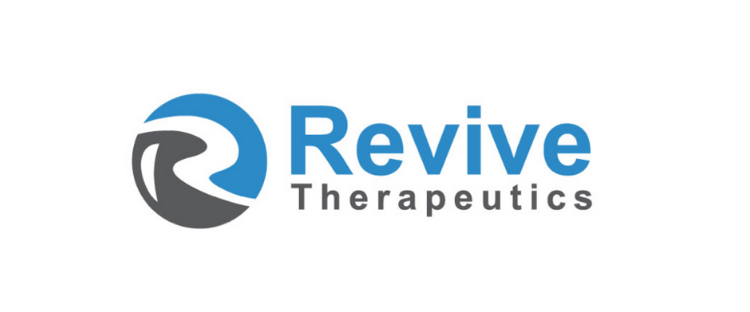 Revive Therapeutics Zeros In On Key Therapeutic Drug Candidate
After a substantial run which saw Revive Therapeutics rise 411.11% in five weeks between March 18-April 23, investors appear to be getting the message. The company with diversified interests in several therapeutic verticals is finally receiving the recognition it deserves. TDR investigates whether additional stock price gains could be on the horizon.
Founded in 2012, Revive Therapeutics is a life sciences company focused on the research, development and commercialization of novel therapies and technologies. Since inception, the company was involved in repurposing mainline drugs for adaptation into adjunct conditions—with depression being the early focus. With thousands of U.S. Food and Drug Administration (FDA) drugs focused on specific ailments—yet potentially effective for alternate conditions—Revive hoped to capitalize on the oversight and understudy of others.
It didn't take long for Revive to find its target.
In 2015, the company began developing an agent for the treatment of gout called Bucillamine. Through the development of formal clinical trials, momentum surrounding compound REV-002 (Bucillamine)—an oral anti-inflammatory drug legally prescribed in South Korea and Japan for the treatment of rheumatoid arthritis—was gaining traction. So much so that December 1, 2015, Revive announced positive final primary endpoint results from a Phase 2a study from (74 subjects), paving the way for more advanced Phase 2b studies.
While Revive never followed through on its original ambitions due to budget limitations and shifting priorities, the legacy of that important work lives on.
The company recently re-targeted Bucillamine's therapeutic purpose away from gout and towards the pressing issue of the day: lung inflammation as a result of infectious diseases like COVID-19. Revive is working on a regulatory package and clinical study plan for Bucillamine where it will submit an Investigational New Drug (IND) application as requested by the FDA for a proposed Phase 3 clinical study. The company anticipates the formal go-ahead could take place within the next 60 to 90 days.
Several extraneous studies have previously shown Bucillamine effective at reducing inflammation in a number of areas and the Company and scientific data support the thesis that it can be a possible effective treatment for coronavirus.
Additional Therapeutic Candidates in the Pipeline
While Revive Therapeutics is focusing its primary attention on Bucillamine, they're also harvesting exciting clinical candidates in alternative therapeutic domains.
In 2017, the company entered into a sponsored research agreement with the University of Wisconsin-Madison to evaluate a novel drug delivery technology which had worked effectively with cannabinoids in the past. The goal is to effectively treat various conditions such as pain, inflammatory skin disorders, and liver diseases. The resulting research led to the acquisition of a novel patent and U.S. Food and Drug Administration (FDA) orphan drug designation for the use of CBD to treat AIH, ischemia and reperfusion injury from organ transplantation.
In more recent times, the company ventured into the psychedelics arena by purchasing Psilocin Pharma Corp. under the direction of new CEO Michael Frank. Psilocin's intellectual property covers methods of production of psilocybin-based formulations, with six developed formulations to date. These formulations will be targeted for clinical research and subject to eventually FDA approval in the treatment of Depression, Anxiety, Bi-polar disorder, Bulimia & Anorexia Nervosa and more. The company has recently partnered with the University of Wisconsin in this area as well and will investigate how the tannin and chitosan delivery mechanism which Revive has licensed from the University works with psilocybin.
We'd be remiss to note that unlike many of its competitors on Canadian exchanges, Revive did not start out as a failed energy company or shell that rolled assets into the next hot sector du jour. The company has been a life sciences organization from the outset, having navigated formal clinical trial protocols and working with leading institutions.
Additionally, as previously noted, its legacy work on Bucillamine has allowed Revive to proceed with an IND application for a proposed Phase 3 clinical study to begin by next quarter. Few, if any, of its direct peers have accomplished this benchmark.
Not unlike others in the junior biotech space, Revive has consistently sought out value-oriented therapeutic candidates in research domains that were underserved. There's nothing unusual about that: juniors only have so much capital to play around with, and often, the best attainable therapeutics candidates are found on the fringes of emerging medicine.
The moral of the story is that diversifying into different medicinal domains isn't just a necessity for junior players like Revive—it's a fiduciary responsibility.
Final Thoughts
With Revive Therapeutics sharp recent rise, some consolidation was in order. Sitting at just $0.15c/share, the company's value proposition continues to look tantalizing when compared to larger market cap peers such as Tetra Bio-Pharma, MindMed or Champignon Brands. Yet none of those companies own a diverse set of intellectual property scattered across various therapeutic verticals.
That's not necessarily a call-to-action to purchase RVV shares right now, but investors would be wise to keep it on portfolio watch. Put another way: how many public microcap biotech peers valued under $50 million have a trial candidate set for a Phase 3 study? How many valued under $100 million carry this distinction?
Answering this question will give you a glimpse of the investment potential Revive Therapeutics holds.