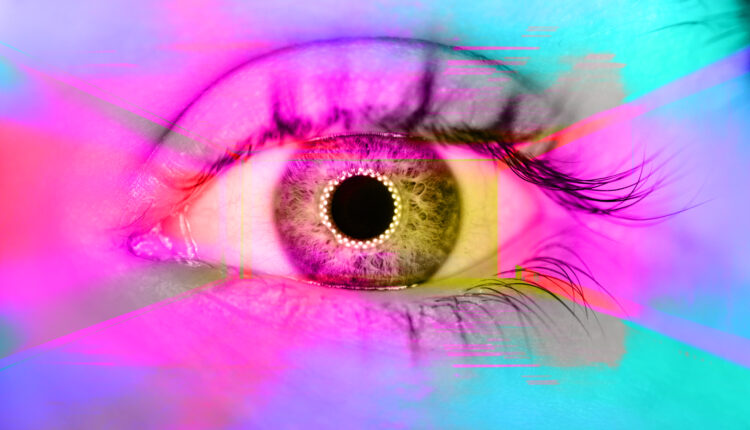 TDR's Top 5 Psychedelic Developments For The Week July 27
Welcome to TDR's review of the Top 5 psychedelic stories of the past week. Aside from presenting a synopsis of events, we provide commentary to break down the significance of each to investors. TDR is committed to maintaining in-depth market coverage of the most newsworthy events the psychedelics space has to offer.
5. Mindset Pharma Announces Filing of Groundbreaking Psilocybin Synthesis Patent
Mindset Pharma, a leading drug discovery business focused on developing next-generation psychedelic medicines, announces today the filing of a provisional patent application with the USPTO for a groundbreaking process to synthesize psilocybin and psilocin—two of the known active compounds in psychedelic mushrooms.
4. Novamind Sponsors TheraPsil, an Advocate for the Compassionate Use of Psilocybin in Canada
Novamind Ventures Inc. announced a sponsorship of TheraPsil, a British Columbia based non-profit organization dedicated to obtaining legal access to psilocybin therapy for terminally-ill Canadians suffering from end-of-life distress. The TheraPsil Coalition will support Canadians seeking compassionate use of psilocybin by assisting individuals that apply for an exemption of subsection 56(1) of the Controlled Drugs and Substances Act (CDSA).
Canadians were first granted legal access to medical cannabis in 1999 through this same exemption.
3. Adam Smith Institute — Medicinal Use Of Psilocybin: Reducing Restrictions On Research And Treatment
The UK government has been urged to loosen restrictions on psychedelic substances to allow additional research into whether it could be used to treat depression.
A new report by the Adam Smith Institute argues psilocybin—a Class A compound which naturally occurs in more than 100 species of mushroom—should be reclassified from the list of harmful drugs under the Misuse of Drugs Act 1971.
TDR: The Adam Smith Institute (ASI) is a major neoliberal think tank and lobbying group based in the United Kingdom named after Adam Smith—the Scottish philosopher and classical economist.ASI advocates free market and classical liberal ideas—primarily through the formation of radical policy options with regard to public choice theory.
More importantly, several ASI policy positions have been adopted by the administrations of John Major and Tony Blair and members of the ASI have also advised non-United Kingdom governments. This is a think tank with proven sway within the inner circles of legislative power brokers. These types of initiatives are important necessity to help gradually shift regulator sentiment over time.
To quote legendary British rock band Pink Floyd: "All in all it's just another brick in the wall". Of course, we're referring to the buildup of psychedelic acceptance as a frontline medicine in UK society.
2. MindMed Completes Dosing 18-MC Phase 1 Study
Mind Medicine Inc (NEO:MMED) (OTCQB:MMEDF) has concluded dosing in a Phase 1 Single Ascending Dose (SAD) study of co-lead drug candidate 18-MC. The dosing of 18-MC was well tolerated in humans and will help advance planning for a Phase 2a clinical trial in opioid addiction. The study has not incurred any delays due to the COVID-19 pandemic and the Multiple Ascending Dose (MAD) study is on track according to the original development timeline.
MindMed is focused on developing novel medicines inspired by psychedelics for addiction to address the growing North American opioid crisis. The epidemic is estimated to cost the United States economy over $500 billion annually.
TDR: This necessary Phase 1 study was conducted to closely monitor and gather information about how a drug interacts with the human body at a particular dose. It is designed to answer questions such as: how it works in the body, side effects associated with increased dosage, and how best to administer the drug to limit risks and maximize benefits. This is important to the design of Phase 2 studies.
Fortunately, the dose range from 4mg to 16mg twice daily was well tolerated in humans and Phase 2a study commencement remains on track for later this year.
MindMed closed ↑3.61% this week on very light volume.
1. Market Commentary: Psychedelic Stocks Mostly Flatline as Summer Doldrums Dominate
Coming into the week, psychedelics stocks were riding a multi-week downtrend as low summer volume, lack of galvanizing catalysts and the specter of additional Cease Trade Orders kept investors grounded. Unfortunately, nothing emerged to help reverse the existing tide—the sluggish price action persisted.
Most of the top pure-play psychedelics stocks were little changed except for Mydecine Innovations Group, which fell ↓33.56% on the week. The capitulation occurred despite several recent prominent additions to its executive team.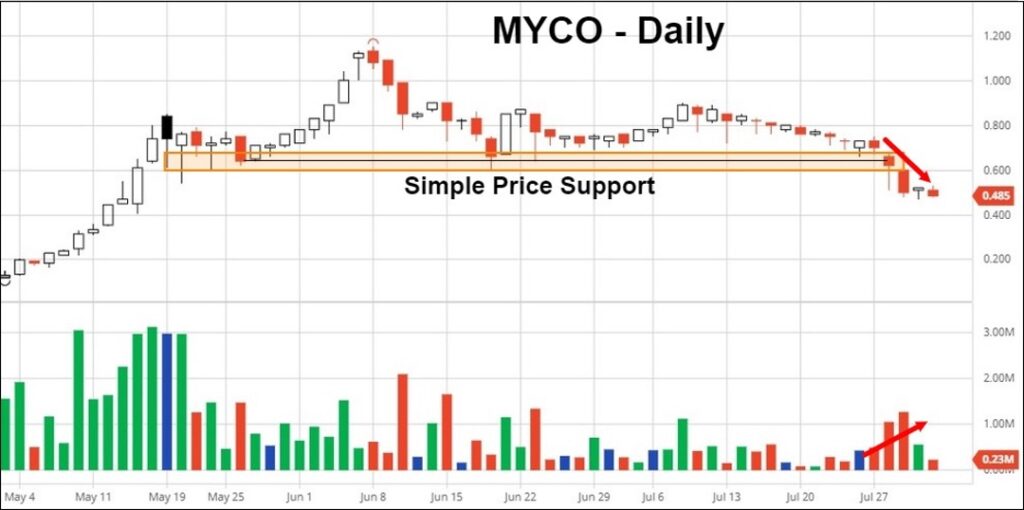 TDR believes the reason for the decline was technical, as price fell through May/June support on a pickup of bearish volume. Until this week, Mydecine (CNSX:MYCO) had been the only major pure-play Canadian psychedelic stock still technically intact on the daily chart. By breaking support, MYCO simply played catch-up with its peers. Technical traders angling for a bounce best remain cautious with no obvious price support in the vicinity.
On a more positive note, Numinus Wellness (CVE:NUMI) is forming a base of support between $0.25-0.27 as volume grinds to post-RTO lows. We don't expect price to drift far away from these levels before the closing of a $4.05 million best-efforts prospectus offering announced on July 22. Each unit will consist of one common share and one-half of ½ purchase warrant entitling the holder to purchase one additional common share of Numinus at $0.40/share for a period of two years from issuance.
TDR will be watching for signs that this developing base of support holds and provides a bullish springboard once the offering closes. Shareholders are certainly due for a stroke of good fortune.