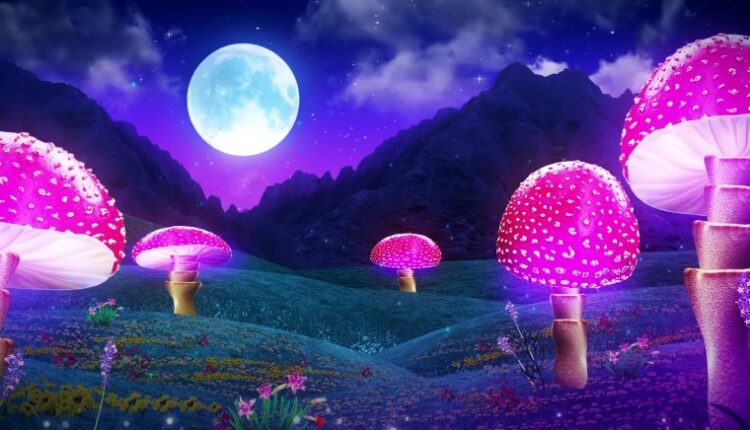 TDR's Top 5 Psychedelic Developments For The Week Of April 5
Welcome to TDR's review of the Top 5 Psychedelic stories of the past week. Aside from presenting a synopsis of events, we provide market commentary to summarize the week that was for publicly-listed companies.
5. MINDCURE Announces Additional Equity Investment in ATMA; Kelsey Ramsden Named to ATMA Board of Directors
Mind Cure Health Inc. (CNSX: MCUR) (OTCMKTS: MCURF) announces a further strategic equity investment in ATMA Journey Centers Inc. (ATMA). This follow-on investment enables MINDCURE to retain its 13% ownership of ATMA, in accordance with the terms of the letter of intent announced on January 12, 2021. Additionally, MINDCURE President and CEO Kelsey Ramsden will be joining the ATMA Board of Directors.
We are extremely excited to strengthen our partnership with the team at ATMA through this investment. This further solidifies the Company's strategic position in clinics and partnerships for the deployment of digital therapeutics to drive near-term revenues. ATMA's team is a true pioneer in the psychedelic therapy industry by growing a global network of group and retreat psychedelic therapy clinics…

Kelsey Ramsden, President and CEO, MINDCURE
iSTRYM is an investigating technology that focuses on patient feedback and data-driven insights into the efficacy of treatments in order to assist in the application of more effective and more efficient diagnosis techniques and treatments. It's a technology that is targeted for both therapists and patients.
4. Mydecine Announces API-naming structure of Four Lead Candidates and Prepares for Pre-IND
Mydecine Innovations Group (NEO: MYCO) (OTCMKTS: MYCOF), an emerging biopharma and life sciences company committed to the research, development, and acceptance of alternative nature-sourced medicine for mainstream use has announced its four lead novel drug candidates as the Company prepares for its Pre-Investigational New Drug (IND) meetings with the FDA and Health Canada.
Our first four novel drug candidates deliver on our long-term strategic road map for drug development with regular milestones that iteratively add value over time. By increasing the complexity of these compounds, we are increasing layers of patents applied, which in turn, also adds pharmaceutical value to the drug candidates. The promise of these molecules is undeniable.

Josh Bartch, Co-Founder and CEO, Mydecine Innovations Group
The four initial drug candidates include:
MYCO – 001 is pure psilocybin from natural fungal sources. Its target uses include mid-to-late stage clinical trials.
MYCO – 002 is an entactogenic compound that has been created with the goal of reducing harm and improving the safety profile vs. traditional MDMA.
MYCO – 003 is a psilocybin-based formula with reduced anxiety potential, with the aim of removing the possibility of "bad trips," even with severely ill patients.
MYCO – 004 is a patch delivered tryptamine compound. Properties include short duration (~2hours), transdermal, precision dosing and long-term compound stability. The target use is mid-to-late-stage clinical trials, taking advantage of current publicly-available data.
__________
Infographic Of The Week: Gender And Demographic Affliction Rates For Major Depressive Episodes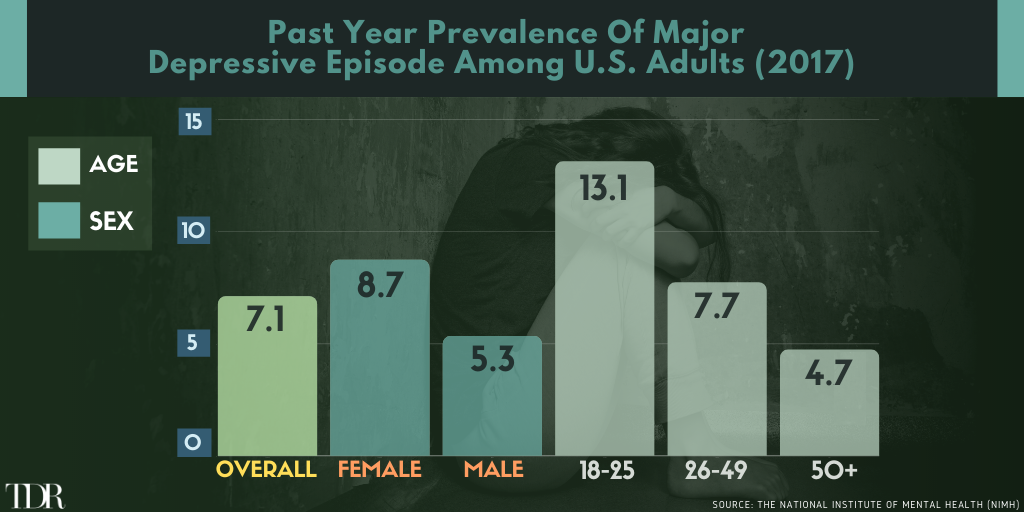 __________
3. Psychedelic Stocks Flat Ahead of Milestone New England Journal Of Medicine Report
The biggest psychedelic stocks were mixed this week, with the benchmark Horizon Life Sciences Stock Index ETF (PSYK) ending flat (↓0.67%) on mostly lower volume. Unlike recent previous weeks, PSYK actually outperformed peer biotech indexes with Nasdaq Biotechnology Ishares ETF (↓1.84%) and Nasdaq Junior Biotechnology Index (↓4.99%) considerably underperforming. We await to see whether an upcoming New England Journal of Medicine report (see #2) will have any positive effect on investor sentiment in the upcoming week, assuming favorable results. TDR will have additional coverage as events warrant.
| | | | | | |
| --- | --- | --- | --- | --- | --- |
| Company | Ticker | Price ($) | Weekly Change (%) | WoW Volume Trend | Market Cap (s/o) |
| Compass Pathways | CMPS | 35.80 | -4.53 | ↔ | US$1.31B |
| Mind Medicine | MMED | 3.34 | -6.96 | ↓ | C$1.45B |
| Seelos Therapeutics | SEEL | 5.45 | 7.28 | ↓ | US$426.6M |
| Cybin Inc. | CYBN | 1.74 | 20.83 | ↓ | C$257.2M |
| Numinus Wellness | NUMI | 1.04 | -1.88 | ↓ | C$254.2M |
| Field Trip Health | FTRP | 6.03 | -3.36 | ↑ | C$207.7M |
| Revive Therapeutics | RVV | 0.51 | 5.15 | ↔ | C$157.3M |
| Red Light Holland | TRIP | 0.30 | -6.25 | ↓ | US77.3M |
In the news…
HAVN Life Sciences completed the acquisition of GCO Packaging and Manufacturing Ltd., acquiring 100% of the outstanding shares of GCO in exchange for an aggregate of 6,000,000 common shares of the company. GCO operates a large-scale manufacturing, packaging and distribution facility and is expected to help several aspects of the company's aspiring natural health supplement line.
MindMed announced the publication of the first study on MDMA dosing optimization using personalized medicine. This study provides the first scientific data for predicting responses to MDMA and optimizing dosing. This may maximize the potential beneficial therapeutic effects while reducing adverse responses when treating medical conditions.
Tryp Therapeutics has initiated quoting activity on the OTCQB Venture Market and is eligible for settlement and transfer of its common shares in the United States. The OTCQB has augmented listing standards over the OTC Pink Sheets markets and is roughly equivalent to a TSX Venture listing in Canada.
And finally, recognition of Ibogaine's powerful healing properties went mainstream after Time published a full-length feature of the powerful psychedelic substance. Among public companies researching Ibogaine or Ibogaine derivatives: MindMed which is trialing 18-MC for addiction disorders (Phase 1) and MindCure Health, whose bioinformatics platform PsyCollage has identified opportunities for ibogaine to support neuro-regenerative pathways for the treatment of neuropathic pain and brain trauma.
2. New England Journal Of Medicine To Publish Study Comparing Psilocybin To A Conventional Pharmaceutical Drug Prescribed For Depression
This clinical trial is randomized and double-blind with a small control group. The aim is to compare the efficacy and mechanisms of action of psilocybin, the primary psychoactive substance in 'magic mushrooms', with escitalopram for major depressive disorder.
Best known for its trade name Lexapro, escitalopram is a selective serotonin reuptake inhibitor (SSRI) antidepressant primarily used to treat depression and secondarily for anxiety, obsessive compulsive disorder or panic attacks. However, it is not a silver bullet. While Lexapro is effective for a significant subset of patients, like all SSRIs, it comes with significant side effects including:
Some patients develop insomnia, skin rashes, headaches, joint and muscle pain, stomach upset, nausea, or diarrhea
Many patients experience diminish sexual interest, desire, performance, satisfaction, or all four
Negative drug interactions: SSRI taken along with other serotonin-enhancing drugs may cause serotonin syndrome, which can induce racing heart, sweating, high fever, high blood pressure, delirium and more
Loss of effectiveness: Any antidepressant may lose its effect after months or years, sometimes because the brain has become less responsive to the drug
Suicide risk: The FDA initiated a Black Box Warning on SSRIs in 2004 — its strongest available measure short of withdrawing a drug from the market
While the efficacy of psilocybin for depression has not been definitively established, there have been numerous studies demonstrating its solid safety profile going back to the mid 1900's.
We await the contents of the New England Journal of Medicine report, and would view positive results as significant validation for psilocybin efficacy for MDD as the marathon to prove-out the science continues. More to follow.
1. California Senators Approve Bill To Legalize Possession Of Psychedelics Like LSD, MDMA And Psilocybin
A bill to decriminalize psychedelics in California and create a working group to study broader reform advanced through a Senate committee on April 6. The panel also approved separate legislation to allow communities in the Golden State to open makeshift safe consumption sites for illicit drugs.
The Senate Public Safety Committee approved the legislation, sponsored by Sen. Scott Wiener (D), by a vote of 4-1. If enacted into law, criminal penalties for possessing or sharing a wide range of psychedelics would be removed—including psilocybin mushrooms, DMT, ibogaine, LSD and MDMA—for adults 21 and older.
The measure would also provide for the expungements of prior convictions for offenses that it makes lawful.