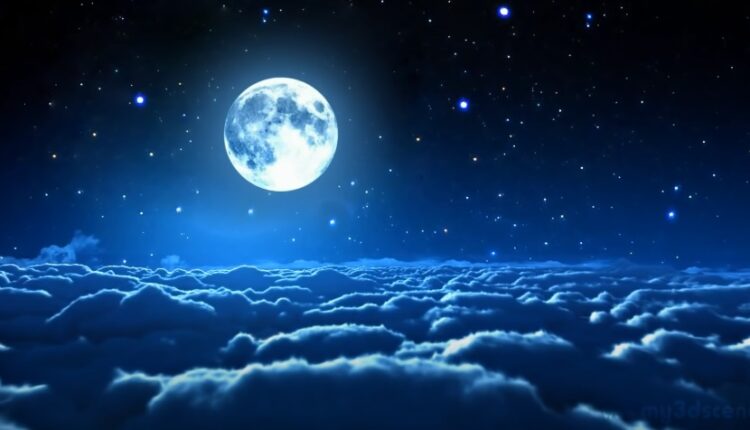 TDR's Top 5 Psychedelic Developments For the Week of February 15
Welcome to TDR's review of the Top 5 psychedelic stories of the past week. Aside from presenting a synopsis of events, we provide commentary to break down the significance of each to investors. TDR is committed to maintaining in-depth market coverage of the most newsworthy events the psychedelics space has to offer.
5. Alberta's first psychedelic therapy clinic comes to Calgary
Tuning in, turning on and dropping out of chronic misery is the aim of Alberta's first psychedelic therapy clinic that's opened in Calgary.
Six weeks after conducting the province's first federally sanctioned psilocybin treatment for a palliative care patient — Airdrie's Tony White — those facilitators have established the ATMA Calgary Urban Journey Clinic in a 5,000-square-foot space in a professional building across from North Hill Centre.
The arrival of the clinic is an expression of confidence that Ottawa will not only continue granting those exemptions but accelerate them, with the hope legislation will pave the way for a much wider therapeutic use of psychedelics that would ultimately include prescribing the substance.
4. Tryp Therapeutics Reaches Milestone on Psilocybin Drug Manufacturing Program
Tryp Therapeutics (CNSX:TRYP) (OTCMKTS:TRYPF) announced that Albany Molecular Research (AMRI) has started the process of developing a 200g non-GMP psilocybin demonstration batch. This production step is one of an array of phases in the project plan for the production of Tryp's patented formulation of cGMP psilocybin to promote the clinical growth of the business and the company's upcoming clinical trials.
AMRI is proud to support Tryp Therapeutics in their mission to address diseases with highly unmet needs through the rapid development and scale-up of a novel process to advance Psilocybin into human clinical trials. We are leveraging our core expertise in process development and cGMP manufacturing to help progress Tryp's clinical pipeline.

Christopher Conway, President, AMRI
Info Graphic of the Week—The Legal Classification of Popular Psychedelic Substances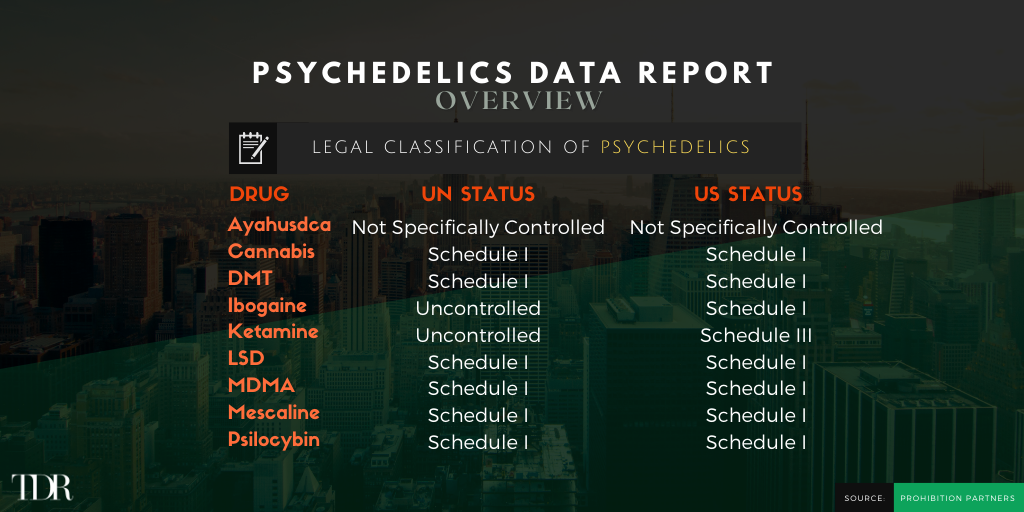 3. Numinus announces milestones in compassionate access trial for MDMA-assisted therapy in collaboration with MAPS Public Benefit Corporation
Numinus Wellness Inc. (TSXV:NUMI) is pleased to share that the single-arm, open-label, compassionate access1 trial for MDMA-assisted therapy has made significant progress towards treating patients with posttraumatic stress disorder (PTSD). This trial is being pursued in collaboration with MAPS Public Benefit Corporation (MAPS PBC), a wholly-owned subsidiary of the Multidisciplinary Association for Psychedelic Studies (MAPS), the leading developer of the treatment protocols, research, and MDMA-assisted therapy training programs.
This first-of-its-kind trial in Canada has advanced and successfully transitioned into the pre-implementation stage at Numinus's Vancouver clinic. This follows the successful completion of several milestones, starting with the recruitment of therapists, physicians, and staff in preparation for participant enrolment and the ultimate analysis of therapy outcomes. Qualified medical staff will be responsible for collecting safety data for Health Canada to further implement key research that supports individuals living with PTSD who have not benefited from existing treatment options.
2. Shroom Stocks Rally Stalls On A Lack Of Follow-Through Buying
After last week's big showing which saw the Horizons Psychedelic Stock Index ETF (PSYK) gain 14.50% to new highs, a lack of follow-through lead to a mostly lower week across the sector. Of the eight largest pure-play psychedelic stocks in our tracker, only Compass Pathways demonstrated higher week-over-week volume. And like any early-stage speculative market, volume is the engine that makes things go.
The lack of follow-through was best exemplified by the price action of Field Trip Health, which finished solidly in the red. Although entering the week in clear Blue Sky Breakout (BSB) territory and with an opportunity to push price boundaries higher, the stock never really got going. After gapping-up to just below $9.00/share Tuesday morning, FTRP finished the day only marginally higher and price gradually eroded through to Friday's close. When BSB stocks aren't extending their gains, it's often a negative signal for the balance of the sector.
| | | | | | |
| --- | --- | --- | --- | --- | --- |
| Company | Ticker | Price ($) | Weekly Change (%) | WoW Volume Trend | Market Cap ($) |
| Compass Pathways | CMPS | 53.12 | 8.96 | ↑ | US$1.91B |
| Mind Medicine | MMED | 5.03 | -0.59 | ↓ | C$2.10B |
| Seelos Therapeutics | SEEL | 3.76 | -6.69 | ↓ | US$270.9M |
| Field Trip Health | FTRP | 7.51 | -6.12 | ↓ | C$316.6M |
| Numinus Wellness | NUMI | 1.71 | -4.39 | ↓ | C$284.6M |
| Cybin Inc. | CYBN | 1.96 | -6.66 | ↓ | C$281.7M |
| Revive Therapeutics | RVV | 0.59 | -14.49 | ↓ | C$139.7M |
| Champignon Brands | SHRMF | 0.637 | -15.06 | ↓ | US112.9M |
Still, there was plethora of positive industry news and solid price gainers of note.
Sector leader Compass Pathways Plc finished up nearly nine percent to 8-week highs. Although the company's news cycle was quiet, it did receive positive mention in the Philadelphia Inquirer, which profiled the University of the Sciences' lead researcher Jason Wallach and his work with mind-altering substances. Last week, Compass announced it was building its Wallach-led project to include researchers at the University of California, University of California San Diego (UCSD) and the Medical College of Wisconsin (MCW).
Tryp Therapeutics (see #4) tacked-on 8.08% to register a new all-time weekly closing high. The La Jolla, CA based company announced it had begun the process of manufacturing the 200g demonstration batch of psilocybin—an important production step towards sourcing its proprietary psilocybin formulations for clinical trials. Tryp also announced the closing of its previously announced financing for 3,333,333 million units at a price of $0.60 per Unit, for proceeds of $2 million. The round was lead by former Origin House CEO Marc Lustig, which was acquired by Cresco Labs in April 2019 for approximately C$1.1 billion in stock.
Novamind Inc. shares soared 34.96% to new highs as the company announced its intention to apply to list its common shares on the OTCQB Venture Market in the near future. This would be a material upgrade to its current Pink Sheets domain, where listing standards are much higher. The OTCQB is roughly equivalent to the TSX Venture in Canada, where requirements for current financial reporting, annual verification and management certification process are present. A comparatively low shares outstanding profile may have given this momentum-based move extra lift.
And finally, Mindset Pharma had two positive releases which carried it a strong weekly gain (28.20%). On February 17, the company announced its own application to the OTC Markets Group to begin trading on the OTCQB Venture Market (for benefits, see above). Then on February 19, Mindset announces it had been added to the North American Psychedelics Index (NAPI), which is provided by German-based index provider Solactive AG.
The NAPI is the underlying index to Horizons Psychedelic Stock Index ETF, or "PSYK", which launched on January 27, 2021.
1. California Activists Gear Up For 2022 Push To Legalize Psilocybin Mushrooms
California activists are taking another shot at placing a ballot initiative before voters to legalize psilocybin mushrooms statewide, this time in 2022.
Decriminalize California attempted to get a similar measure on the November 2020 ballot, but they faced signature gathering complications due to the coronavirus pandemic and ultimately abandoned that effort. Advocates recognize that they will face similar challenges as the campaign gets running for the upcoming cycle, but they're confident that they will have the resources and experience to prevail this round.
Volunteers are being invited to recommend revisions to a draft reform initiative that the group plans to submit. For the most part, it's the same as the 2020 proposal—with three main changes that are meant to appeal to midterm voters, who tend to be older and more conservative that those who turn out in presidential election years.