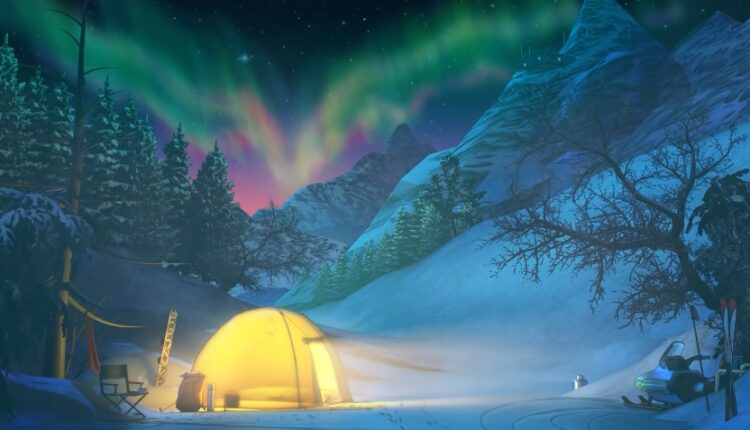 TDR's Top 5 Psychedelic Developments For the Week of February 22
Welcome to TDR's review of the Top 5 psychedelic stories of the past week. Aside from presenting a synopsis of events, we provide market commentary to summarize the week that was for publicly-listed companies.
5. PharmaDrug Files For FDA Orphan Drug Designation For DMT In Kidney Transplantation and Expands on Its Psychedelics Strategy
PharmaDrug Inc. (CNSX:BUZZ) (OTCMKTS:LMLLF) announced that it has expanded its psychedelic pharmaceutical program with the filing of an application with the U.S. Food and Drug Administration (FDA) to receive Orphan Drug Designation (ODD) for N,N-Dimethyltryptamine (DMT) in the prevention of ischemia reperfusion injury in patients undergoing kidney transplantation
Following the acquisition of Sairiyo Therapeutics and its biotech R&D core competencies, PharmaDrug has undertaken efforts to expand its research activities in the pharmaceutical psychedelics space. The Company's psychedelic pharmaceutical strategy will focus specifically on DMT. Through engagement with respected academics and medical/clinical KOLs in the space, management will initiate pivotal preclinical and clinical development activities.
4. Norway's Government Moves To Decriminalize Drug Possession
At a time when numerous jurisdictions across the U.S. are weighing drug decriminalization proposals, the government of Norway proposed a bill to end the criminalization of personal possession of illicit substances.
Officials from the country's Liberal Party unveiled the decriminalization legislation, which would make low-level possession a civil offense, rather than one that carries criminal penalties. Possession cases would also require mandatory treatment.
3. Mydecine Announces Exclusive Partnership and Increased Capabilities with Applied Pharmaceutical Innovation (API)
Mydecine Innovations Group (CNSX:MYCO) (OTCMKTS:MYCOF) announced an exclusive partnership with Applied Pharmaceutical Innovation (API) at the University of Alberta, as well as expanded capabilities that enables support of multiple drug development and clinical trial programs simultaneously.
With our expanded relationship with API, we can now synthesise multiple molecules concurrently as well as run research and development and pre-clinicals on site. We now have the ability to accelerate both natural product research and novel drug design, specifically in the field of serotonin psychedelics. This will serve to boost our patent portfolio and increase our speed to bring these drugs to market.

Rob Roscow, Chief Scientific Officer and Co-founder of Mydecine
The partnership significantly expands research capacity and accelerates both drug development from natural products as well as "novel" drug development. Through this partnership the company currently has the ability to legally cultivate, extract, import, export and commercialize full cGMP pharmaceutical grade natural and synthetic compounds to reciprocal licensed facilities globally. The company expects the increased capabilities to further expand the cGMP offerings.
Infographic Of The Week: Mind Medicine, Numinus Wellness Most Popular Among Investors According To This Week's Reddit Shroomstocks Straw Poll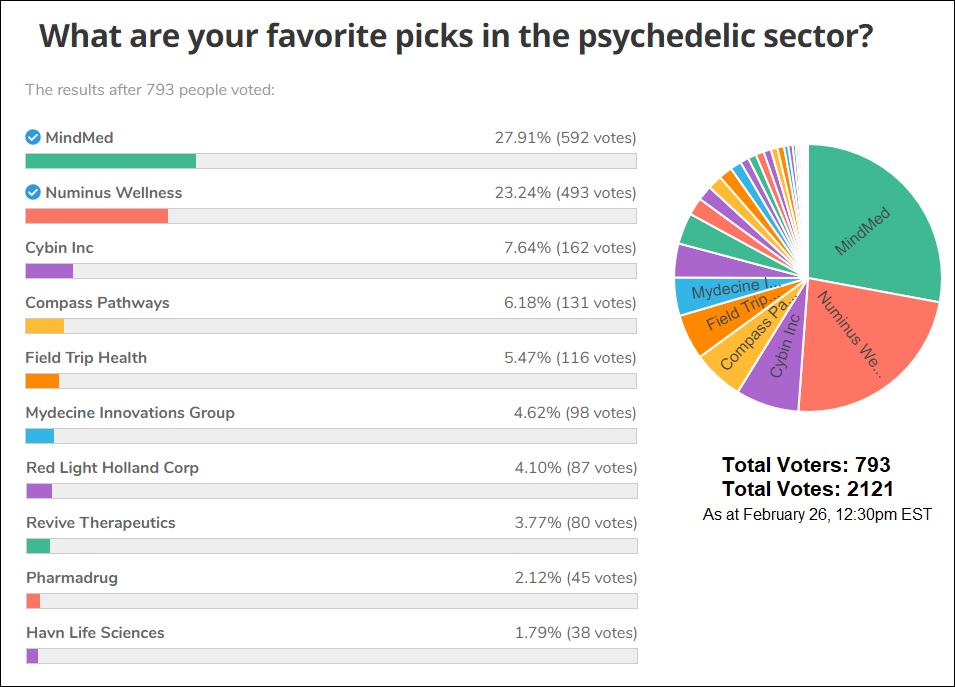 2. Psychedelic Stocks Decline As North American Risk Assets Plunge on Treasury Market Concerns
Most of the largest psychedelic stocks experienced double-digit declines this past week, as markets roiled causing a variety of risk assets to plunge across the curve. Obviously, the complex was rife for selling in this type of environment as pre-revenue growth sectors typically overshoot/undershoot broad index performance on any given week. On this occasion, it was the bears that decisively won out. Volumes, by and large, were mixed throughout.
The biggest culprit to this week's price action dysphoria was surging Treasury yields, which spiked to their highest levels since January 2020. The rise in rates is heavily correlated to an array of corporate and consumer borrowing costs, which could undermine the economic recovery if they jump too steeply. Treasury yield increases also triggered inflation concerns and the possibility that the Federal Reserve may raise interest rates sooner than expected if not contained—although Fed Chairman Jerome Powell shot down that idea midweek. The chart below displays risk asset under-performance of select categories:
Overall, the NASDAQ suffered its worst weekly loss since last March, declining 4.94%. The S&P 500 and TSX Composite Index fell 2.40% and 1.76%, respectively.
| | | | | | |
| --- | --- | --- | --- | --- | --- |
| Company | Ticker | Price ($) | Weekly Change (%) | WoW Volume Trend | Market Cap ($) |
| Compass Pathways | CMPS | 45.12 | -15.06 | ↓ | US$1.62B |
| Mind Medicine | MMED | 4.21 | -16.30 | ↔ | C$1.76B |
| Field Trip Health | FTRP | 7.04 | -6.25 | ↔ | C$296.0M |
| Seelos Therapeutics | SEEL | 2.97 | -21.01 | ↓ | US$214.0M |
| Numinus Wellness | NUMI | 1.49 | -12.86 | ↑ | C$243.7M |
| Cybin Inc. | CYBN | 1.60 | -18.36 | ↓ | C$234.7M |
| Revive Therapeutics | RVV | 0.51 | -13.55 | ↓ | C$157.3M |
| Champignon Brands | SHRMF | 0.52 | -18.36 | ↓ | US112.9M |
As usual, there were plenty of good stories that belied the sector's moribund price action. Among them:
PsyBio Therapeutics had a strong RTO debut on the TSX Venture Exchange. The company positioning itself as the low-cost leader in psychedelic compound synthesis and production closed trading at $0.60, or ↑71.42% above its last brokered private placement round at $0.35 last December. Upon building out the bacterial synthesis portion of the its psychedelic platform, PsyBio will maintain optionality to go the clinical trial route, should it so choose.
After the close of trading Friday, Mind Medicine announced the closing of the acquisition of HealthMode, a digital medicine and therapeutics startup that uses Artificial Intelligence (AI)-enabled digital measurement to increase the precision and speed of clinical research and patient monitoring. The acquisition gives the company a mental health technology platform in which to eventually administer transformative medicines to patients in a scalable manner.
In a sign that investor appetites remain elevated , Field Trip Health announced that due to strong demand, it has agreed with a syndicate of underwriters led by Bloom Burton Securities to increase the size of its previously announced C$50,000,015 bought deal offering of common shares. Pursuant to the upsized deal terms, 12,750,000 common shares (ex-allotment options) will be sold to the underwriters at a price of C$6.50 per common share for aggregate gross proceeds of $82,875,000. Net proceeds will be earmarked to its ongoing development of the "FT-104" psychedelic development program, the opening of new Field Trip Health centers, and for working capital and general corporate purposes.
And although it didn't translate on the tally sheet, PharmaTher put out a newsworthy press release. The company known for its work on ketamine-focused drug discovery entered into a sponsored research agreement with the Terasaki Institute to develop a novel microneedle patch that aims to deliver psychedelic non-ketamine compounds such as psilocybin, 3,4-methylenedioxy-methamphetamine (MDMA) and others. The company will seek to obtain FDA approval in delivering psychedelics for various mental health using microneedle technology, witch purportedly overcomes several potential drawbacks encountered by standard delivery systems.
1. Missouri Bill Would Add MDMA, Psilocybin Mushrooms And LSD To Right-To-Try Law
Missouri residents with debilitating, life-threatening or terminal illnesses could gain legal access to an array of psychedelic drugs under new legislation aimed at expanding the state's existing right-to-try law.
A bill introduced last week by Republican Rep. Michael Davis of Kansas City would allow seriously ill people to use substances such as MDMA, psilocybin mushrooms, LSD, DMT, mescaline and ibogaine with a doctor's recommendation after exhausting all other approved treatment options. It would also remove felony penalties statewide for simple possession of the drugs, reclassifying low-level offenses as misdemeanors.
Supporters at Crossing Paths PAC, a political action committee that supports "pro-drug policy and criminal justice reform campaigns and candidates," said the bill would allow patients to try therapies "considered promising in the treatment of a variety of mental health conditions," including post-traumatic stress disorder (PTSD) and depression.