TDR's Top 5 Psychedelic Developments For The Week Of February 7
Welcome to TDR's review of the Top 5 Psychedelic developments for the week of February 7. Aside from presenting a synopsis of events, we provide market commentary to summarize the week that was for publicly-listed companies.
5. Mydecine's Exclusive Dealer Identified as Licensed Psilocybin and MDMA Supplier in Canada
Mydecine Innovations Group (NEO: MYCO) (OTC: MYCOF) announced that Health Canada has included the dealer's license Mydecine operates under as a supplier for the Special Access Program, which allows healthcare providers to request specific drugs for approved patients who have not responded to other available treatment options. The licensed dealer facility, available to Mydecine through its exclusive agreement with Applied Pharmaceutical Innovation (API), contains a unique research and development infrastructure as well as a manufacturing facility in Edmonton, Canada.
With the license, Mydecine is able to provide psilocybin and MDMA that meet Current Good Manufacturing Practices (cGMP) through Health Canada's Special Access Program. This program allows practitioners to request psilocybin and MDMA for a patient with a serious or life-threatening condition where conventional treatments have failed, are unsuitable, or are generally not available in Canada.
4. Utah House Overwhelmingly Approves Psychedelics Study Task Force Bill
The Utah House of Representatives on Thursday overwhelmingly approved a bill to create a task force to study and make recommendations on the therapeutic potential of psychedelic drugs and possible regulations for their lawful use. The chamber approved the legislation from Rep. Brady Brammer (R), which cleared the House Health and Human Services Committee last week, in a 68-1 vote.
We need effective tools to treat mental illness, and if psychedelics can be helpful and safely administered, we need them in our toolbox.

Utah House Rep., Brady Brammer
The psychedelics bill would create a Mental Illness Psychotherapy Drug Task Force, which would be required to "study and make recommendations on drugs that may assist in treating mental illness." The psychotherapy drugs that the panel would consider are defined as controlled substances that are "not currently available for legal use" and "may be able to treat, manage, or alleviate symptoms from mental illness."
__________
Psilocybin Combined With Meditation Produced Better Cognitive Results Than Placebo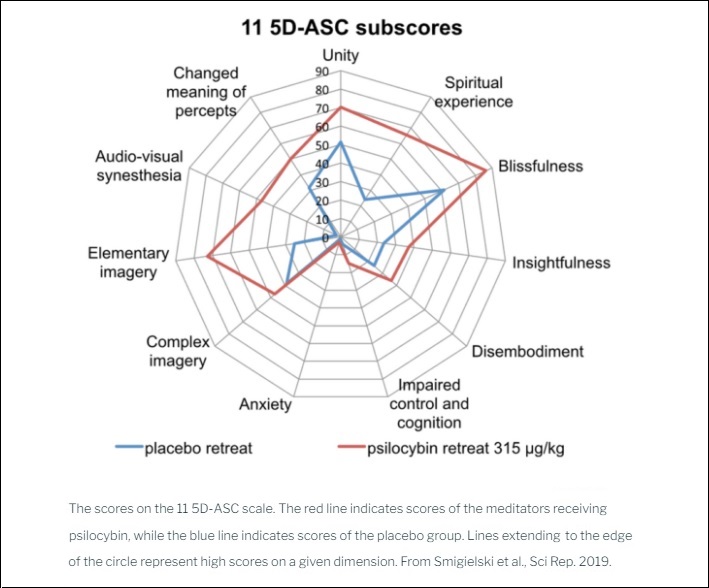 __________
3. Psychedelic Stocks Hold Up Well In Volatile Week In The Markets
The psychedelic sector gained this past week, although volumes in Horizon Psychedelic Stock Index ETF (PSYK) were the lowest they've been since the first week of October 2021. The ETF rose ↑1.00%, registering its 2rd consecutive consecutive weekly rise. Alternatively, the Nasdaq Junior Biotechnology Index (↑3.35%) and Nasdaq Biotechnology Ishares ETF (↓0.42%) were mixed. The broad markets remained volatile in both directions, finishing moderately lower after Friday's purge in equity markets. The NASDAQ retreated ↓3.05% while the S&P 500 fell ↓1.83%. Here's how the Health Care (biotechnology) sector performed this week.
A positive week for the majors in the sector, helped by word that Cathy Woods' Ark Genomic Revolution ETF had bought into the sector. Obviously, the fact that high-profile funds are interested in psychedelic stocks cannot be construed as anything but a great thing. atai Life Sciences broke into $6-handle territory on Thursday before fading along with Friday's market slide. Mindmed continued an impressive run (46% closing gains since January 24) before fading also. Overall though, investors will take a slight outperformance versus the biotech sector in a week the broad market lost modestly, 100% of the time.
The micros generally had constructive price action as well, with several rising double digits. Leading the charge was Core One Labs, which received positive results and expects replication of its proprietary recombinant production system will result in successful production of API-Grade N-methyltryptamine (NMT). By the numbers: COOL +37.78%, NEON +16.67%, DMT +16.3%, PSYG +15.38%, MMED +12.68%, SILO +12%, NOVA +11.11%, SPOR +8.96%, PWR +6.67%, SEEL +6.48%, PLNT +5.41%, TRIP +3.7%, HAVN +3.45% MCUR +3.33%, TRYP +3.03%,
| | | | | | |
| --- | --- | --- | --- | --- | --- |
| Company | Ticker | Price ($) | Weekly Change (%) | WoW Volume Trend | Market Cap (s/o) |
| GH Research | GHRS | 18.40 | 3.66 | ↓ | US$957.1M |
| ATAI Life Sciences | ATAI | 5.54 | 7.99 | ↑ | US$880.0M |
| COMPASS Pathways | CMPS | 15.00 | 1.01 | ↔ | US$625.9M |
| Mind Medicine | MNMD | 1.25 | 11.60 | ↑ | US$527.3M |
| Cybin Inc. | CYBN | 1.06 | 1.92 | ↔ | US$173.0M |
| Field Trip Health | FTRP | 1.73 | -5.46 | ↑ | US$100.3M |
| Numinus Wellness | NUMI | 0.64 | -1.53 | ↓ | C$130.4M |
| Revive Therapeutics | RVVTF | 0.218 | 0.46 | ↔ | US$69.4M |
| Small Pharma | DMT | 0.285 | 16.32 | ↓ | C$91.9M |
| Mindset Pharma | MSET | 0.68 | -16.04 | ↓ | C$61.8M |
| Awakn Life Sciences | AWKN | 1.95 | -2.50 | ↓ | C$49.7M |
| Mydecine Innovations | MYCOF | 0.133 | -8.90 | ↓ | US$34.9M |
In the news…
Core One Labs has completed the acquisition of all of the outstanding share capital of Awakened Biosciences Inc.
Cybin Inc. reported unaudited financial results for its third quarter ended December 31, 2021. Post earnings, investment bank Cantor Fitzgerald reiterated their US$4 price target.
Cybin Inc. also announced that the U.S. Patent and Trademark Office has granted U.S. patent 11,242,318 to the company's investigational deuterated dimethyltryptamine (DMT) compound CYB004. The allowed claims include a range of deuterated forms of DMT and 5-MeO-DMT.
Havn Life Sciences announced entered into an exclusive U.S. Distribution Agreement with California-based Mycrodose Therapeutics Inc., a leading pharmaceutical company in the U.S. specializing in the research and development of advanced drug delivery systems utilizing DEA Schedule  I, II and III drugs and other compounds aimed at treating cancer related conditions, mental health, and cognitive degenerative diseases. Our latest interview with CEO Tim Moore:
Mind Cure Health announced that its Board of Directors has formed a special committee of independent directors to initiate a review process to explore, review and evaluate a broad range of strategic alternatives.
Mindset Pharma collaboration with the McQuade Center for Strategic Research and Development, a division of the global Otsuka family of companies that focuses on early-stage drug discovery for mental health and renal disorders. An article in Forbes by TDR contributor, Amanda Siebert.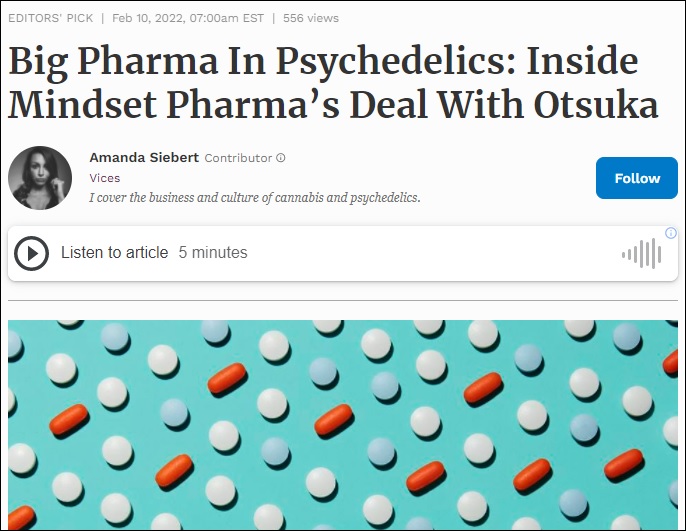 Optimi Health announced a second provisional patent for a proprietary two-part processing method that involves the extraction and transdermal delivery of psilocybin active components.
Psyence Group common shares are now eligible for electronic clearing and settlement through the Depository Trust Company in the United States.
Revitalist Lifestyle and Wellness has formally opened its ninth psychedelic assisted psychotherapy clinic located in Jacksonville, FL. With the opening of this clinic, Revitalist has a total clinic footprint of over 60,000 square feet and has become one of the largest publicly listed ketamine focused treatment chains in the U.S.
Silo Wellness announced Marley One's sponsorship of 'For The Love of Hip Hop' – a virtual concert series exclusive to the metaverse – with the first event of the series being held on February 11. This cutting-edge digital event will kick off with performances from the Ying Yang Twins, Sleepy Brown, Lil Scrappy, Big Boi, Kurupt and more.
Universal Ibogaine has entered a Memorandum of Understand with Osoyoos Indian Band Development Corporation. The MOU has as its objective, participation of both organizations for purpose and profit, to construct an ibogaine centered detox clinic and holistic aftercare treatment centre.
2. Maryland Senate Bill Would Provide 'Cost-Free Access' To Psychedelics For Military Veterans
A group of Maryland senators recently filed a bill that would create a state fund that could be used to provide free access to psychedelics like psilocybin, MDMA and ketamine for military veterans suffering from post-traumatic stress disorder (PTSD), while also supporting research into their therapeutic potential.
The legislation, sponsored by Sen. Sarah Elfreth (D), would establish what's being called the Post-Traumatic Stress Disorder Alternative Therapies Fund. In addition to funding research into psychedelics through the state Department of Health, money would also be appropriated under the bill to provide "cost-free access to alternative therapies" for the target community.
Further, it says that regulators must periodically "consult with the Department of Veterans Affairs, the Johns Hopkins University, the University of Maryland, Sheppard Pratt, and Walter Reed National Military Medical Center" on the use of entheogenic substances for PTSD.
1. Cathy Wood's Ark Genomic Revolution ETF Purchases atai Life Sciences
What Happened: The Ark Genomic Revolution ETF took an initial position in shares of psychedelics company Atai Life Sciences on Tuesday. The ETF purchased 83,278 shares of ATAI, representing around 0.01% of assets in the fund. The stock ranks in the lowest position of the 53 stocks owned by the ETF.
The Ark Genomic ETF is one of the most well-known funds in the biotech sector. Despite being down 34% over the last year, the ETF is still up over 39% over the last three years. Atai is backed by Peter Thiel, the co-founder of Palantir Technologies. Wood is heavily invested in Palantir, with the stock making up a 2.6% stake in the flagship Ark Innovation ETF with a $313 million position.
Neither Mind Medicine of Compass Pathways has been added to ARKG, suggesting Atai could be the preferred psychedelics play by the ETF manager. Atai also owns a stake in Compass, which could make it a way to play the success of both companies.
Update: Ark increased their position shortly thereafter.