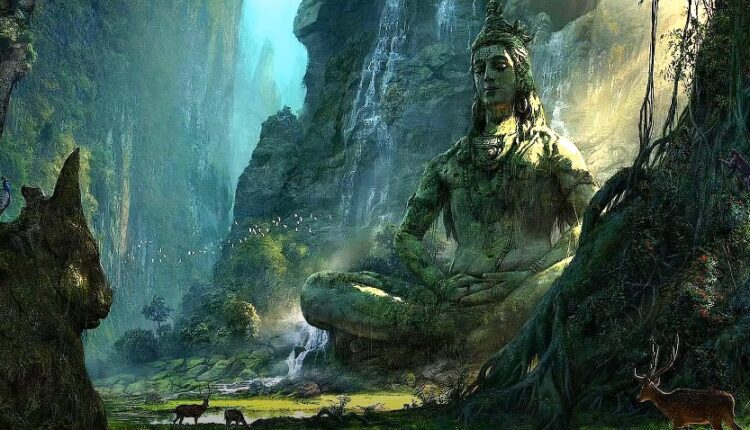 TDR's Top 5 Psychedelic Developments For the Week of March 1
Welcome to TDR's review of the Top 5 psychedelic stories of the past week. Aside from presenting a synopsis of events, we provide market commentary to summarize the week that was for publicly-listed companies.
5. Numinus and Syreon Provide Psilocybin Compassionate Access Trial Update
Numinus Wellness Inc. (TSXV:NUMI) (OTCMKTS:LKYSF) and Syreon Corporation, a global contract research organization with expertise in conducting clinical trials across a broad range of diseases, are pleased to share that significant progress has been made in the single-arm, open-label compassionate access trial of Psilocybin-Research Intervention with Motivational Enhancement (PRIME) for substance use disorders.
The study will contribute to a growing body of research to inform larger randomized controlled trials for these indications. The study will take place in Vancouver and will enroll 30 individuals with opioid, stimulant and/or alcohol use disorders. Syreon is leading the trial as Clinical Research Organization (CRO) with Numinus as the trial sponsor.
Several key milestones have been met since the trial was announced in November. The protocol is now finalized, having gone through two rounds of external expert peer review by a leading psychedelic research foundation.
4. Mydecine Fully Completes the First-Ever International Export of Psilocybin Mushrooms and Solidifies its Clinical and Commercial Supply Chain
Mydecine Innovations Group (CSE:MYCO) (OTC:MYCOF) has completed the world's first international legal export of dried psilocybin mushrooms.
We have made significant progress towards having the first IND number on a 99.9% pure psilocybin product that the synthetic form mimics. We believe our natural-sourced psilocybin, that is both significantly less costly and more efficient than the synthetic form, will prove to be a better overall option to meet the current market demand as well as voids any and all potential patent claims. This marks a milestone of fulfilling on the promise of creating a fully vertical and uninterrupted global supply chain.

Joshua Bartch, CEO and Chairman of Mydecine
In December 2020, the Company announced the completion of its first commercial harvest of 20 kilograms (44 lbs) of psilocybin mushrooms at a private mycology-focused research and cultivation facility in Jamaica. The first shipment of the harvest has now been received at Mydecine's Canadian Current Good Manufacturing Practice (CGMP) facility, which has a Health Canada Schedule 1 Dealer's License attached to it, allowing for legal import/export, research and development, cultivation, product development, and commercial sale of active psychedelic medicinal compounds.
Infographic Of The Week: Psychedelic Medicines Could Potentially Provide A Massive Cost Benefit To The U.S Healthcare System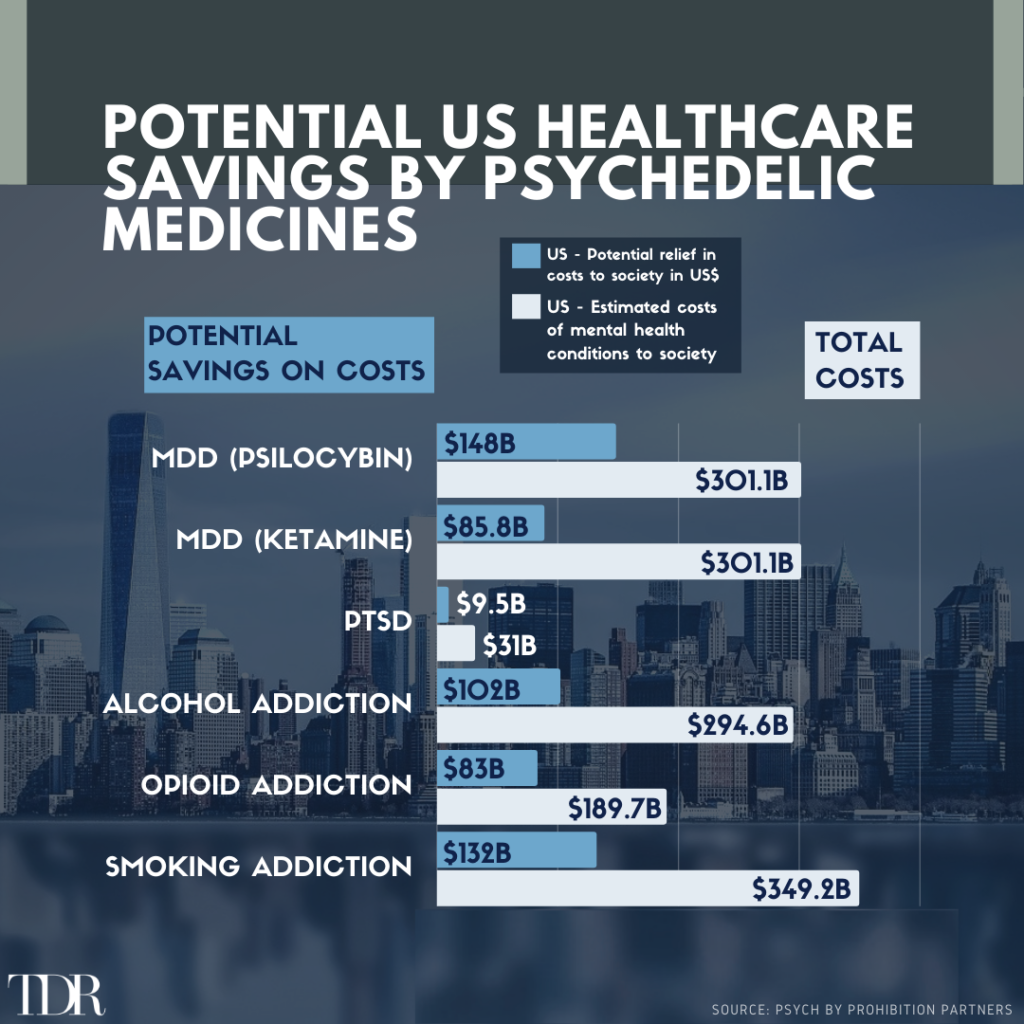 3. Study Reveals More People are Using Psychedelics to Self-Treat Mental Health
The use of psychedelic drugs as an underground self-treatment for mental health conditions is on the rise, according to the world's largest drug survey, with thousands of people turning to substances like LSD, MDMA, psilocybin and ketamine to treat psychiatric illnesses and emotional distress.
Of the 110,000 worldwide respondents to the 2020 Global Drug Survey, 6,500 (just under six percent) reported using recreational drugs as a DIY mental health treatment. These included cases of people microdosing alone with LSD or magic mushrooms, as well as cases where people took psychedelics under the supervision of another person in an unregulated setting.
2. Thiel-Backed ATAI Life Sciences Reaches $2 Billion Valuation
Atai Life Sciences AG, a German startup looking into ways of using psychedelic substances to treat mental-health disorders, has been valued at about $2 billion in a funding round ahead of its potential listing, people familiar with the matter said.
The company confirmed in a statement it raised $157 million in a Series D financing round led by founder Christian Angermayer and Thiel Capital, the investment firm backed by tech billionaire Peter Thiel. New investors including biotechnology fund Woodline Partners also participated, according to the statement.
Atai plans to hire Credit Suisse Group AG and Citigroup Inc. for a potential U.S. initial public offering that could take place as early as the second quarter, according to sources asking not to be identified because the information is private.
1. Psychedelic Stocks Battered As Investors Sell Risk, Growth And Momentum For a Second Consecutive Week
In a carbon copy of last week's trading action, many psychedelic stocks experienced double-digit declines this past week, as risk assets and momentum issues continued to plunge. As the tip of the spear in highly volatile, pre-revenue new growth industry, the psychedelic complex took another uppercut to the jaw, with Horizons Life Sciences Psychedelic ETF (PSYK) falling 12.76%. This was the second straight week of double-digit percentage declines. Volumes were flat to down throughout.
If there was any silver lining (a stretch to say the least), it's that things could have been a lot worse if not for a ferocious Friday afternoon rally which pared losses across the complex. For example, Mind Medicine was down as much as 23.73% on Friday (↓32.22 peak-to-trough on the week) triggering a circuit breaker halt before buyers swept in upon the reopening of trade. It was a similar situation with Compass Pathways—excluding the halt—which went from deep red (↓15.14%) to modest green (🠕3.71%).
How powerful was Friday's intraday turnaround? Zerohedge reported that "Today's sudden reversal is the biggest S&P 500 gain when it had dropped by over 1% intraday since 2011's European debt crisis". Psychedelic investors gladly accepted the reprieve, with many undoubtedly using the deep discount to add to core, long-term portfolio positions.
For the week, the NASDAQ 100 lost 2.06%, the TSX Composite Index rose 1.77% and the U.S. 10 Year Treasury Yield rose almost 10% from 1.426% to 1.568%, as inflation concerns continue to roil markets after a stronger than expected U.S. jobs report.
| | | | | | |
| --- | --- | --- | --- | --- | --- |
| Company | Ticker | Price ($) | Weekly Change (%) | WoW Volume Trend | Market Cap (s/o) |
| Compass Pathways | CMPS | 41.08 | -8.95 | ↓ | US$1.47B |
| Mind Medicine | MMED | 3.70 | -12.11 | ↔ | C$1.57B |
| Field Trip Health | FTRP | 6.60 | -6.25 | ↓ | C$278.0M |
| Seelos Therapeutics | SEEL | 2.60 | -12.45 | ↔ | US$187.4M |
| Cybin Inc. | CYBN | 1.44 | -10.00 | ↓ | C$211.8M |
| Numinus Wellness | NUMI | 1.28 | -14.09 | ↓ | C$209.4M |
| Revive Therapeutics | RVV | 0.38 | -25.49 | ↔ | C$117.2M |
| Champignon Brands | SHRMF | 0.46 | -11.53 | ↓ | US81.5M |
While good news was completely overshadowed by the markets, the sector produced a number of noteworthy disseminations:
PharmaDrug Inc., which announced renowned gastric cancer expert Dr. Yelena Y. Janjigian had joined Sairiyo Therapeutics Scientific and Clinical Advisory Board. Dr. Janjigian is currently leading several studies that could impact the standard of care for cancers in these fields—including the lead investigator for the ongoing Phase III CheckMate 649 trial sponsored by Bristol-Myers Squibb. Sairiyo received U.S. Food and Drug Administration (FDA) orphan drug designation approval for Cepharanthine in the treatment of esophageal cancer.
Both Tryp Therapeutics and Cybin Inc. announced applications to uplist on the OTCQB Venture Market. A move above the OTC Pink Market will foster increased liquidity with U.S. investors, family offices and funds that are prohibited, by choice or by covenant, from participating in Pink Sheet stock purchases where listing conditions are inferior.
PsyBio Therapeutics has initiated a pilot scale-up of its proprietary biosynthetic formulation of psilocybin in collaboration with Albany Molecular Research, a leading global provider of advanced contract research, development and manufacturing solutions. The company has moved its first production process from the laboratories of Dr. J. Andrew Jones at Miami University to a commercial development facility to scale production of its proprietary biosynthetic psilocybin ahead of clinical trials.
Also making in on our radar with Mind Cure Health, which has identified opportunities for ibogaine to support neuroregenerative pathways that the Company believes could be pivotal in treating neuropathic pain and brain trauma. The company is synthesizing ibogaine to be used in the Company's preclinical and clinical trials. Mind Medicine is also conducting Phase 1 trials of ibogaine derivative 18-Methoxycoronaridine (18-MC) to study its effects for addictive disorders.
And while not a public company, the non-profits continued to advance psilocybin-assisted therapy initiatives in Canada,
TheraPsil, a patient-rights advocacy group, announces the launch of its Phase 1 psilocybin therapy training program for healthcare professionals. Fifteen healthcare professionals will pursue the 10-week training program, which started March 1. The overall learning objective is that participants are prepared to safely and effectively guide a patient through all aspects of a therapeutic psilocybin experience. Successful graduates of TheraPsil's training program will become part of the pool of qualified healthcare professionals to whom TheraPsil may refer palliative Canadians who have approved section 56 exemptions.