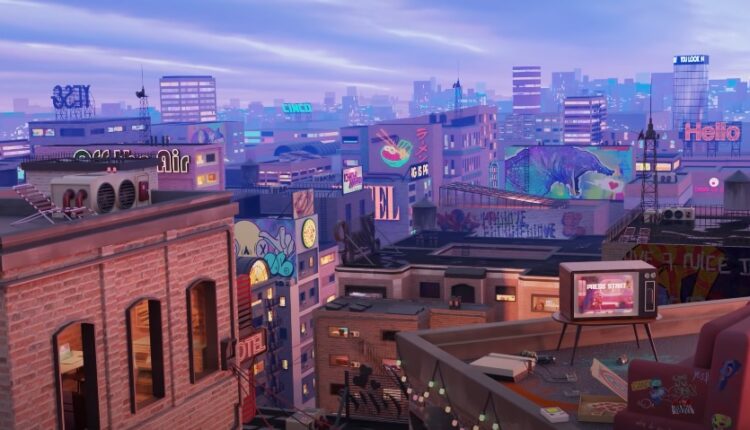 TDR's Top 5 Psychedelic Developments For the Week of March 15
Welcome to TDR's review of the Top 5 Psychedelic stories of the past week. Aside from presenting a synopsis of events, we provide market commentary to summarize the week that was for publicly-listed companies.
5. Novamind Partners with Merck for New Treatment-Resistant Depression Trial
Novamind Inc. (CNSX:NM) (OTCMKTS:NVMDF) announced that its wholly-owned subsidiary, Cedar Clinical Research, has been selected as a primary research site for a clinical trial focused on treatment-resistant depression by Merck & Co., among the most prominent pharmaceutical companies in the world.
The Phase 2 study will assess the efficacy and safety of a new Merck drug for treatment-resistant depression, a mental health condition that affects approximately 30% of people suffering from major depressive disorder. The study is titled "A Phase 2a, Randomized, Placebo-Controlled Clinical Study to Evaluate the Efficacy and Safety of MK-1942 Added to Stable Antidepressant Therapy in Participants With Treatment-Resistant Depression." The clinical trial begins enrolling individuals in March 2021.
4. Field Trip Health Closes $95 Million Bought Deal Financing—The Largest In History For A Canadian Psychedelics Company
Field Trip Health (CNSX:FTRP) (OTCMKTS:FTRPF) closed the bought deal short form prospectus offering previously announced on February 25 and 26, 2021—including the full exercise of the underwriters' over-allotment option. In connection with the Offering, Field Trip issued 14,661,499 common shares, at a price of C$6.50 per Common Share, for aggregate gross proceeds of $95 million.
Field Trip had pro forma cash and cash equivalents on hand of $113.7 million upon the closure of the Offering. Field Trip plans to use the net proceeds to fund the continued advancement of the FT-104 novel psychedelic development program, the establishment of new Field Trip Health centers, and for working capital and general corporate purposes.
__________
Infographic Of The Week: Depression Is The Leading Reason (>2x) Why People In Emotional Distress Self-Treat With Psychedelics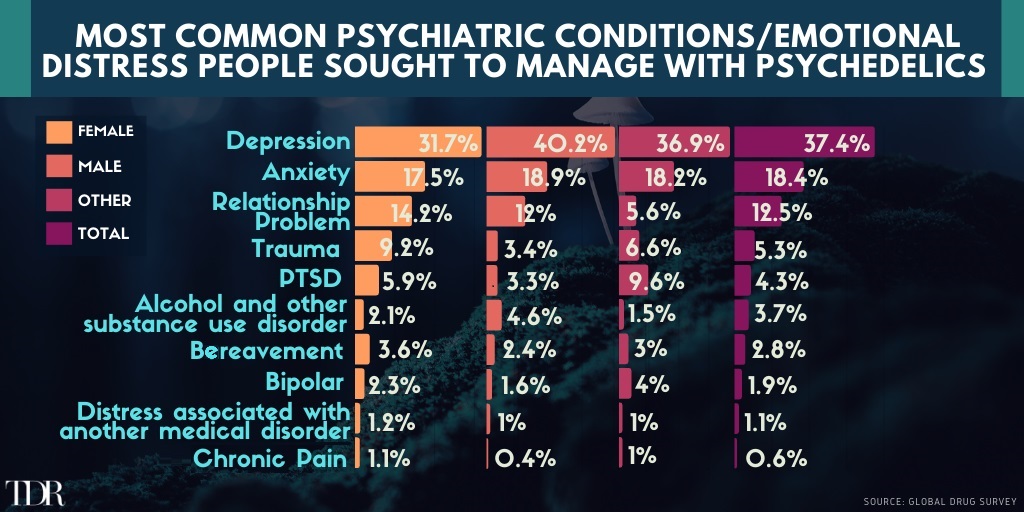 __________
Reddit AMA: PharmaTher CEO Fabio Chianelli Conducted An "Ask Me Anything" Q&A Session On r/shroomstocks ♣
__________
3. Numinus Wellness Announces Upsized Bought Deal Public Offering to $35 million
Numinus Wellness Inc. (CVE:NUMI) (OTCMKTS:LKYSF) entered into a revised agreement with Eight Capital and Canaccord Genuity (The Underwriters). The Underwriters have now agreed to purchase, on a bought deal basis pursuant to the filing of a prospectus supplement to the Company's short form base shelf prospectus dated March 12, 2021, an aggregate of 28,000,000 units at a price of $1.25 per Unit for aggregate gross proceeds to the Company of $35 million.
Each Unit consists of one common share and one-half of one common share purchase warrant of the Company. Each Warrant shall be exercisable to acquire one common share of the Company for a period of 24 months from closing of the Offering at an exercise price of $1.75.
Numinus intends to use the proceeds of the Offering for working capital and general corporate purposes.
_____
TDR: On March 19 (11:15am EST), Numinus announced the closure of the bought deal, with the Underwriters exercising the full over-allotment option to purchase an additional 4,200,000 Units. All told, $40.25 million in gross proceeds were raised in this financing round. The company now has approximately $65 million cash on hand in which to execute its growth strategies.
2. Psychedelic Stocks Decline Amidst Choppy Broad Market Conditions
The biggest psychedelic stocks mostly declined on the week, with the benchmark Horizon Life Sciences Stock Index ETF (PSYK) giving up 6.36%. The weakness was consistent with modest losses in the major indexes, growth stocks and small cap momentum—with the customary directional overshoot. PSYK has basically become a leveraged bet on market direction since inception, with volume continuing to trend lower.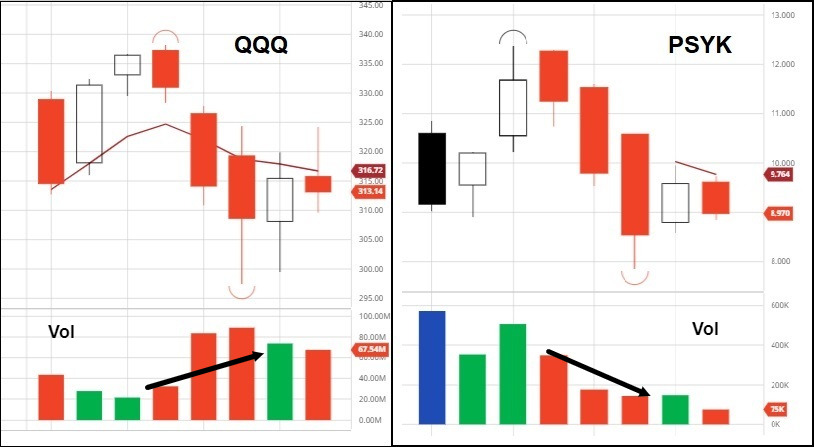 The rise in 10-year Treasury yields—the market's latest bugaboo—did no favors for growth stocks, rising another six percent on the week (1.726% close). Volumes were mixed and highly subject dependent upon individual news cycles.
| | | | | | |
| --- | --- | --- | --- | --- | --- |
| Company | Ticker | Price ($) | Weekly Change (%) | WoW Volume Trend | Market Cap (s/o) |
| Compass Pathways | CMPS | 39.25 | -4.45 | ↓ | US$1.44B |
| Mind Medicine | MMED | 3.54 | 1.14 | ↔ | C$1.53B |
| Seelos Therapeutics | SEEL | 4.32 | -9.05 | ↓ | US$316.4M |
| Field Trip Health | FTRP | 5.66 | -12.11 | ↑ | C$238.6M |
| Cybin Inc. | CYBN | 1.58 | 16.17 | ↑ | C$233.1M |
| Numinus Wellness | NUMI | 1.15 | -17.85 | ↑ | C$188.1M |
| Revive Therapeutics | RVV | 0.50 | -3.84 | ↓ | C$154.2M |
| Champignon Brands | SHRMF | 0.427 | -11.04 | ↓ | US75.7M |
Despite the red week, the news cycle was brimming with material news down the line:
Cybin Inc. has a strong week after receiving research coverage from a second investment bank, Canaccord Genuity. The firm initiated a BUY rating and C$8.00 price target, estimating that "between 1-2mn patients in the US would be eligible for CYBN's major depressive disorder (MDD) therapy, which is a small fraction of the total number of US patients." That's assuming their Phase 2 trials eventually go the distance, of course.
PharmaDrug makes our list by entering into a sponsored research agreement with the University of Michigan to evaluate N, N-dimethyltryptamine's (DMT) potential role in normal, diseased and altered states of consciousness in a newly created animal model. The ultimate objective to develop novel therapeutic strategies of DMT for clinical unmet medical needs. With research on DMT lagging in comparison to psilocybin and other compounds, PharmaDrug is the forefront public company studying this powerful hallucinogenic substance.
Red Light Holland had a notable week after successfully completing the sale and import of iMicrodose psychedelic truffles into Canada under a Health Canada psilocybin import permit obtained by CCrest Laboratories. The transaction is the first of a multi-phase project to expand into the mental wellness pharmaceutical sector by demonstrating a legally compliant route for supplying raw materials containing psychoactive molecules. RLH followed-up by completing its previously announced acquisition of SR Wholesale B.V. on Friday.
Perhaps flying under the radar, Tryp Therapeutics announced a provisional patent filing to improve how psychedelics are administered across a broad range of indications. The provisional patent describes novel methods for the formulation, delivery, and dosing of psychedelics resulting in a potential reduction in the time spent by patients in the dissociative state.
And finally, significant news on the psychedelics front Down Under as Australia intends to put significant resources into psychedelic research. Health Minister Greg Hunt announced a A$15 million grant on March 17 into how psychedelic substances can help treat PTSD, major depressive disorder, addiction disorders and eating disorders. The funding comes weeks after the Therapeutic Goods Administration denied an application from Mind Medicine Australia to reclassify MDMA and psilocybin.
1. Oregon Governor Appoints Panel To Implement Historic Legal Psilocybin Therapy Measure
On March 16, Oregon's governor confirmed the addition of 17 members of a first-of-its-kind advisory board that will aid in the adoption of a landmark effort to legalize psilocybin mushrooms for medicinal purposes.
This comes three months after Gov. Kate Brown's (D) office began accepting applications for the panel—mandated by Oregon Measure 109—which was passed by voters in November.
The board of experts includes psychiatrists, psychologists, public policy specialists, academics, a harm reduction consultant, and officials from state agencies such as the Oregon Health Authority (OHA) and the Justice Department, among others.