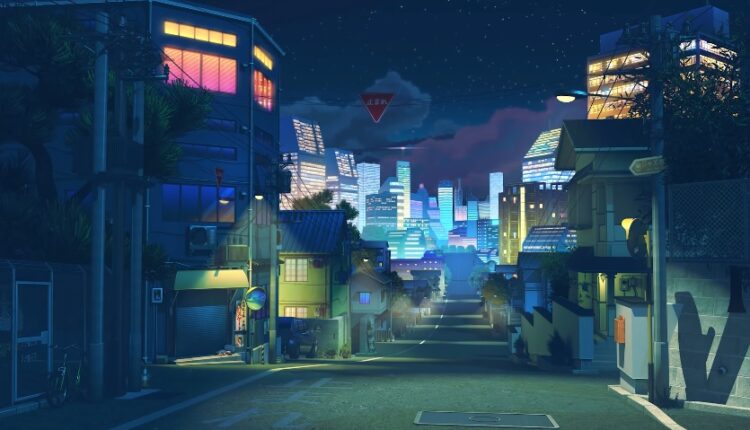 TDR's Top 5 Psychedelic Developments For the Week of March 22
Welcome to TDR's review of the Top 5 Psychedelic stories of the past week. Aside from presenting a synopsis of events, we provide market commentary to summarize the week that was for publicly-listed companies.
5. MindMed Announces Inclusion in FTSE Russell Indexes
MindMed (NEO:MMED) (OTCMKTS:MMEDF) announced that effective as of Friday March 19th, 2021, it has been added to the FTSE Global Micro-Cap Index—represents $1.3 trillion in global market cap—and the FTSE Total-Cap index, which represents $54.7 trillion in global market cap.
Chief Executive Officer J.R. Rahn commented, "Being included in mature and credible indexes like the FTSE Total Cap and FTSE Global Micro-Cap is a true honor. As we build MindMed into a pioneering company for the long-term, our entire team looks forward to the potential positive change we can bring to treating mental health and addiction in the years ahead."
4. Cybin Signs Drug Development Agreement with Catalent for its Fast-Dissolve Formulation of Novel, Deuterated Tryptamine (CYB003)
Cybin Inc. (NEO:CYBN) (OTCMKTS:CLXPF) announced that it has signed a drug development agreement with Catalent Inc., the leading global provider of advanced delivery technologies, development, and manufacturing solutions for drugs, biologics, cell and gene therapies, and consumer health products.
Cybin will use Catalent's patented Zydis orally disintegrating tablet (ODT) technology to produce innovative deuterated tryptamine (CYB003), which may be used to treat treatment-resistant psychiatric conditions.
__________
Clinical Trials Studying Psychedelic Compounds For Psychiatric, Addiction and Eating Disorders At Record Highs in 2020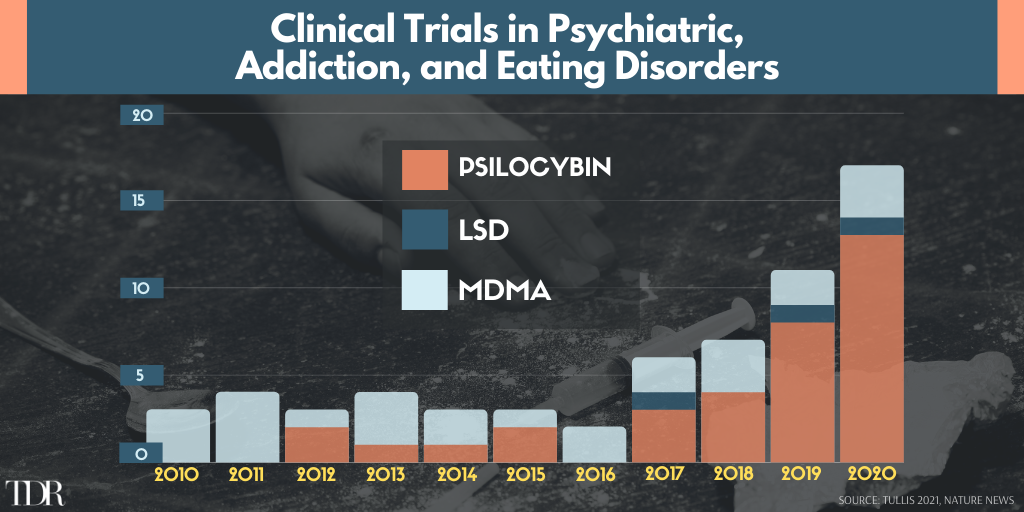 __________
3. Psychedelic Stocks Fail To Catch A Bid As Leadership Stocks Falter
Another lackluster week for the biggest psychedelic stocks despite a positive performance in the major indexes. The benchmark Horizon Life Sciences Stock Index ETF (PSYK) declined ↓6.91% as both Compass Pathways and MindMed finished lower by double-digits. The sector was also not helped by broad weakness in biotech stocks, with the Nasdaq Biotechnology Ishares ETF (↓4.32%) and Nasdaq Junior Biotechnology Index (↓8.24%) finishing sharply lower.
Compass Pathways has now declined 6 out of 7 days (↓18.73%) since the expiry of its 6-month IPO lockup period expired on March 17, pressuring the bid as sizable quantities of early investor shares became saleable. With CMPS still yielding triple-digit percentage gains from its final IPO price of $17/share (September 2020), investors were presumably eager to lock-in substantial gains in weakening market conditions. Leadership weakness set the tone for the rest of the sector.
| | | | | | |
| --- | --- | --- | --- | --- | --- |
| Company | Ticker | Price ($) | Weekly Change (%) | WoW Volume Trend | Market Cap (s/o) |
| Compass Pathways | CMPS | 34.75 | -11.46 | ↑ | US$1.27B |
| Mind Medicine | MMED | 3.18 | -10.16 | ↑ | C$1.38B |
| Seelos Therapeutics | SEEL | 4.28 | -0.92 | ↓ | US$313.5M |
| Field Trip Health | FTRP | 5.71 | 0.88 | ↓ | C$238.6M |
| Numinus Wellness | NUMI | 1.04 | -9.56 | ↓ | C$208.7M |
| Cybin Inc. | CYBN | 1.36 | -13.92 | ↓ | C$200.7M |
| Revive Therapeutics | RVV | 0.48 | -4.00 | ↓ | C$148.0M |
| Champignon Brands | SHRMF | 0.371 | -13.11 | ↔ | US65.7M |
In the news…
Compass Pathways has been granted two new patents by the US Patent and Trademark Office. These patents cover oral formulations of COMPASS's synthetic psilocybin in the treatment of major depressive disorder (MDD), which includes treatment-resistant depression. CEO George Goldsmith describes the patents as a "critical milestone" in establishing evidence-based options to treat patients with MDD/TRD in the U.S.
Mindset Pharma entered into a $5 million bought deal agreement in a deal lead by Canaccord Genuity to sell 6,670,000 Units of the company at a price of $0.75 per Unit, pursuant to the filing of a short form prospectus. Each Unit consists of one warrant priced at $1.10 and exercisable for 36 months. Next proceeds will be used for the expansion of Mindset's current pipeline of propriety compounds, further pre-clinical testing of current compounds, and more. The deal was later upsized to $7.5 million that same day (March 22).
Mydecine Innovations uplisted to the NEO Exchange following a voluntary delisting from the Canadian Securities Exchange. CEO Josh Bartch cites the possibilities for "increased liquidity, exposure, transparency and visibility, as well as access to a larger pool of institutional investors, both in Canada and the U.S.," as a primary reasons for shifting over. The NEO Exchange is making a bigger headway attracting psychedelic companies, comparatively, that it did attracting cannabis companies 2-3 years ago.
PharmaTher entered into a sponsored research agreement with The Queen's University of Belfast for the development of a patented hydrogel-forming microneedle patch to deliver KETABET, PharmaTher's proprietary ketamine formulation. The company is at the forefront of developing innovative microneedle delivery technology.
And finally, Champignon Brands announced late Friday that it filed a new Listing Statement with the Canadian Securities Exchange which contains disclosure regarding the acquisition of AltMed Capital Corp. Most notably, the company also filed an application with the British Columbia Securities Commission and Ontario Securities Commission requesting the revocation of duo Cease Trade Orders. Champignon has been working diligently to remedy material filing deficiencies and obtain reinstatement on Canadian exchanges.
Late Breaking (March 26, 8:00 pm EST)
2. New Jersey Governor 'Open-Minded' On Decriminalizing All Drugs
On March 22, New Jersey governor Phil Murphy said that he's "open" to the idea of decriminalizing possession of all currently illicit drugs—though his focus remains set for now on implementing marijuana legalization in the state.
Murphy's public openness to considering removing criminal penalties for possession of all drugs is the latest example of how broad decriminalization beyond cannabis—an issue once quickly dismissed out of hand—is gaining greater acceptance among politicians.
Oregon approved a historic measure to end criminalization for simple possession via citizen initiative, but lawmakers in California, Connecticut, Florida, Hawaii, Kansas, Missouri, New York, Rhode Island, Washington State and Virginia have also introduced drug policy reform bills during the 2021 session—some dealing only with psychedelics but others that similarly call for comprehensive decriminalization.
1. Andrew Yang Urges Legalization Of Psilocybin And Marijuana At New York City Mayoral Forum
Former 2020 Democratic presidential candidate and mayoral New York City candidate Andrew Yang said in a recent campaign forum that he supports legalizing psilocybin and marijuana.
But when pressed on decriminalizing all currently illicit drugs, the entrepreneur and several of his competitors declined to explicitly embrace the broad policy change. Yang did say, however, that he also supports ending the criminalization of people who use certain opioids.
Mr. Yang has taken a brave position on the matter. There seemed to be a reluctance among most of the New York mayoral contenders who participated in the forum to go on the record and giving a decisive answer to the decriminalization question. Most appeared more comfortable simply backing marijuana reform and stating platitudes about treating drugs as a health issue.