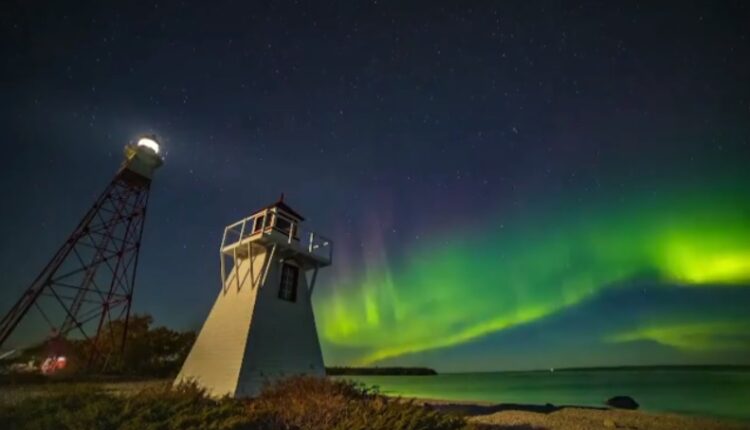 TDR's Top 5 Psychedelic Developments For the Week of March 8
Welcome to TDR's review of the Top 5 Psychedelic stories of the past week. Aside from presenting a synopsis of events, we provide market commentary to summarize the week that was for publicly-listed companies.
5. MINDCURE Receives Unconditional Ethics Approval for its Psychedelic Integration Protocol Research Study
Mind Cure Health Inc. (CNSX:MCUR) (OTCMKTS:MCURF) announced that it has received unconditional ethics approval from Veritas IRB for its integration protocol research study. This study will serve to inform the development of the company's digital therapeutics platform, iSTRYM, and how it is built out to best serve therapists, patients and the entire psychedelics industry.
"This is a monumental milestone for MINDCURE and our digital therapeutics strategy," said Kelsey Ramsden, President & CEO, MINDCURE. "As we build out iSTRYM to be the largest data repository of psychedelic experiences, we are ensuring that its development is rooted in research proof and a deep understanding of the systems and protocols provided during psychedelic therapy…"
4. MindMed Announces C$19.5 Million Bought Deal Private Placement Offering
Mind Medicine Inc. (NEO:MMED) (OTCMKTS:MMEDF) announced that it has entered into an agreement with Canaccord Genuity (the "Underwriter") pursuant to which the Underwriter has agreed to purchase for resale, on a bought deal private placement basis, an aggregate of 6,000,000 units of the Company at a price of C$3.25 per Unit for aggregate gross proceeds to the Company of C$19,500,000 . It is expected that the Offering will be primarily sold to one large institutional investor.
Each Unit shall consist of one subordinate voting share and one-half of one Subordinate Voting Share purchase warrant. Each Warrant shall be exercisable to acquire one Subordinate Voting Share at an exercise price of C$4.40 per Subordinate Voting Share for a period of 3 years from the closing date, subject to a Warrant acceleration right exercisable by the Company if the daily volume weighted average trading price of the Company's Subordinate Voting Shares on the Aequitas NEO Exchange is greater than C$6.90 per Subordinate Voting Share for the preceding 5 consecutive trading days.
_____
TDR: Following the closing of the Offering, Mindmed has increased its cash on hand to approximately CAD $205.2 million, or USD $162.0 million.
Infographic Of The Week: Total Market Opportunity ($Billions) Of Various Mental Illness Conditions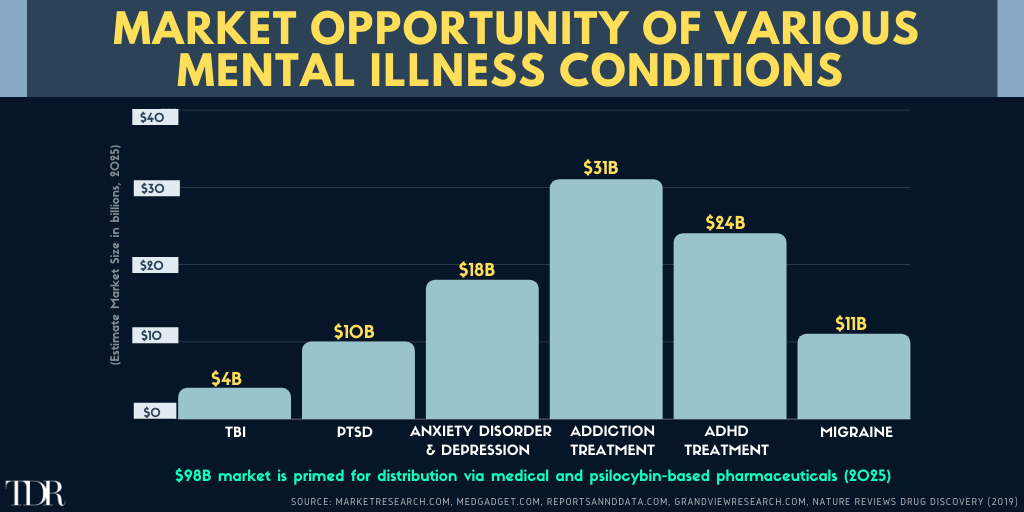 3. Numinus to expand state-of-the-art psychedelics research laboratory
Numinus Wellness Inc. (TSXV: NUMI ), a global leader in supporting and expanding the safe, accessible and evidence-based use of psychedelic-assisted psychotherapies (PAP), announced plans to significantly expand its psychedelics research laboratory by late 2021.
A 7,500 square-foot expansion will be developed and housed in an existing Numinus-leased building adjacent to the current lab. The expansion announcement comes days after Numinus received amendments to its federal licence under Canada's Controlled Drugs and Substances Act to allow the possession, production, assembly, sale, export and/or delivery of a variety of psychedelics including Ketamine, LSD, Mescaline, N,N-Dimethyltryptamine (DMT), N-Methyl-3,4, methylenedioxyamphetamine (MDMA), Psilocin and Psilocybin . 1
Clip Of The Week: Horizons' Steve Hawkins Infers Several New Additions Coming Soon to "PSYK" ETF
2. Psychedelic Stocks Stabilize As Growth Stocks, Broad Market Bounces Back
The psychedelic market stabilized this week, inline with a general bounce back in growth stocks across multiple sectors. Although the sector was largely mixed, sizable gains in Seelos Therapeutics (10.28% weighting), Revive Therapeutics (3.70%)—and to a lesser extent Numinus Wellness (8.56%)—allowed the Horizons Psychedelic Stock Index ETF to gain 12.17%. This was the third consecutive week where PSYK posted double-digit gains or losses, exemplifying the extreme volatility that continues to exist. Volumes were mixed throughout.
| | | | | | |
| --- | --- | --- | --- | --- | --- |
| Company | Ticker | Price ($) | Weekly Change (%) | WoW Volume Trend | Market Cap (s/o) |
| Compass Pathways | CMPS | 41.08 | 0.53 | ↓ | US$1.48B |
| Mind Medicine | MMED | 3.70 | –5.40 | ↓ | C$1.51B |
| Seelos Therapeutics | SEEL | 4.75 | 82.69 | ↑ | US$347.9M |
| Field Trip Health | FTRP | 6.44 | -2.42 | ↓ | C$271.1M |
| Numinus Wellness | NUMI | 1.40 | 9.37 | ↓ | C$229.0M |
| Cybin Inc. | CYBN | 1.36 | –5.55 | ↔ | C$200.6M |
| Revive Therapeutics | RVV | 0.52 | 36.84 | ↑ | C$160.4M |
| Champignon Brands | SHRMF | 0.48 | 5.06 | ↓ | US85.7M |
Seelos Therapeutics soared on its completion of patient enrollment of a Proof of Concept Study of SLS-002 for acute suicidal ideation and behavior in patients with major depressive disorder. Seelos expects to release key open-label data in Q2 2021, after analyzing the data received after the last enrolled patient's completion of Part 1 of the study. Part 1 of the study has a 16-day treatment period followed by a safety follow-up period to day 30. The last patient is expected to complete Part 1 of the study on April 1, 2021 .
Massachusetts General Hospital (MGH) launched the Center for the Neuroscience of Psychedelics on Tuesday. This signifies the return of psychedelics to Harvard, which has a muddied history with hallucinogenics stretching back to the mid-20th century. The center will focus on studying how and why the brain reacts to psychedelics, and its research could shed new light on what their use could mean for mental health treatment.
Mydecine Innovations entered into an arrangement with a newly-incorporated wholly-owned subsidiary ("SpinCo") to transfer its U.S. cannabis assets to SpinCo in accordance with a plan of arrangement pursuant to the Business Corporations Act (British Columbia) (the "Arrangement"), in consideration for approximately 10,000,000 common shares of Spinco. The Spinco Shares will then be distributed to Mydecine's shareholders on a pro rata basis. Upon completion of the Arrangement, Mydecine's shareholders will own shares in two reporting issuers. The move is being initiated to unlock shareholder value.
Tryp Therapeutics announce the appointed Luke Hayes as its Chief Financial Officer. Mr. Hayes has been active in the life science industry for more than 20 years with experience in technology transfer, venture capital, and finance.
And finally, DemeRx IB, Inc., an atai Life Sciences platform company focused on developing ibogaine for the treatment of opioid use disorder (OUD), announced the approval from the UK Medicines and Healthcare products Regulatory Agency (MHRA) to commence subject enrollment in a Phase 1/2a clinical trial of ibogaine HCl (DMX-1002). The Phase 1 portion of the MHRA approved trial will be conducted at the Manchester clinical unit of MAC Clinical Research (MAC), one of Europe's largest clinical development organizations.
1. New York Lawmaker Files Bill To Decriminalize Psilocybin Mushrooms
A New York lawmaker is proposing to decriminalize psychedelic mushrooms in the state. Assemblywoman Linda Rosenthal (D) introduced the reform legislation on Monday. It would amend state statute by removing psilocybin and psilocin—two of the main psychoactive ingredients in so-called magic mushrooms—from the list of controlled substances.
This is similar to a bill Rosenthal filed last year, except that the old version only covered psilocybin while the new one also includes psilocin. The measure has now been referred to the Assembly Health Committee.
A separate proposal to decriminalize possession of all currently controlled substances is also moving through the New York legislature. That bill has been referred to the Senate Codes Committee.