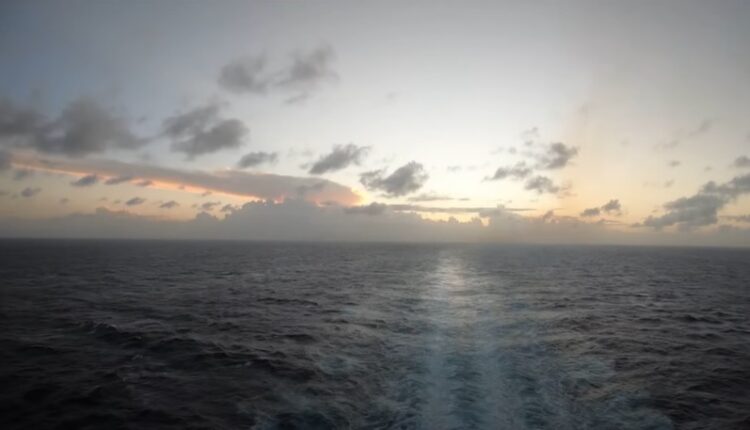 TDR's Top 5 Psychedelic Developments For The Week Of May 16
Welcome to TDR's review of the Top 5 Psychedelic developments for the week of May 9. Aside from presenting a synopsis of events, we provide market commentary to summarize the week that was for publicly-listed companies.
5. Biden Administration Announces $1.5 Billion Funding Opportunity for State Opioid Response Grant Program
The U.S. Department of Health and Human Services (HHS), through the Substance Abuse and Mental Health Services Administration (SAMHSA), is announcing a State Opioid Response (SOR) grant funding opportunity that will provide nearly $1.5 billion to states and territories to help address the Nation's opioid addiction and overdose epidemic. In President Biden's State of the Union, he named beating the opioids epidemic as a pillar of his Unity Agenda. Today's announcement is a critical step forward in that work, and the SOR program, along with the Tribal Opioid Response grant funding opportunity announced recently, are critical tools in President Biden's inaugural National Drug Control Strategy released last month and the Health and Human Services' (HHS) Overdose Prevention Strategy.
The State Opioid Response grant program delivers crucial aid to states and territories to help address in the crisis of overdose and death in our nation's communities," said HHS Secretary Xavier Becerra. "And, in line with HHS' Overdose Prevention Strategy, this funding helps facilitate state- and territory-level efforts to ensure the full continuum of prevention, harm reduction, treatment and long-term recovery supports are in place and accessible to all who need them.

HHS Secretary Xavier Becerra
The SOR grant program provides formula funding to states and territories for increasing access to FDA-approved medications for the treatment of Opioid Use Disorder (OUD), and for supporting prevention, harm reduction, treatment, and recovery support services for OUD and other concurrent substance use disorders (SUD). The SOR program also supports care for stimulant misuse and use disorders, including for cocaine and methamphetamine. The SOR program helps reduce overdose deaths and close the gap in treatment needs across America by giving states and territories flexibility in funding evidence-based practices and supports across different settings to meet local community needs.
4. Awakn Life Sciences Completes World's First Ketamine Treatment Study for a Range of Behavioral Addictions
Awakn Life Sciences Corp. (NEO: AWKN)(OTCMKTS: AWKNF) announced today the completion of the world's first ketamine treatment study for behavioral addictions. The behavioral addictions included in the study were Gambling Disorder, Internet Gaming Disorder, Binge Eating Disorder and Compulsive Sexual Behavior.
The study was led by Prof. Celia Morgan, Awakn's Head of Ketamine-Assisted Therapy, Professor of Psychopharmacology at the University of Exeter, U.K., and an internationally respected expert in the therapeutic use of ketamine. The study investigated ketamine as a new treatment approach for these behavioral addictions by opening a window in which the brain can make new connections to change behavior.
The results from the study indicate the desired effects via potentially novel mechanisms and these results merit a larger study and further exploration, which Awakn is now initiating. The study also supports Awakn's Intellectual Property (IP) strategy and existing filed patent applications, positioning Awakn as a leading company in the behavioral-addiction therapeutic research and development industry. The company expects to update investors further on its IP strategy in the coming weeks.
__________
Antidepressants And Psychedelics Drug Interaction Chart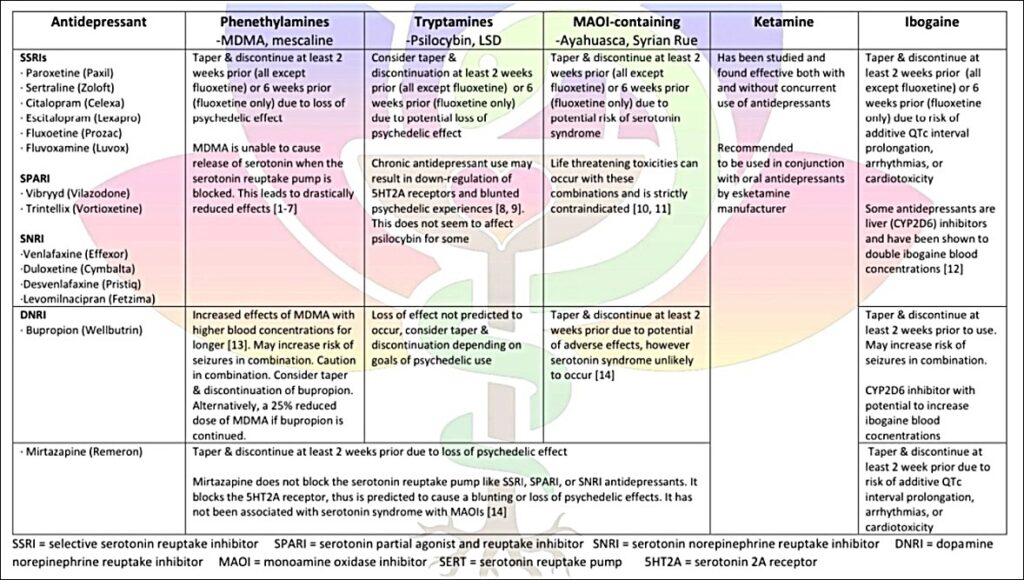 __________
3. Big Rebound As Psychedelic Stocks Outperform BioPharma Indexes
The biggest psychedelic stocks mostly rose this past week, noticeable outperforming peer biopharma indexes. The Horizon Psychedelic Stock Index ETF (PSYK) climbed ↑12.80%, which was materially stronger than both the Nasdaq Junior Biotechnology Index (↑2.42%) and Nasdaq Biotechnology Ishares ETF (↑2.18%). This occurred despite broad markets which slumped for a seventh consecutive week—NASDAQ 100 ↓4.40% and S&P 500 ↓2.93%. This was the seventh consecutive week of decline in both of these indexes, which hasn't occurred since the Great Financial Crisis of 2008. Here's how the Health Care (Biotechnology) sector performed:

Weekly technical snapshot, PSYK ETF:
| | | | |
| --- | --- | --- | --- |
| OSCILLATORS | PSYK: 2.73 | MOVING AVERAGES | |
| Name | Value | Name | Value |
| Relative Strength Index (14) | 26.85 | Exponential Moving Average (10) | 3.08 |
| Stochastic %K (14, 3, 3) | 18.12 | Simple Moving Average (10) | 3.14 |
| Commodity Channel Index (20) | −150.05 | Exponential Moving Average (20) | 3.67 |
| Average Directional Index (14) | 53.66 | Simple Moving Average (20) | 3.51 |
| Awesome Oscillator | −1.78 | Exponential Moving Average (30) | 4.28 |
| Momentum (10) | −0.66 | Simple Moving Average (30) | 4.31 |
| MACD Level (12, 26) | −0.85 | Exponential Moving Average (50) | 5.46 |
| Stochastic RSI Fast (3, 3, 14, 14) | 31 | Simple Moving Average (50) | 5.72 |
| | | | | | |
| --- | --- | --- | --- | --- | --- |
| Company | Ticker | Price ($) | Weekly Change (%) | WoW Volume Trend | Market Cap (s/o) |
| ATAI Life Sciences | ATAI | 4.00 | 9.89 | ↓ | US$642.9M |
| GH Research | GHRS | 10.04 | 2.76 | ↑ | US$522.2M |
| COMPASS Pathways | CMPS | 8.36 | 9.56 | ↓ | US$355.3M |
| Mind Medicine | MNMD | 0.77 | -1.14 | ↓ | US$325.7M |
| Cybin Inc. | CYBN | 0.5905 | 43.67 | ↓ | US$97.4M |
| Revive Therapeutics | RVVTF | 0.300 | 70.45 | ↓ | US$95.8M |
| Numinus Wellness | NUMI | 0.39 | 8.33 | ↓ | C$81.2M |
| Field Trip Health | FTRP | 0.87 | -7.74 | ↓ | US$50.7M |
| Small Pharma | DMT | 0.17 | -12.82 | ↔ | C$54.3M |
| Mindset Pharma | MSET | 0.425 | 3.65 | ↔ | C$38.6M |
| Awakn Life Sciences | AWKN | 1.31 | 11.96 | ↑ | C$33.9M |
In the news…
atai Life Sciences reported financial results for the quarter ended March 31, 2022 and provided a business update. Ended the first quarter with $335 million cash, maintaining atai's position as a well-funded, leading mental health company.
TDR's Take: Atai Life Sciences: Optimizing Drug Development By Avoiding Big Pharma's Past Missteps
Australia's national science agency CSIRO is aiming to develop new psychedelics for a variety of mental health conditions including depression, addiction, end-of-life anxiety and PTSD.
Awakn Life Sciences announced that Dr. ArunDhandayudham is joining Awakn as its Chief Medical Officer. Dr. Ben Sessa is stepping back from his role as CMO to become Awakn's Head of Psychedelic Medicine, allowing him to continue his work in research, academic and training activities, as well as a greater focus on the day-to-day treatment of his clients as the Lead Physiatrist for Awakn Clinics Bristol.
Braxia Scientific receives Special Access Program (SAP) approval for use of psilocybin in Ontario. Health Canada approval is for patients with Major Depressive Disorder in the absence of terminal medical illness or end of life distress.
CB Therapeutics has been granted a new patent covering the use of microorganisms to produce tryptamines and their analogs, such as psilocybin and various other molecules found in "magic" mushrooms.
Clearmind Medicine announced positive safety results of its proprietary molecule, MEAI, to treat alcohol abuse.
Clerkenwell Health opening Europe's first commercial psychedelic research facility.
Davos 2022: The first ever medical psychedelics series will be hosted by Energia Holdings Incorporated. The world's most prominent psychedelic industry leaders, drug development experts, clinicians, nonprofit organizations, advocates, and influencers will gather separately in Davos at the inaugural Medical Psychedelic Series to help shape the future of mental health.
Havn Life Sciences announced a partnership with TheraPsil – a non-profit coalition dedicated to helping Canadians in medical need access legal psilocybin-assisted psychotherapy and GMP-quality psilocybin. Under the Partnership, TheraPsil will support prescribing healthcare professionals in requesting psilocybin from HAVN Life, and other licensed dealers enrolled in TheraPsil's "Project Solace", through the Special Access Program. TDR interviews CEO Tim Moore:
Mind Medicine announced that the registration statement on Form S-3, filed on May 4, 2022, was declared effective by the U.S. Securities and Exchange Commission, which includes a prospectus for an at-the-market equity offering under which the company may offer and sell its Subordinate Voting Shares or common shares re-designated from the Company's Subordinate Voting Shares for up to $100,000,000 in aggregate sales proceeds.
Nirvana Life Sciences announced the appointment of Mr. Jakson Inwentash to the company's Board of Directors.
Optimi Health has completed the acquisition of a diverse catalog of psilocybin and functional mushroom strains intended for cultivation in its 20,000 square foot, EU-GMP compliant facility in Princeton, British Columbia.
Red Light Holland has completed the third export of psilocybe truffles, from the Netherlands to Canada, under a Health Canada psilocybin import permit awarded to CCrest Laboratories Inc. in partnership with Shaman Pharma Corp.
Silo Pharma announced that it in conjunction with the University of California San Francisco (UCSF), researchers have successfully dosed patients suffering from Parkinson's disease. As part of this study, the researchers are collecting blood samples to determine the effects of psilocybin on inflammatory markers of patients who have exhibited signs of Parkinson's.
2. MindMed Reports Topline Data From Phase 1 Trial of MM-110 in Development for the Treatment of Opioid Withdrawal
Mind Medicine (NASDAQ: MNMD), (NEO: MMED) announced topline results from the Phase 1 placebo-controlled trial designed to assess the safety, tolerability, pharmacokinetics and neurocognitive effects of MM-110 in 108 healthy volunteers. The results showed favorable safety and tolerability, support the advancement of MM-110, and have guided the Phase 2a dose, schedule, and design in individuals undergoing supervised opioid withdrawal. MM-110 (also known as zolunicant HCl or 18-MC) is an α3β4 nicotinic cholinergic receptor antagonist and non-hallucinogenic proprietary congener of ibogaine.
A total of 72 participants received up to 325 mg of MM-110 (n=51) twice on a single day or placebo (n=21), and 36 participants were administered up to 90mg of MM-110 (n=26) twice daily for seven days or placebo (n=10). The topline results and observations include the following:
MM-110 was well-tolerated up to 500mg per day in the single ascending dose (SAD) arm and 60 mg per day for seven days in the multiple-ascending dose (MAD) arm of the trial.
A linear pharmacokinetic profile was maintained across the tested doses and frequencies.
Observed clinical effects demonstrated alignment with potent CNS engagement.
No serious adverse events were reported . Treatment emergent adverse events were mild or moderate in severity and resolved without sequelae.
Clinical laboratory parameters and electrocardiograms were also assessed with no findings of clinical concern across the administered dose ranges.
Next steps: Consistent with the Phase 1 trial and aligned with the preclinical data, an every-other-day dose regimen is planned for the Phase 2a trial. This dose schedule offers the potential to be a better option than existing treatments for supervised opioid withdrawal.
1. First Patient In Quebec Gets Approval From Health Canada For Magic Mushroom Therapy
In Montreal, meanwhile, a pioneering clinic in the emerging field of psychedelic-assisted psychotherapy is about to become the first health-care facility in Quebec to legally treat depression with psilocybin. Bui-Nguyen said his Mindspace by Numinus clinic received Health Canada's approval on May 5 to care for a patient who had undergone several unsuccessful treatments for depression.
Mindspace by Numinus CEO Payton Nyquvest said psychedelics have the potential to become a widespread treatment. As Health Canada continues to approve more requests, he hopes the recognition will make the treatment much more accessible.
Health Canada on Jan. 5 restored its Special Access Program — abolished under former prime minister Stephen Harper in 2013 — allowing health-care experts to request access to restricted drugs that have not yet been authorized for sale in the country.
Related: Numinus Wellness Receives Health Canada Special Access Program Applicant Approval to Provide Psychedelic-assisted Therapy Treatment