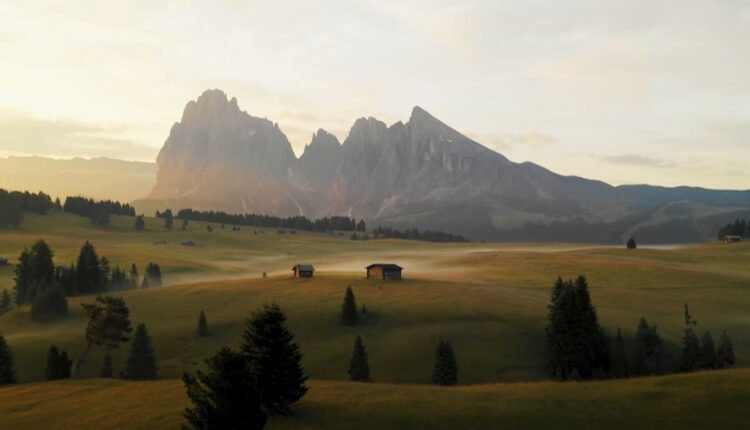 TDR's Top 5 Psychedelic Developments For The Week Of May 9
Welcome to TDR's review of the Top 5 Psychedelic developments for the week of May 9. Aside from presenting a synopsis of events, we provide market commentary to summarize the week that was for publicly-listed companies.
5. FDA Gives Expanded Access To MDMA As A Treatment For PTSD
Clinics in 10 U.S. cities — including one in Western North Carolina — have been approved by the FDA to expand patient access to MDMA. The recreational drug also known as Ecstasy, will be a treatment for post-traumatic stress disorder. The program is currently in phase three trials, but the safety and efficacy demonstrated thus far will allow for compassionate use, with an eye on possible FDA approval next year.
What we've done for years in treatment is try to give people drugs that have tried to basically throw a blanket on those symptoms. Unfortunately, we haven't done a very good job with those drugs.

Dr. Raymond Turpin, a psychologist with the nonprofit Pearl Psychedelic Institute in Waynesville
Post-traumatic stress disorder has been around as long as trauma has, but it's only recently been recognized as a formal diagnosis, especially for members of the armed forces exposed to intense or prolonged violence. Left untreated, PTSD can lead to self-harm, and is considered a major contributing factor to the epidemic of veteran suicides.
4. Colorado Activists Collect Tens Of Thousands Of Signatures To Put Psychedelics Reform On Ballot
Colorado activists have wasted no time working to place competing initiatives to legalize psychedelics on the state's November ballot, with one campaign saying that it's already collected nearly half of the required signatures needed to qualify its measure.
Natural Medicine Colorado, a campaign backed by the national New Approach PAC, filed several versions of reform initiatives before deciding on one to pursue in March. It would legalize psilocybin, create licensed "healing centers" where people can use the psychedelic for therapeutic purposes and provide a pathway for record sealing for prior convictions.
__________
Recently Released Data Shows LSD Produced A Lasting And Rapid Reduction And Anxiety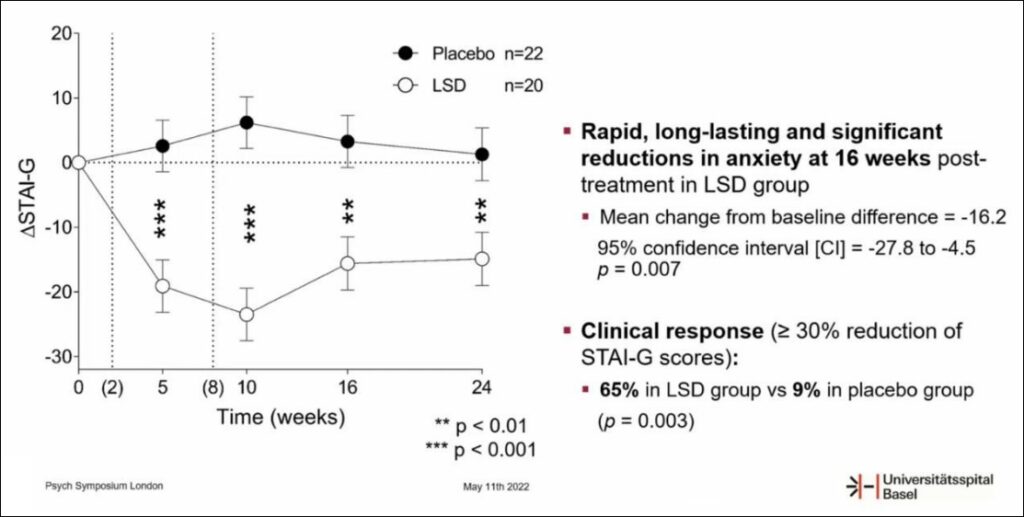 __________
3. Psychedelic Stocks Swoon As Key Biotech ETF Makes Multi-Year Lows
The biggest psychedelic stocks mostly declined this past week, noticeable underperforming peer biopharma indexes. The Horizon Psychedelic Stock Index ETF (PSYK) shed ↓9.70%, while the Nasdaq Junior Biotechnology Index (↓2.64%) and Nasdaq Biotechnology Ishares ETF (↓0.02%) were materially stronger. The broad market slumped for a sixth consecutive week, with NASDAQ 100 ↓2.54% and S&P 500 ↓2.49% falling hard, although finishing Friday on an up note. Here's how the Health Care (Biotechnology) sector performed:
Weekly technical snapshot, PSYK ETF:
| | | | |
| --- | --- | --- | --- |
| OSCILLATORS | PSYK: 2.42 | MOVING AVERAGES | |
| Name | Value | Name | Value |
| Relative Strength Index (14) | 18.88 | Exponential Moving Average (10) | 3.16 |
| Stochastic %K (14, 3, 3) | 7.06 | Simple Moving Average (10) | 3.2 |
| Commodity Channel Index (20) | −194.19 | Exponential Moving Average (20) | 3.77 |
| Average Directional Index (14) | 52.92 | Simple Moving Average (20) | 3.6 |
| Awesome Oscillator | −1.74 | Exponential Moving Average (30) | 4.38 |
| Momentum (10) | −1.00 | Simple Moving Average (30) | 4.45 |
| MACD Level (12, 26) | −0.87 | Exponential Moving Average (50) | 5.57 |
| Stochastic RSI Fast (3, 3, 14, 14) | 6 | Simple Moving Average (50) | 5.82 |
| Williams Percent Range (14) | −83.64 | | |
| | | | | | |
| --- | --- | --- | --- | --- | --- |
| Company | Ticker | Price ($) | Weekly Change (%) | WoW Volume Trend | Market Cap (s/o) |
| ATAI Life Sciences | ATAI | 3.64 | -5.69 | ↑ | US$585.0M |
| GH Research | GHRS | 9.77 | -18.58 | ↑ | US$508.2M |
| COMPASS Pathways | CMPS | 7.63 | -8.07 | ↑ | US$324.3M |
| Mind Medicine | MNMD | 0.78 | -6.03 | ↑ | US$329.5M |
| Cybin Inc. | CYBN | 0.411 | -20.38 | ↑ | US$67.6M |
| Revive Therapeutics | RVVTF | 0.176 | -20.72 | ↑ | US$56.2M |
| Numinus Wellness | NUMI | 0.36 | -14.28 | ↑ | C$75.0M |
| Field Trip Health | FTRP | 0.943 | 8.89 | ↓ | US$54.6M |
| Small Pharma | DMT | 0.195 | -7.14 | ↑ | C$62.3M |
| Mindset Pharma | MSET | 0.41 | 2.50 | ↔ | C$37.2M |
| Awakn Life Sciences | AWKN | 1.17 | -12.68 | ↓ | C$32.5M |
| Mydecine Innovations | MYCOD | 1.05 | -8.69 | ↓ | C$6.9M |
In the news…
A national drug policy advocacy organization is condemning how a prominent psychedelic research body responded to a B.C. woman's allegations of sexual and physical abuse during clinical trials for MDMA-assisted psychotherapy.
Beckley Psytech Limited and Lophora ApS have entered into a research and development collaboration. Under the terms of the agreement Beckley Psytech will jointly fund continuing development of the Lophora pipeline and collaborate broadly on R&D.
Bright Minds Biosciences will host a symposium with Key Opinion Leaders on Dravet Syndrome and recent therapeutic developments within the competitive landscape.
Clearmind Medicine announced the filing of a provisional patent application, related to a psychedelic combination therapy treating binge behaviors that results from its recently launched collaboration with SciSparc Ltd. (NASDAQ: SPRC).
COMPASS Pathways to explore how psilocybin affects specific brain pathways in autistic adults. This will be the first ever mechanistic study of psilocybin in autistic adults.
COMPASS Pathways reported its financial results for the first quarter 2022 and gave an update on recent progress across its business. Cash and cash equivalents were $243.7 million as of 31 March 2022 compared with $273.2 million as of 31 December 2021.
Enveric Biosciences announced plans to transfer and spin-off its cannabinoid clinical development pipeline assets to a wholly-owned subsidiary, Acanna Therapeutics Inc. by way of dividend to Enveric shareholders.
Field Trip Health announced the launch of Field Trip at Home™ Powered by Nue Life, which provides ketamine treatments from the comfort of a person's home.
FSD Pharma announced the closing of the sale of the Company's former cannabis processing facility located in Cobourg, Ontario, Canada for gross proceeds of CAD$16,400,000 in cash.
Kernel, a leader in non-invasive neuroimaging, and Cybin Inc. announce pilot results from a Cybin-sponsored feasibility study evaluating Kernel's quantitative neuroimaging technology, Flow, to measure cortical hemodynamics while experiencing an altered state of consciousness.
Ketamine Wellness Centers announced a new partnership with the Veterans Administration (VA) in Arizona. Veterans suffering from treatment-resistant depression, PTSD and anxiety will have access to ketamine therapy at the KWC Arizona clinics in Phoenix, Tucson and Mesa-Gilbert at no out-of-pocket cost with prior authorization from the VA.
Mind Medicine will host a key opinion leader webinar on substance use disorders and withdrawal management on Thursday, May 19, 2022 at 11:00am EDT.
Mindset Pharma announced that it is making headway in progressing its Family 1 lead clinical candidate, MSP-1014, towards clinical trials.
Novamind has been selected to host a clinical trial for the acute treatment of social anxiety disorder (SAD), an understudied and common mental health condition that affects nearly 15 million American adults. The phase II randomized clinical study for the acute treatment of SAD is sponsored by Bionomics Limited, a clinical-stage biopharmaceutical company listed on NASDAQ.
Ohio State University launches center to study therapeutic potential of psychedelics.
Optimi Health has completed a planned expansion of the on-site analytical laboratory at its Princeton, British Columbia facility.
Red Light Holland has engaged Akwasi Owusu-Bempah to serve as an Advisor to its Advisory Board.
Red Light Holland has submitted a Patent Cooperation Treaty application based on the provisional application it filed last year for the customization and personalization of microdosing kits and protocols based on biometric and movement data.
Revitalist Lifestyle And Wellness reported updates on strategic initiatives accomplished in April including becoming a founding partner with the American Association of Psychedelics.
Wesana Health Holdings announced that following the completion of a successful Pre-IND meeting with the United States Food and Drug Administration, the company is expanding its lead indication for SANA-013 to Major Depressive Disorder and exploring other complementary orphan indications.
2. Senators Want Psychedelics Research Review From Federal Agencies
Sens. Brian Schatz (D-HI) and Cory Booker (D-NJ) are pushing top federal officials to provide an update on research into the therapeutic potential of psychedelics, arguing that ongoing federal prohibition has stymied studies.
In a letter sent to the heads of the National Institutes on Health (NIH) and Food and Drug Administration (FDA) on Wednesday, the senators said that the agencies are "critical to ensuring a comprehensive, rigorous, and deliberative science-based approach to the study of psychedelics." That includes the "potential development of medication and therapeutics derived from these substances," they wrote.
The senators said that they're encouraged that NIH hosted a workshop in January to explore regulatory challenges that are impeding research into psychedelics like psilocybin and MDMA. And they want the agencies "to further expand their role in identifying research gaps, potentially promising therapeutic uses of psychedelics, and regulatory hurdles in the field of psychedelic research."
1. MindMed Collaborators Prof. Liechti And Dr. Holze Announce Positive Topline Data From Phase 2 Trial Evaluating LSD in Anxiety Disorders
Mind Medicine (NASDAQ: MNMD), (NEO: MMED) announced that Prof. Matthias Liechti and Dr. Friederike Holze , MindMed collaborators at University Hospital Basel (UHB), have released positive topline data from a Phase 2 placebo-controlled investigator-initiated clinical trial evaluating LSD in the treatment of anxiety disorders. These findings were presented in an oral presentation at London's PSYCH Symposium on May 11, 2022 .
The topline data demonstrate the significant, rapid, durable, and beneficial effects of LSD and potential to safely mitigate symptoms of anxiety and depression. LSD (200 µg) treatment resulted in significant and strong reductions of STAI-G scores 16 weeks after treatment in the between-subjects analysis (least square mean (± SE) change from baseline difference = -16.2 (5.8), 95% CI=-27.8 to -4.5, p=0.007). LSD was well-tolerated.

Said Dr. Miri Halperin Wernli , Executive President of MindMed "These results represent the highest quality research ever conducted with LSD in anxiety disorders and provide contemporary confirmation of the preliminary findings of the anxiolytic and antidepressant effects of LSD in over 500 patients to date. The statistically significant, strong and long-lasting reductions in STAI-G scores, combined with similarly rapid and sustained responses in all secondary endpoint measurements, are extremely encouraging. These results further support MindMed's clinical development strategy."