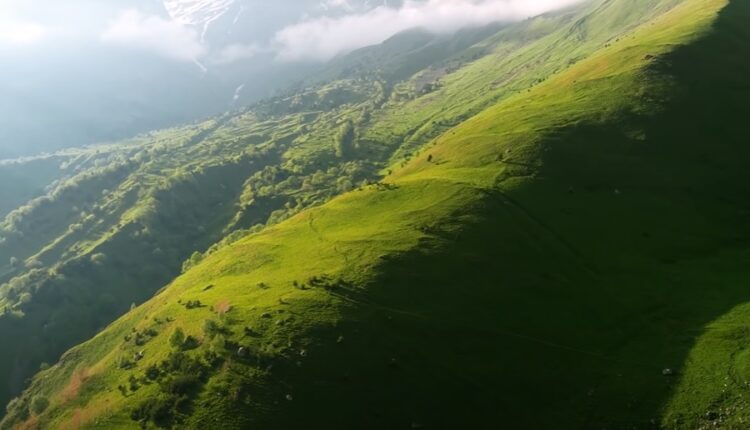 TDR's Top 5 Psychedelic Developments For The Week Of October 10
Welcome to TDR's review of the Top 5 Psychedelic Developments for the week of October 10. Aside from presenting a synopsis of events, we provide market commentary to summarize the week that was for publicly-listed companies.
5. Atai Life Sciences Announces Positive Initial Results for Phase 1 Trial of KUR-101, an Oral Formulation of Mitragynine for OUD
Atai Life Sciences N.V. (Nasdaq: ATAI) announced positive initial results for their Phase 1 clinical trial of KUR-101. KUR-101 is an oral formulation of deuterated mitragynine, the major active alkaloid of the kratom plant, under development for the treatment of opioid use disorder (OUD).
Initial results indicate that KUR-101 is safe and generally well-tolerated. Results also showed a dose-proportional pharmacokinetic (PK) profile that was unaffected by food. In the single ascending oral dose portion of the trial, no severe or serious adverse events were reported, with most treatment-related adverse events being mild. Changes in respiratory rate following treatment with KUR-101 were comparable to that of placebo-treated patients for the doses tested and comparable across doses.
4. Palo Santo Closes $50M Psychedelic Therapeutics Investment Fund
Palo Santo, a venture capital fund focused on backing and building emerging psychedelic therapeutics companies, recently announced the closing of its $50 million fund.
The oversubscribed fund is positioned to have a transformative impact on the field of mental health by funding a diverse portfolio of businesses developing innovative psychedelic medicines and therapies targeting both mental health as well as a range of Central nervous system (CNS) disorders.
The Palo Santo Fund is currently invested in over 20 portfolio companies across the psychedelic ecosystem. Moreover, the company combines its investing and portfolio-building experience with the expertise of leading academics and advisors in psychedelic science.
__________
DEA Proposes Dramatic Increases In Cannabis And Psychedelics Production In 2023 For Research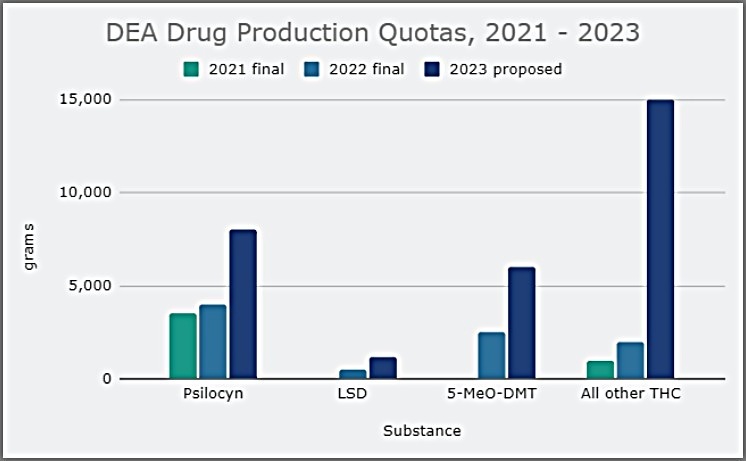 __________
3. Psychedelic Sector Dives As Bears Maintain Control
The psychedelic sector dove this past week, as reflected by the Horizon Psychedelic Stock Index (PSYK) ETF (↓14.67%). The ETF vastly underperformed the Nasdaq Junior Biotechnology Index (↓2.16%) and Nasdaq Biotechnology Ishares ETF (↑0.62%), which both trending inline or better with the the broad indices. The NASDAQ 100 ↓3.16% and S&P 500 ↓1.53% fell, where higher-than-consensus Consumer Price Index readings implied additional & robust rate hikes ahead.
Here's how the Health Care (Biotechnology) sector performed:
In the news…
Algernon Pharmaceuticals announced that Dr. Rick Strassman, author of the book DMT: The Spirit Molecule and Algernon consultant, will be joining CEO Christopher J. Moreau for the Science Keynote Address at Wonderland, the world-leading event in the psychedelic medicine industry.
American Psychedelic Practitioners Association has announced the launch of their organization, establishing safe, ethical and accessible psychedelic therapy and specific focus Psychedelic Assisted Therapy.
Clerkenwell Health, a psychedelic-specialist clinical research organization, has raised £2.1 million in seed funding, bringing the total to date up to £2.5 million, which will be used to get the London-based startup fully operational.
Colorado voters will decide this November whether to decriminalize the possession and use of some hallucinogenic plants and fungi, including "magic" mushrooms.
Cybin Inc. and The Chopra Foundation, a not-for-profit organization dedicated to improving health and well-being founded by Dr. Deepak Chopra, join everyone in recognizing World Mental Health Day.
Drug Enforcement Agency is proposing to more than double the amount of marijuana that can be legally grown for research in 2023 and is also increasing quotas for psychedelics like psilocyn, LSD and 5-MeO-DMT—with a 12x bump for mescaline.
Field Trip Health & Wellness announced that a new version of its award-winning app for psychedelic guidance is now available for download on the App Store and Google Play.
Giving lab rats illicit psychedelic drugs may help scientists uncover how it can be used to treat anorexia in humans.
IntelGenx Corp. provided an update on its collaboration with its strategic partner, atai Life Sciences, for the development of novel formulations of pharmaceutical-grade psychedelics based on IntelGenx's polymeric film technologies.
Kratom grows in several Asian countries and has been traditionally used by local communities as a natural home remedy for pain, depression and addiction. Now, several psychedelics companies are developing substances based on this plant and several US states have already enacted legislation that regulates its production, distribution and sale.
Lobe Sciences has completed the synthesis of bulk L-130, a proprietary form of psilocin, and of the clinical supplies to be used in upcoming trials. The L-130 was manufactured in compliance with U.S. cGMPs (Current Good Manufacturing Practices).
LOVE Pharma provided an update on the advancement of the previously announced trial focused upon clinical applications for psilocybin assisted therapy for addiction to be conducted at Johns Hopkins.
Optimi Health has closed a non-brokered private placement of 5,692,308 units of the company at a price of $0.325 per Unit for gross proceeds of $1,850,000 with Wilson Capital, the Private Equity Division Chip Wilson's family office. 
PsyBio Therapeutics has reached an initial agreement with experienced clinical researchers to conduct a clinical trial utilizing PsyBio's proprietary biosynthetic psilocybin product upon obtaining all necessary approvals and licenses.
Psychedelic rock band Jefferson Airplane was awarded a star on the Hollywood Walk of Fame.
Red Light Holland announced that Red Light Holland Advisory Board member, Akwasi Owusu-Bempah will participate at Bloomberg CityLab 2022, being held in Amsterdam, The Netherlands, October 9-11, 2022.
Relmada Therapeutics said its therapy to treat major depressive disorder did not meet the main goal of a late-stage study.
Revitalist Lifestyle & Wellness has extinguished its contract with High Standard Capital by issuing 1,282,051 common shares at $0.078 per share. These shares are subject to the Company's filing requirements with the CSE and a hold period of four months and a day from the date of issuance.
Voters in five states will decide on marijuana legalization on their November ballots—and voters in one state will have the chance to enact a historic reform to legalize psychedelics possession.
2. Elon Musk reportedly goes on 'exploratory journeys', likes to show chart of benefits of MDMA, mushrooms
Elon Musk is no stranger to psychedelic drugs and often likes to discuss the benefits of the substances, according to a recent report from The New York Times.
The billionaire likes to share a chart that shows MDMA and psychedelic mushrooms are healthier than alcohol use, one person who Musk shared the chart with on vacation told the publication.
The Times spoke with over 40 people who have spent time with the richest man in the world over the past decade and a half, many under conditions of anonymity due to concerns of repercussions, as well as non-disclosure agreements that they were required to sign at the parties Musk attended.
1. COMPASS Pathways Announces Phase 3 Pivotal Program Design for COMP360 in Treatment Resistant Depression at Capital Markets Day
COMPASS Pathways plc (Nasdaq: CMPS) announced the Phase 3 pivotal program design for COMP360 psilocybin therapy in treatment resistant depression (TRD) during a virtual Capital Markets Day. COMPASS' program will be the first ever Phase 3 program of psilocybin therapy globally, and follows positive results from its Phase 2b study in treatment-resistant depression, presented at the American Psychiatric Association annual meeting in May 2022.
The Phase 3 program is composed of three clinical trials, two pivotal trials and one long-term follow-up, and is expected to commence by the end of 2022. The pivotal program design is as follows:
Pivotal trial 1 (COMP 005) (n=378): a single dose (25mg) monotherapy compared with placebo. This trial is designed to replicate the treatment response seen in the Company's Phase 2b study (n=233).
Pivotal trial 2 (COMP 006) (n= 568): a fixed repeat dose monotherapy using three dose arms: 25mg, 10mg and 1mg. This trial is designed to investigate if a second dose can increase the number of responders and/or improve response seen in the Company's Phase 2b study and explore the potential for a meaningful treatment response from repeat administration of COMP360 10mg.
The primary endpoint in both pivotal trials is the change from baseline in MADRS total score at Week 6.