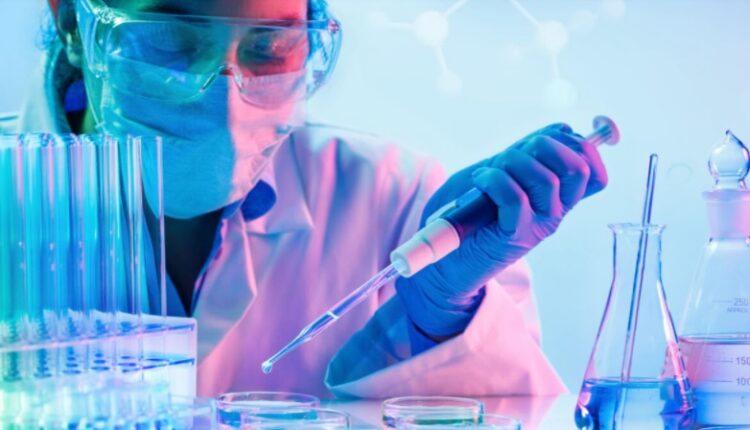 TDR's Top 5 Psychedelic Developments for the Week of September 21
Welcome to TDR's review of the Top 5 psychedelic stories of the past week. Aside from presenting a synopsis of events, we provide commentary to break down the significance of each to investors. TDR is committed to maintaining in-depth market coverage of the most newsworthy events the psychedelics space has to offer.
5. Mindleap Health Lauches The World's First Telehealth Platform For Psychedelic Integration
Mydecine Innovations Group Inc. announced the launch of a new telehealth platform through its subsidiary, Mindleap Health. It will be officially available for download from the iOS and Android stores on September 30, 2020. Mindleap is a telehealth solution that helps people connect with mental health specialists to develop habits for a healthy mind.
Mindleap has established a model that creates value by facilitating exchanges between mental health specialists and people needing mental health services. The platform is free for end users and specialists who want to build a profile. The company makes money when an end user purchases services on the platform, triggering a 9% fee as a percentage of each session.
4. MindMed and Liechti Lab Announce R&D Collaboration On Psilocybin
Mind Medicine Inc. (NEO:MMED)(OTC:MMEDF) announced that the company has been conducting R&D work on psilocybin in collaboration with the University Hospital Basel's Liechti Lab in a study to better understand and compare the altered states of consciousness induced by psilocybin and LSD.
As part of MindMed's exclusive license agreement with the University Hospital Basel, MindMed will retain an exclusive license to all IP and patents generated from data or findings in the study and related work on psilocybin, such as pharmacokinetic data and information on metabolism. The study is anticipated to finish in Q2 2021.
3. Oregon Democratic Party Endorses Legal Psilocybin Therapy And Drug Decriminalization Ballot Measures
The Oregon Democratic Party on Wednesday formally endorsed statewide initiatives to legalize psilocybin mushrooms for therapeutic purposes and decriminalize possession of all currently illicit drugs while investing in substance misuse treatment.
Both drug policy reform measures officially qualified for the state's November ballot over the summer—and both would make Oregon the first state in the country to enact such policy changes if voters approve them. The Oregon Democratic Party is telling residents to vote "yes."
TDR: Although legalization would be more symbolic than accretively impactful, it would nonetheless be a sentiment booster for the sector. Such important triumphs are often precursors to broader adoption initiatives countrywide. Without a doubt, a successful ballot initiative would fuel similar ballot initiatives and psilocybin lobby organizations throughout the United States.
2. MindMed Submits Application For NASDAQ Up-Listing, Appoints Canaccord Genuity As Financial Advisor
Mind Medicine Inc (NEO:MMED) (OTCQB:MMEDF) announced it is evaluating options to investor participation in the United States through an up-listing on the NASDAQ Capital Market. With the company trading on the NEO Exchange, it has limited access to U.S. institutional capital pools.
As part of this up-listing strategy, MindMed has submitted an application to list its subordinate voting shares on NASDAQ. The listing of shares will be subject to a number of regulatory requirements—including review of the company and acceptance for listing by NASDAQ. There can be no assurance that exchange acceptance will be granted.
MindMed has appointed Canaccord Genuity Corp. as financial advisor to assess the viability of a potential up-listing to NASDAQ and also help to evaluate M&A opportunities available to the company.
TDR: With MindMed already climbing on account of being the closest peer comp to Compass Pathways on Canadian exchanges, the news added kerosene to a burning inferno. Simply put, the prospect of MMED migrating to a major U.S. exchange and opening up prospective investment pools amplified sentiment even further—especially with MindMed afforded approximately 1/6 of the market capitalization of Compass Pathways at the time. Needless to say, investor took the bait.
Following the news on September 21, MindMed surged another ↑11.32% ($0.06) in addition to the ↑20.45% gained on Compass IPO day on September 18. However, this was just the appetizer. Fueled by another well-timed press release (see above) and continued price momentum in CMPS, the stage was set for a record-breaking Friday session. In fact, it bordered on outright euphoria.
MindMed finished the week with its fourth largest volume day in history and highest weekly volume since opening week. MMED gained $0.25 (↑36.23%) to $0.94/share, smashing its previous all-time closing high of $0.78/share registered on March 31, 2020. The blazing finish puts the all-time daily high of $0.99 in play, and into 'blue sky breakout' territory should the daily price (weekly, even better) close above one dollar.
Although we asked last week whether "MindMed can continue riding shotgun on Compass' success" due to differences in drug targets and individual challenges with regulators, the answer so far appears to be a resounding "yes". Quite simply, FOMO has permeated the psychedelics sector for the first time since Champignon Brands' profound early success. Although it doesn't make sense and isn't necessarily logical, it is how exciting nascent markets with heightened investor interest roll.
1. Psychedelic Stocks Begin To See Spillover Price Momentum Following Compass Pathways Success
What a difference a week makes. Mired in a prolonged downtrend characterized by low summer volume and lack of defined catalysts, the tide has shifted. In one fell swoop, last Friday's Compass Pathways has solved both issues—at least for the time being—as investor look to recoup savage summer losses.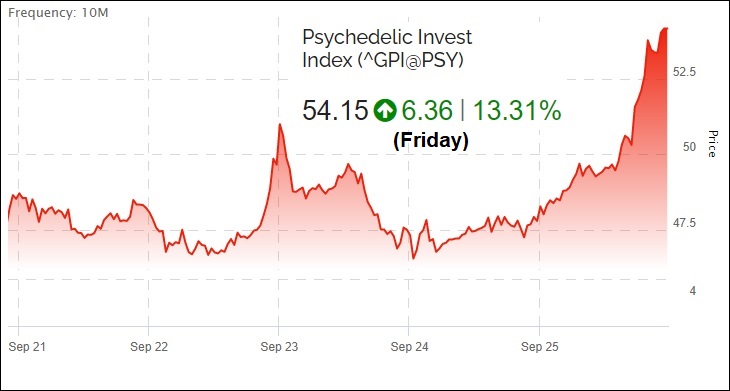 The first stock to experience immediate spillover buying was Mind Medicine—owner of similar Phase 2 assisted-therapy trials (LSD) and a deep Phased portfolio. Although many juniors were slow on the uptake, eventually spillover buying filtered their way.
For example, Numinus Wellness (CVE:NUMI) had barely budged since September 18—despite a pickup in volume—until Friday when it surged to ↑0.045 to $0.285 (+18.75%). Same dynamic for Mydecine Innovations Group (CNSX:MYCO), which finally busted out with 0.285 +0.075 (↑35.71%) stats on Friday on record daily volume.
Of note, the spillover price momentum did not carry over to some of the deeper microcap stocks, with New Wave Holdings and Pharmadrug and Hollister Biosciences remaining unresponsive. The longer price momentum continues with the sector at-large, the better the chances price momentum will eventually find the microcaps.
Yes, it was a good week. TDR expects the good times to last as long as Compass Pathways is driving the bus. Eventually, the hype will subside. But when it does, thankfully the sector will be in a much better place from a visibility perspective.