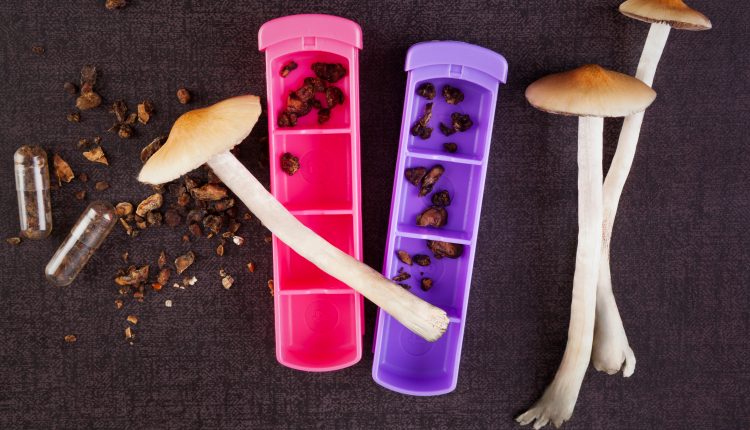 The 22 States Where Psychedelic Bills Are Being Proposed Or Considered
In the first months of 2023, state-level psychedelic policy reform has been so constant that it is hard to view it as a passing trend. While the first reported legalization proposal was a pre-filed measure in NY, many states have then followed suit. The list is current as of March 13, 2023.
Chamber-Passed Bills:
Oklahoma: House has approved HB 2107 promoting a pilot program for research on psilocybin's therapeutic potential for specific mental health conditions, while also providing legal protections against prosecution for people with eligible conditions who possess the psychedelic. Clearing the chamber in a 66-32 vote and after amendments to its original version, the bill will now face the Senate for consideration.
Washington: The Senate has approved 41-7 SB 5263, which after amendments -including the exclusion of the actual provision of psilocybin therapy in a supervised setting- would solely create a task force to promote research on psilocybin and to develop a pathway for legal access to the psychedelic. The measure is now set to face the House.
Hawaii: The Senate has unanimously passed the two governor-endorsed measures SB 1454 creating a state research taskforce for psilocybin and SB 1531 creating a Beneficial Treatments Advisory Council studying therapies with psilocybin and MDMA. Both measures will now face the state's House. Interestingly, the Senate passed House companion bill HB 1340 on the same vote as well.
Psychedelic Bills Moving Through Committees:
Nevada: First read on March 9, SB 242 would legalize psychedelic mushrooms and MDMA for research on the potential treatment of conditions including PTSD, depression, anxiety and addiction, plus decriminalize up to four ounces of psilocybin mushrooms for adults over 18 in specific cases. The bill has been referred to the HHS committee.
Texas: Newly filed HB 4288 would amend existing psychedelics law for the state to study psilocybin, MDMA and ketamine therapy for military veterans with new research partners and over an expanded targeted population; HB 4423 aims to create a psilocybin research advisory council and a grants program for clinical trials using whole mushrooms psilocybin for several conditions; and HB 4561 creating an "Alternative Mental Health Therapy Research" consortium for research on psychedelics therapy for veterans as well as a grants program to establish ketamine clinics and for veterans' access to them, reported Marijuana Moment.
California: SB 58, Sen. Scott Wiener's newest attempt to decriminalize possession and personal use of psychedelics including psilocybin, psilocin, DMT, ibogaine and mescaline for people over 21, was amended on March 1 and the new version is set for hearing at the Senate's committee on Public Safety on March 21. 
Missouri: The House Veterans committee approved HB 1154 promoting research on the therapeutic potential of psilocybin, MDMA and ketamine for certain mental health conditions led by the state's HHS Dept. and a VA hospital. A second measure, HB 869, would have protected people using psilocybin for medical conditions like PTSD, severe depression and terminal illness, but it was eventually removed from consideration.
New Mexico: After a hearing, the House HHS committee unanimously approved HB 393 creating a state advisory body to study the potential launch of a psilocybin therapy program for patients with certain mental health conditions. The bill will now face the Appropriations & Finance committee.
Rhode Island: A House committee held a hearing on H 5923, a bill that would decriminalize up to an ounce of psilocybin for use and possession plus allow home cultivation, while also requiring the establishment of rules and regulations for a therapeutic psilocybin program following FDA rescheduling of the psychedelic.
Maryland: HB0927 would decriminalize the possession of low levels of certain controlled substances including cocaine, heroin, MDMA, LSD and methadone, changing it from a misdemeanor to a civil fine or a drug education program referral. It is still in committee after a hearing on Feb. 28.
Vermont: H371 would decriminalize psilocybin possession, dispensing and sales plus establish a psychedelic therapy advisory working group to study the therapeutic potential of several controlled substances. The bill was referred to the House Judiciary Committee where it will face a hearing.
Minnesota: The new HF1884, together with Senate companion bill SF1954, aims to establish a task force to study and advise on the potential legalization of psychedelics as medicine, the list including psilocybin, MDMA, LSD, mescaline, DMT, ibogaine and ketamine. Bills are at the House Health Finance and Policy committee and at the Senate's HHS committee.
Connecticut: HB6734 would decriminalize possession of small amounts of psilocybin -up to 1.5 ounces- as of Oct. 1, 2023, punishing the first offense with a $150 civil penalty and subsequent offenses with $200-$500 penalties. The bill is still at the House joint committee on Judiciary after a public hearing with several participants on March 1, 2023. 
Illinois: HB0001 or "The CURE Act" creating a state-regulated psychedelic-assisted therapy program for adults over 18 was once again referred to the Rules committee on March 10. In addition, SB2353 authorizing the distribution and public availability of psilocybin for medical, psychological and scientific studies and research through an amendment to the state's drug code was re-referred (to the Assignments committee) on the same date.
Iowa: A subcommittee meeting requested consultation with the Supreme Court on Feb. 28 with regards to HF240 aiming to remove psilocybin and psilocin from the state's list of controlled substances.
Massachusetts: S 1009 decriminalizing up to 2 grams of psilocybin, psilocin, DMT, ibogaine and mescaline for adults over 18 has been referred to the joint committee on the Judiciary on Feb 16.
Arizona: The bipartisan HB2486 promoting psilocybin research with grants for up to $30 million for clinical trials on whole mushroom psilocybin's effects on 13 different mental health conditions unanimously passed the Military Affairs and Public Safety (MAPS) committee on Feb. 13.
West Virginia: HB2951 removing psilocybin, marijuana and THC from Schedule I under the state's controlled substances list has been referred to the House Health and Human Resources committee on Jan. 24 where it is still pending.
New York: Several reform bills have been filed but none has yet advanced further than its introduction, first-referred committee.
New Hampshire: HB216 calling for the removal of DMT from the state's list of controlled substances has been tagged as "inexpedient to legislate" on March 9, as had previously been HB581 repealing the whole Controlled Drug Act, and will not move forward in this year's session. HB328 legalizing possession and use of substances like LSD, psilocybin, mescaline and peyote for people over 21 is still waiting for the final call at the House Criminal Justice and Public Safety Committee, where it is due out on March 16, 2023.
Utah: New SB200 legalizing psilocybin therapy for adults over 21 within a clinical setting and a proven diagnosis of depression, treatment-resistant anxiety, PTSD, or currently in hospice care has been stalled as the Senate's HHS committee unanimously voted to not take action on the bill after a hearing including testimonies from patients and medical professionals.
Virginia: SB932 calling for the state-level rescheduling of psilocybin and establishing an advisory board for its use has been laid on the table by the Rules committee on Feb. 14. After receiving a favorable vote in a Senate subcommittee, the measure appears to be set to follow the other state proposal, HB1513, which was finally left in the Courts of Justice on Feb. 7.
Michigan: Meanwhile, psychedelics reform is advancing at a local level as seen with the recent and fourth decriminalization of natural entheogens in Ferndale, MI.
In Massachusetts, another state which has greatly advanced in decriminalization, a Salem City Council's public health, safety and environment committee recently held a discussion on legalizing "certain plant medicines," including mushrooms and ayahuasca, for therapeutic uses, reported The Salem News. 
__________
This article was originally published on Benzinga and appears here with permission.