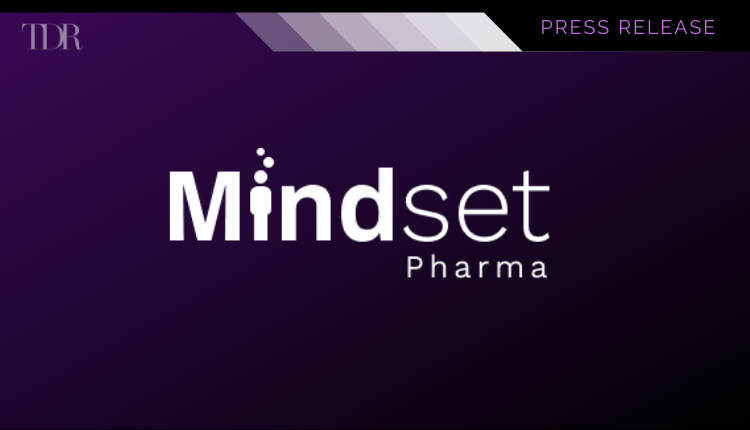 The McQuade Center for Strategic Research and Development and Mindset Pharma Collaborate to Develop Psychedelic Medicines
The McQuade Center for Strategic Research and Development, LLC (MSRD), a member of the global Otsuka family of pharmaceutical companies, and  Mindset Pharma Inc. (CNSX: MSET)(OTCMKTS: MSSTF) today announce a collaboration that will support the development of psychedelic medicines. MSRD has made a strategic investment to support the discovery and development of novel chemical entity assets of Mindset, a drug discovery and development company focused on creating optimized and patentable next-generation psychedelic medicines to treat neurological and psychiatric disorders with unmet medical needs.
"Exploring multiple paths is essential as we work to address the unique needs of individuals living with mental health conditions," said Robert McQuade, Ph.D., president, McQuade Center for Strategic Research and Development, LLC, and chief strategic officer, Otsuka Pharmaceutical Development & Commercialization, Inc. "We look forward to collaborating with Mindset on these assets and are hopeful that medical psychedelics could be approved to treat mental illness in the future."
MSRD, which identifies and supports early-stage opportunities that can change the landscape of treatments for mental illness and renal disorders, will financially and operationally support the development of two families of Mindset's novel medical psychedelic compounds through Phase 1a and Phase 1b clinical trials. MSRD has made an upfront cash payment of $5 million USD to Mindset and under the terms of the agreement, MSRD and Mindset may agree to expand the collaboration to continue to develop the compounds as pharmaceutical products.
In addition, Mindset has granted MSRD a right of first refusal with respect to any asset sale, exclusive licensing or collaboration opportunities pertaining to the drugs and a right of first negotiation with respect to a merger, acquisition or asset sale related to Mindset, both in exchange for the upfront payment, further collaboration, and funding of the development of Mindset's novel compounds. MSRD also has the ability to potentially receive single-digit percentage royalty payments under certain circumstances when the right of first refusal is not consummated or the agreement is terminated.
"It is our great pleasure to collaborate with MSRD, a member company of Otsuka, to further the development of two of our families of novel psychedelic compounds. We look forward to leveraging their extensive experience in drug development and CNS indications to accelerate and de-risk our development pathway as we prepare to launch clinical trials," said James Lanthier, chief executive officer of Mindset. "There is a high unmet need for innovative treatments of mental illness. This collaboration further validates our belief that optimized and patentable next-generation psychedelic compounds will be the future of treatments for mental illness."
This transformational transaction is a validation of what our team has accomplished over the last several years. We are ecstatic that Otsuka has chosen to collaborate with Mindset in the novel psychedelic drug development space and see this as a pivotal moment in Mindset's maturation. Our team is excited to work closely with MSRD to help meet the unmet needs of millions of people worldwide suffering with a variety of mental disorders. The future is truly exciting.

Mr. Richard Patricio, chairman of Mindset's board
To view the original press release in its entirety click here