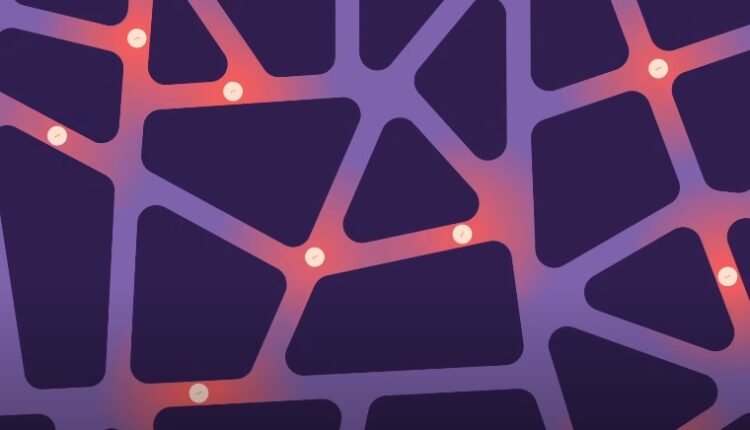 The Unofficial Atai Life Sciences Pre-IPO Deep Dive: What Investors Need To Know
Since its inception in 2018, atai Life Sciences B.V. has built a pipeline and advanced multiple therapeutic programs through both incubation and business development efforts. Atai specializes in the development of psychedelic compounds which are emerging as novel breakthrough therapies for mental health disorders. The company has announced its long-anticipated IPO, which is seeking to raise around $214.3 million through the issuance of approximately 14.28 million shares at between $13-$15 per share. Once it opens for trade, it will instantly compete with COMPASS Pathways and Mind Medicine for market cap supremacy as the largest psychedelic-focused public companies in the world.
With plenty of excitement surrounding the IPO given its size and stature, TDR complied a pertinent summary of need-to-know details surrounding the coming offering.
atai Program Structure
Atai Life Sciences is a biopharmaceutical company with several psychedelic-based therapies in both clinical and pre-clinical stages. The company conducts its research through its various controlled and non-controlled subsidiaries, which include the following companies and their pipeline products.
Currently, the company has 10 therapeutic programs—researching 5 different psychedelic compounds—in their pipeline, complemented by six enabling technologies in development.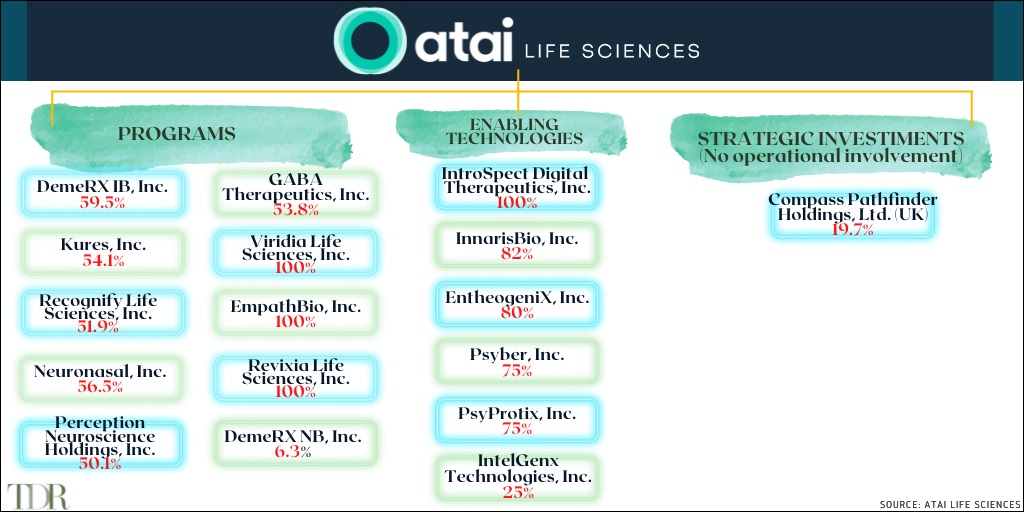 COMPASS Pathways: COMP360 / Psilocybin therapy / Treatment-Resistant Depression
Perception Neuroscience: PCN-101 / R-ketamine / Treatment-Resistant Depression
Recognify Life Sciences: RL-007 / Compound / Cognitive Impairment Associated with Schizophrenia
DemeRx IB: DMX-1002 / Ibogaine / Opioid Use Disorder
GABA Therapeutics: GRX-917 /Deuterated etifoxine / Generalized Anxiety Disorder
Neuronasal: NN-101 / N-acetylcysteine / Mild Traumatic Brain Injury /
Viridia Life Sciences: VLS-01 / DMT / Treatment-Resistant Depression
EmpathBio: EMP-01 / MDMA derivative / Post Traumatic Stress Disorder
Revixia Life Sciences: RLS-01 / Salvinorin A / Treatment-Resistant Depression
Kures: KUR-101 / Deuterated Mitragynine / Opioid Use Disorder
DemeRx NB: DMX-1001/ Noribogaine / Opioid Use Disorder
Although atai Life Sciences is acclaimed as a psychedelic-focused company, it also conducts research in compounds that have minimal such potential. For example, N-acetylcysteine (NAC) is the supplement form of semi-essential amino acid cysteine. NAC is valued primarily for its role in antioxidant production and certain therapeutic benefits for acute conditions such as acetaminophen poisoning. As a popular nutritional supplement, the psychedelic potential of this compound is zero.
Also worth noting is the research atai is conducting with lesser understood psychedelics such as Salvinorin A. In minute dosages, Salvia divinorum (plant form) produces an short-acting but intense high, characterized by hallucinations, dizziness and extreme visual disturbances. Interestingly, Salvinorin A has no structural resemblance to known hallucinogens, making it a truly novel compound among its peers.
While the 5-HT2A receptor is believed to be the primary target of classic serotonergic-mediated psychedelic compounds such as psilocin, Salvinorin A has high selective efficacy on the kappa-opioid receptor. Deep in the bowels of the internet, quite a few testimonials can be found vouching for its ability to attenuate depression for weeks on end after use. Atai's majority-owned subsidiary Revixia Life Sciences mission is to scientifically prove the anecdotes correct.
The atai Foundation—The Company's Non-Profit Initiative
Although atai is convinced that the for-profit model is the fastest, safest and best way of getting new treatments to patients, it realizes that it doesn't completely address the global mental health crisis. Therefore, the company has launched its inaugural More Needs To Be Done initiative to further its vision of healing mental health disorders. The foundation will be based on three strategic pillars of education, access and ecosystem support.
In support of the initiative, atai is offering all employees the opportunity to spend 1% of their working hours annually volunteering with charities or non-profits aligned with the More Needs To Be Done strategic pillars. It will also donate up to 1% of the gross proceeds from the offering , as well as product candidates and future corporate profits (if achieved), pending shareholder approval.
Use Of Proceeds
Atai estimates net proceeds from the offering will be approximately $178.0 million, or $206.0 million assuming the underwriters over-allotment option is exercised in full. These expected proceeds assume an initial public offering price of $14.00 per common share—the midpoint of the price range set forth in the prospectus net of go-public costs. Each $1.00 rise or fall from the midpoint offering price of $14.00/share will serve to increase or decrease the net proceeds of the offering by approximately $13.3 million.
Together with existing capital resources, atai intends to use the net proceeds from this offering as follows:
| | | |
| --- | --- | --- |
| Proceeds ($USD) | Division | Purpose |
| $40-50 million | Perception Neuroscience | Completion of the planned Phase 2 clinical trial for PCN-101 |
| $30-40 million | Recognify | Development of Phase 2a clinical trial for RL-007, including benchmark milestone payments ($17.5 million) |
| $12-15 million | DemeRx IB | Development of Phase 2a clinical trials for DMX-1002, including benchmark milestone payments ($12.0 million) |
| $5-10 million | GABA | Development of Phase 2a clinical trials for GRX-917, including benchmark milestone payments ($1.5 million) |
| $5-10 million | Neuronasal | Development of Phase 2a clinical trials for NN-101, including benchmark milestone payments ($1.5 million) |
| $5-10 million | Kures | Development of Phase 2a clinical trials for KUR-101, including benchmark milestone payments ($8.7 million) |
| $10-15 million | Viridia | Development of Phase 2a clinical trials for VLS-01 |
| $15-20 million | Pipeline program development | Designing and conducting preclinical studies, as well as funding discovery, manufacturing and research and development of pipeline projects |
| $30-35 million | Enabling technologies | Continued development of enabling technologies |
| $75-85 million | New programs and enabling technologies | Acquisition of and development activities related to new programs and enabling technologies |
| Remaining: general purpose/working capital | | |
Cash Burn Vs. Cash On Hand
According to the prospectus, atai Life Sciences has a whopping $425.7 million in cash and cash equivalents as of March 31, 2021. This assumes the successful issuance and sale of common shares of the IPO offering at the assumed price of $14.00 per common share.
Meanwhile, the company burned approximately $104.2 million in operating expenses in 2020, in which General and Administrative formed the vast majority of company expenditure ($80.7 million). Research and development costs are rising rapidly inline with increases in phased trial costs, increasing 269.9% year-over-year to $11.4 million in 2020. Already in Q1 2021, atai spent 5.6 million in R&D so that number is well positioned to at least double again this year.
Based on its planned use of offering proceeds—along with access to a credit facility with Attersee—the company believes it has sufficient capital to enable it to fund operations through 2023. This estimate is based on assumptions that may prove to be inaccurate, and should not be construed as conclusive. Atai does not expect to earn material revenues, if any, for several years as they develop their early-mid stage drug pipeline.
The Offering
Common shares: 14,286,000 common shares
Over-allotment option: Atai has granted the underwriters an option to purchase up to an additional 2,142,900 common shares within 30 days of the date of the prospectus.
Dividend policy: Atai does not expect to pay any cash dividends in the foreseeable future and expects to retain all available funds and any future earnings to fund the development and expansion.
Exchange listing: The company has applied to list its common shares on the Nasdaq Global Market under the symbol "ATAI."
Directed share program: At company request, the underwriters have reserved up to 6.5% of its common shares offered in the prospectus for sale, at the initial public offering price, to its managing directors, supervisory directors and insiders.
Shares outstanding: As of March 31, 2021, there were 137,569,776 common shares outstanding, which excludes:
• 18,525,696 common shares issuable upon the exercise of options outstanding under our 2020 Employee, Director and Consultant Equity Incentive Plan
• 37,963,944 common shares (or 38,499,669 common shares assuming underwriters over-allotment option is exercised) reserved for future issuance under atai's 2021 Incentive Award Plan, which will become effective in connection with this offering.
• 1,000,000 common shares of ATAI Life Sciences AG issuable upon the exercise of conversion rights of convertible note holders that will remain outstanding following the completion of the offering at a conversion price of €17.00 per share.
Options granted: The company has 31,992,592 shares subject to options granted at exercise prices of between $0.37-11.72. Of the aggregate, 27,311,360 shares subject to options granted have exercise prices of between $0.37-6.67.
Ownership In COMPASS Pathways
Atai Life Sciences led the Series A financing round in 2018 for COMPASS Pathways, co-led their Series B financing round in 2020 and continue to hold a significant equity ownership position. As of May 4, 2021, the company owned 8,075,663 shares, representing 19.7% equity interest in COMPASS. Additionally, certain founding investors were also seed investors and founders of COMPASS. Atai's interest in the product candidates of COMPASS is limited to the potential appreciation of its equity interest.
COMPASS Pathways is developing its investigational COMP360 psilocybin therapy, which comprises administration of COMP360 with psychological support from specially trained therapists, with an initial focus on TRD. The therapeutic potential of psilocybin administered in conjunction with psychological support has been shown in multiple academic-sponsored studies, which did not involve COMP360, in attenuating symptoms of depression following treatment. COMPASS is currently evaluating COMP360 in conjunction with psychological support in a Phase 2B trial; endpoint data is expected in late 2021.
Material Risk Of Note
While the prospectus identifies thirteen (13) risks related to atai's common shares and offering, one in particular stands out. Although it shouldn't be a deal breaker with investors, it's something worth noting given reporting issues which have previously impacted the sector.
Atai Life Sciences has indicated that it has "identified material weaknesses in our internal control over financial reporting." If they are unable to remediate the material weaknesses, or if additional control deficiencies are identified, it could have a material adverse impact in their ability to keep compliant with the Exchange and/or Federal Securities regulators. Specifically, it may prevent atai from accurately reporting future financial results, prevent fraud or file periodic reports as a public company in a timely manner.
In response, atai is implementing measures designed to improve internal controls over its financial reporting. It has hired outside advisors, such as tax and accounting experts, to help implement proper accounting practices and processes. However, it notes that it "cannot at this time, provide an estimate of the timeframe we expect in connection with implementing our plan to remediate the material weaknesses."
With atai out in front of the issue, we believe it's highly likely the situation will be contained. But until these issues are definitively resolved, it's something investors need to be aware of.
Big Backers
In addition to receiving the backing of PayPal billionaire Pete Theil, atai enjoys the financial backing of one of Europe's most powerful and influential tech investors, Christian Angermayer, who is also the company's co-founder.
Investing $750 million of his own money and managing around $600 million in client's money, Angermayer stated on record that he believes the biotech space is poised to become the new tech industry over the next 20 years. He is a such believer in the space that he claims that half of his portfolio is currently in biotechnology.
With so much of his and his clients' fortune vested in biotech, Angermayer seemingly has a very high tolerance for risk. For the bullish investor, this might be a good thing because it means that atai has a passionate and well-funded co-founder that's willing to go the distance and see things through.
Final Word
With 10 therapeutic programs ongoing, including two Phase 2 trials expected in 2021 and three more next year, atai is clearly a leader in the space. The depth of its portfolio and diverse psychedelic compound pallet is reminiscent of MindMed, and may actually be a little deeper. It's subsidiaries are even working with non-psychedelic compounds such as deuterated etifoxine and NAC, which serves to diversify portfolio risk. Its cash position is second to none. This company is not a one drug/one condition/one substance pony.
As such, atai deserves all the attention it is getting. It should instantly compete for market cap supremacy with COMPASS Pathways upon its listing and could sustain a leadership position—at least until COMPASS reports Phase 2B endpoint results late this year (providing they are stellar). The psychedelic sector will soon have a "Big 3", and atai Life Sciences will be among its crown jewels.