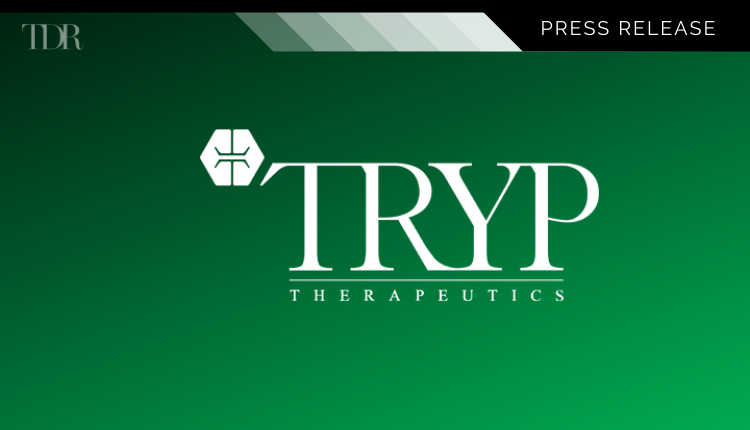 Tryp Therapeutics Announces Provisional Patent Filing For Improved Administration of Psychedelics
La Jolla, California —  Tryp Therapeutics (CNSX:TRYP) (OTCMKTS:TRYPF) a pharmaceutical company focused on developing clinical-stage compounds for diseases with unmet medical needs, announced today that it has submitted a provisional patent (US 63/161,070) to improve how psychedelics are administered across a broad range of indications.
The provisional patent describes novel methods for the formulation, delivery, and dosing of psychedelics resulting in a potential reduction in the time spent by patients in the dissociative state. These proprietary methods represent the foundational elements of the comprehensive medical treatment program Tryp is developing for a wide variety of conditions. This filing is expected to be the first of a series of patent filings to enhance the effectiveness of psychedelics and to further differentiate Tryp's intellectual property position.
The filing includes a method for measuring the response to psychedelic therapeutics, further supporting a more controlled psychedelic experience. The patent application also covers unique methods to manufacture the active pharmaceutical ingredient, novel formulations, methods to enhance the safety profile of treatments, and methods to reduce risk of abuse and addiction.
We are seizing the opportunity to further differentiate our intellectual property position in psychedelics through core improvements to the formulating, delivery, and dosing of active ingredients. I am continually impressed with the ingenuity and determination of our world-class team of scientists and advisors. Their innovations are empowering Tryp's work to significantly expand the availability of treatment options for those patients with unmet medical needs by demonstrating the safety and efficacy of our psychedelic drug programs.

Jim Gilligan, Ph.D., President and Chief Science Officer of Tryp Therapeutics
About Tryp Therapeutics
Tryp Therapeutics is a pharmaceutical company focused on developing compounds with known activity and safety profiles for the treatment of rare and other diseases with unmet medical needs. Tryp's psilocybin-for-neuropsychiatric disorders, or PFN™, program is focused on the development of synthetic psilocybin as a new class of drug for the treatment of certain neuropsychiatric-based disorders. Tryp's lead PFN™ drug candidate is TRP-8802 for the treatment of fibromyalgia, a chronic pain syndrome estimated to affect more than 5 million people in the United States. The Company is also preparing to initiate a Phase 2a clinical study for eating disorders in partnership with the Dr. Jennifer Miller at the University of Florida.
In addition to its PFN™ Program, Tryp is developing TRP-1001, an oral formulation of razoxane for the treatment of soft tissue sarcoma. Soft tissue sarcomas are a rare and diverse group of tumors that account for about 1% of all cancers in adults and 7% in children. Based on the prevalence of soft tissue sarcomas in the United States, Tryp believes it is a rare disease and that TRP-1001 should qualify for Orphan Drug status.
To read the original press release in its entirety, click here.