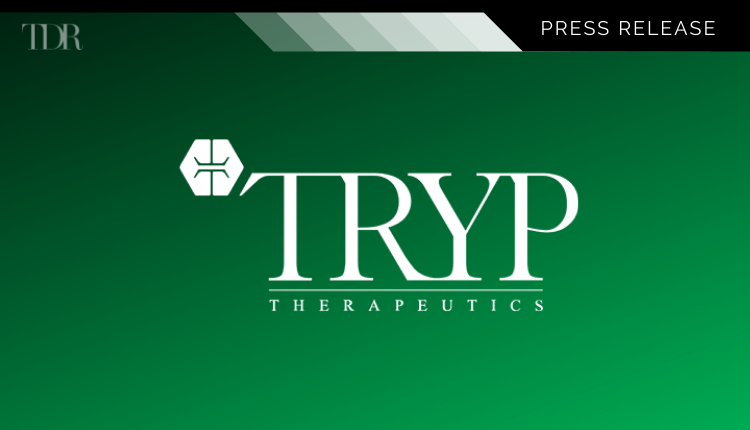 Tryp Therapeutics Appoints Robin Carhart-Harris, Ph.D. as SAB Chairman and Adds Daniel Clauw, M.D. as Scientific Advisor
 Tryp Therapeutics  (CNSX: TRYP) (OTCMKTS: TRYPF), a pharmaceutical company focused on developing psilocybin-based compounds for diseases with unmet medical needs through accelerated regulatory pathways, announced today the appointment of Robin Carhart-Harris, Ph.D. as Chairman of its Scientific Advisory Board ("SAB") and Daniel Clauw, M.D. as a new member of the SAB.
Dr. Carhart-Harris initially joined Tryp's SAB in February 2021 and has since been instrumental in advising the Company through the development of itsPsilocybin-for-Neuropsychiatric Disorders (PFN™) program. He currently serves as Director of the Neuroscape Psychedelic Division at the University of California, San Francisco as well as Founder and Head of the Centre for Psychedelic Research, Division of Brain Sciences, at Imperial College London. Dr. Carhart-Harris has published over 100 papers in peer-reviewed scientific journals and is one of the most cited researchers in the medical application of psychedelic compounds.
"Having spent several months working with the team at Tryp already, I recognize the incredible opportunity that the Company has with its truly innovative approach to administering psychedelics in differentiated indications such as chronic pain and eating disorders," said Dr. Carhart-Harris. "I couldn't be more excited to elevate my activity as Chairman of our Scientific Advisory Board to expand Tryp's body of ground-breaking scientific research and to support the development of these therapies for physicians, psychotherapists, and the patients who need them most."
Tryp is also announcing the appointment of Daniel Clauw, M.D., as a member of the Scientific Advisory Board. Dr. Clauw is a world-leading expert in fibromyalgia and other nociplastic pain indications, or pain that is believed to derive from a dysfunction of the central nervous system whose processing of pain signals has become distorted. He currently serves as Director of the Chronic Pain & Fatigue Research Center and Professor of Anesthesiology, Medicine, and Psychiatry at the University of Michigan Medical School. Dr. Clauw has participated in the development of all of the currently approved treatments for fibromyalgia and brings decades of expertise in nociplastic pain to the SAB.
"I remain thoroughly impressed with the nature of my collaboration with Tryp and believe that their differentiated strategy has the potential to address the significant limitations of the current standard of care for fibromyalgia in terms of efficacy and side effects," commented Dr. Clauw. "Our goal is to change the lives of patients with chronic pain diseases and to provide new treatment options for the millions of patients suffering from these indications."
Commenting on the developments of the Company's Scientific Advisory Board.
With today's announcement, I would like to thank Dr. Robin Carhart-Harris and Dr. Daniel Clauw for their persistent commitment not only to Tryp, but also to the alleviation of chronic pain and other diseases with psychedelic-based therapies. We welcome their continued scientific leadership as we advance the development of our PFN™ program toward approved therapies for patients.

Greg McKee, Chairman and Chief Executive Officer of Tryp
To view the original press release in its entirety click here