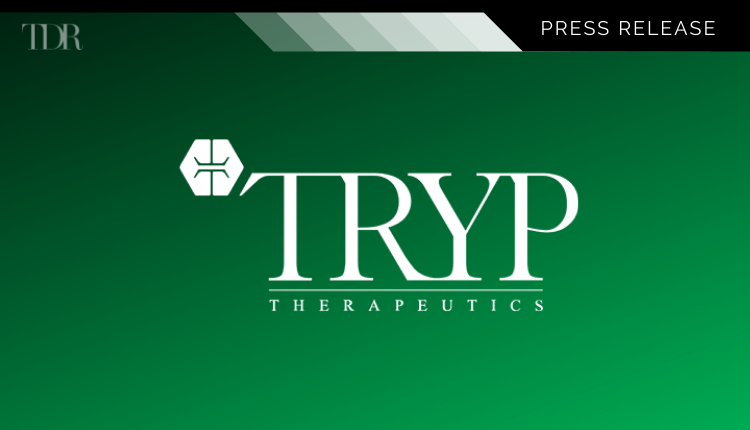 Tryp Therapeutics Inc. (CSE: TRYP) (OTCQB: TRYPF) Charting Its Own Course in Psychedelic Space
Tryp Therapeutics Inc. (CNSX: TRYP) (OTCMKTS: TRYPF), today announces its placement in an editorial published by NetworkNewsWire ("NNW"), one of 50+ trusted brands within the InvestorBrandNetwork ("IBN"), a multifaceted financial news and publishing company for private and public entities.
To view the full publication, "GW Pharma Sells for Bilions; Psychedelic Company Following Similar Path," please visit: https://nnw.fm/0N5t5
In May 2013, GW Pharma listed on Nasdaq, selling 3.5 million shares at $8.90 each to investors betting that GW was charting a profitable course as a biotech developing new drugs from cannabis-derived compounds. Legal cannabis was only beginning to gain momentum at that time, and while countless companies saturated the market as would-be growers, distributors, etc., GW was taking a more difficult route of drug development with much greater upside if successful. The strategy paid off as the company received FDA approval for the first-ever cannabis-based drug in June 2018.
There are some notable similarities between the evolution of the legal cannabis market a decade ago and the current status of psychedelics, longtime illicit drugs that are now being evaluated for their therapeutic potential by a handful of upstart companies. San Diego-based Tryp Therapeutics Inc. (CSE: TRYP) (OTCQB: TRYPF) stands out, not only for its still-small valuation but also because it has a successful management team that, much like GW, is charting its own course in the space.
About Tryp Therapeutics Inc.
Tryp Therapeutics is a pharmaceutical company focused on developing compounds with known activity and safety profiles for the treatment of rare and other diseases with unmet medical needs. Tryp's psilocybin-for-neuropsychiatric disorders, or PFN(TM) ("PFN"), program is focused on the development of synthetic psilocybin as a new class of drug for the treatment of certain neuropsychiatric-based disorders. Tryp's lead PFN drug candidate is TRP-8802 for the treatment of fibromyalgia, a chronic pain syndrome estimated to affect more than five million people in the United States. The company is also preparing to initiate a phase 2a clinical study for eating disorders in partnership with the Dr. Jennifer Miller at the University of Florida. In addition to its PFN program, Tryp is developing TRP-1001, an oral formulation of razoxane for the treatment of soft-tissue sarcoma. Soft-tissue sarcomas are a rare and diverse group of tumors that account for about 1% of all cancers in adults and 7% in children. Based on the prevalence of soft-tissue sarcomas in the United States, Tryp believes it is a rare disease and that TRP-1001 should qualify for orphan drug status.
To view the original press release in its entirety click here