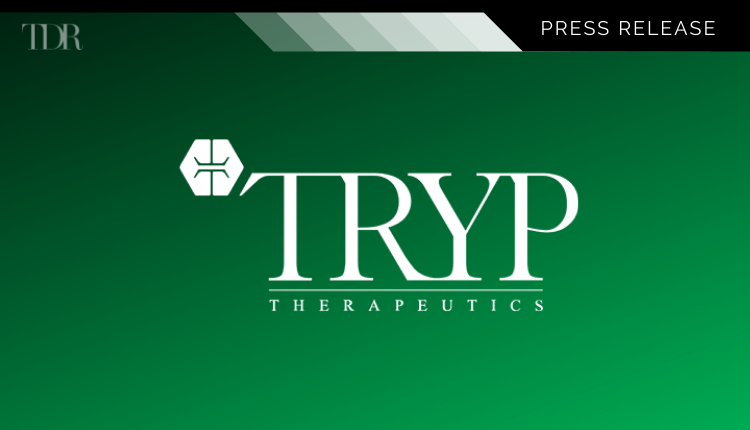 Tryp Therapeutics Partners with Alcami for Proprietary Formulations
Tryp Therapeutics (CNSX: TRYP) (OTCMKTS: TRYPF), a pharmaceutical company focused on developing compounds for diseases with unmet medical needs through accelerated regulatory pathways, announced today an agreement with Alcami Corporation ("Alcami"), a global pharmaceutical contract development and manufacturing organization (CDMO), to support the proprietary formulation of products for Tryp's Psilocybin-for-Neuropsychiatric Disorders (PFNTM) program. Tryp's collaboration with Alcami will initially focus on developing oral formulations for Tryp's proprietary psilocybin Active Pharmaceutical Ingredient ("API") being manufactured by Albany Molecular Research, Inc. ("AMRI").
"The support we have been engaged to provide is a testament to our broad capabilities, technical expertise, and ability to collaborate with customers to consistently deliver high quality results," commented Pat Walsh, Chairman & Chief Executive Officer of Alcami. "We are proud to support Tryp and their transformational work in a variety of indications."
Tryp expects to manufacture its initial batch of cGMP psilocybin API in September 2021. Alcami and Tryp will then develop the analytical methods and the final formulation of Tryp's oral psilocybin product.
Our partnership with Alcami signals the further advancement of our proprietary manufacturing of synthetic psilocybin. We have been impressed with Alcami's expertise with developing both final formulations as well as the analytical methods that will ensure the consistently excellent quality of our products.

Jim Gilligan, Ph.D., President and Chief Science Officer of Tryp
About Tryp Therapeutics
Tryp Therapeutics is a pharmaceutical company focused on developing clinical-stage compounds for the treatment diseases with unmet medical needs through accelerated regulatory pathways. Tryp's Psilocybin-For-Neuropsychiatric Disorders, or PFN™, program is focused on the development of synthetic psilocybin as a new class of drug for the treatment of certain neuropsychiatric-based disorders. Tryp's lead PFN™ drug candidate is TRP-8802 for the treatment of fibromyalgia, a chronic pain syndrome estimated to affect more than 5 million people in the United States. The Company is also preparing to initiate a Phase 2a clinical study for eating disorders in partnership with Dr. Jennifer Miller at the University of Florida.
For inquiries, please contact us at:
E: [email protected]
W: www.tryptherapeutics.com
About Alcami
Alcami is a contract development and manufacturing organization headquartered in North Carolina with over 40 years of experience advancing products through every stage of the development lifecycle. Leveraging four US-based scientific campuses, Alcami serves biologics and pharmaceutical companies of all sizes providing customizable and innovative solutions for analytical development, clinical to commercial sterile and oral solid manufacturing, packaging, microbiology, and environmental monitoring services. Alcami's private equity ownership includes Madison Dearborn Partners and Ampersand Capital Partners. For more information, please visit alcaminow.com.
To view the original press release in its entirety click here