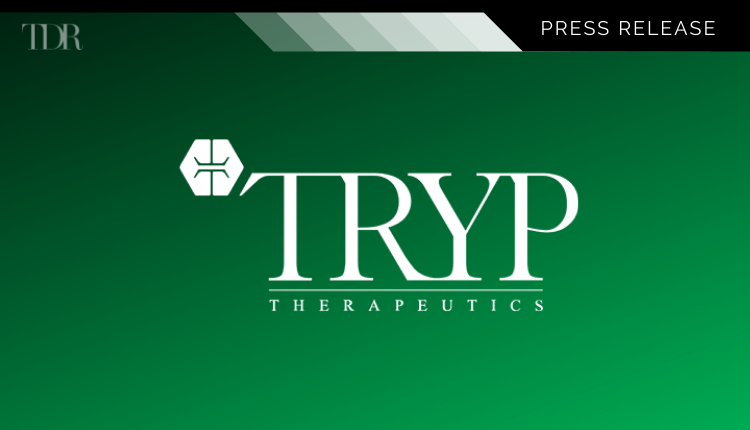 Tryp Therapeutics Partners with Calvert Labs to Conduct Exploratory Studies for Proprietary Psilocybin Formulations
 Tryp Therapeutics Inc. (CNSX: TRYP) (OTCMKTS: TRYPF), a pharmaceutical company focused on developing psilocybin-based compounds for diseases with unmet medical needs through accelerated regulatory pathways, announced today an agreement with Calvert Labs to design and execute exploratory studies related to Tryp's Psilocybin-for-Neuropsychiatric Disorders (PFNTM) program.
Calvert Labs, an Altasciences company, has a proven track record of executing FDA-approved studies across a broad range of therapeutic indications. The studies will focus on generating toxicology and blood exposure level data for Tryp's proprietary, psilocybin-based formulation, TRP-8803, while strengthening Tryp's intellectual property portfolio for the drug product. The completion of these studies will also provide regulatory support for the Company's novel methods for the formulation, delivery, and dosing of its products in future clinical studies.

Under the terms of the agreement, Calvert Labs will perform preclinical bridging studies required for TRP-8803 prior to initiating clinical studies with the novel drug product. Tryp will subsequently work with Altasciences to perform Clinical Pharmacology studies in healthy, volunteer patients with TRP-8803. These studies will enable the use of TRP-8803 in Tryp's planned Phase 2b clinical trials for chronic pain and eating disorder indications.
As part of the studies, Tryp has also entered into an agreement with Gad Consulting Services to advise on certain aspects of the studies performed by Calvert Labs. Gad Consulting Services is an internationally recognized toxicology consulting practice serving the pharmaceutical industry in the areas of preclinical and early clinical evaluation, safety assessment, and risk assessment.
This partnership marks an important milestone for us as we continue to build momentum towards our Phase 2b clinical studies with our proprietary TRP-8803 formulation. Calvert Labs and Gad Consulting Services are ideally suited to perform these important studies given their international expertise in toxicology. Our work with these organizations and with Altasciences will accelerate our time into the clinic with TRP-8803.

Jim Gilligan, Ph.D., President and Chief Science Officer of Tryp Therapeutics
To view the original press release in its entirety click here