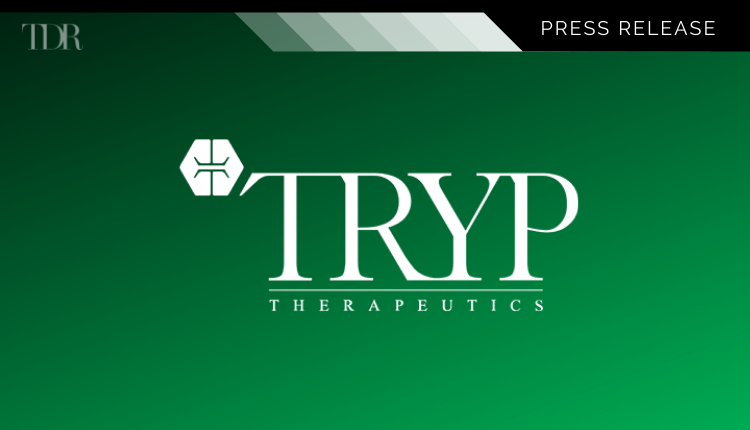 Tryp Therapeutics Partners with the University of Michigan to Evaluate Proprietary Formulations
Tryp has also entered into an advisory agreement with George Mashour, M.D., Ph.D., who serves as Chair of the Department of Anesthesiology at the University of Michigan Medical School
Tryp Therapeutics (CNSX: TRYP) (OTCMKTS: TRYPF), a pharmaceutical company focused on developing psilocybin-based compounds for diseases with unmet medical needs through accelerated regulatory pathways, announced today an agreement with the University of Michigan to perform research related to Tryp's Psilocybin-for-Neuropsychiatric Disorders (PFNTM) program.
Tryp's collaboration with the University of Michigan is part of a series of upcoming bridging studies designed to expand Tryp's intellectual property portfolio for the company's novel TRP-8803 drug formulation compared with conventional oral formulations of synthetic psilocybin. This series of studies will also facilitate the advancement of TRP-8803 into Phase 2b clinical trials.
The studies performed with the Chronic Pain & Fatigue Research Center and the Center for Consciousness Science in the Department of Anesthesiology at the University of Michigan are designed to explore 1) the relationship between a psilocybin-induced increase in neurophysiological complexity and indices of pain in a preclinical model for chronic central pain, 2) the effect of alternative delivery methods of psilocybin on indices of pain and insular glutamate/GABA, and 3) PK analysis for blood samples from both oral and novel methods of delivery of psilocybin.
We are excited to initiate our collaboration with the University of Michigan with critical research supporting the unique properties of our proprietary psilocybin formulation and method of delivery. The University of Michigan has extensive expertise in the dosing and delivery of active pharmaceutical ingredients and world-class expertise in several pain related indications that are aligned with our interests. We expect this to be the first of many opportunities for collaboration with this prestigious academic institution.

Jim Gilligan, Ph.D., President and Chief Science Officer of Tryp Therapeutics
Tryp has also entered into an advisory agreement with George Mashour, M.D., Ph.D. to advise the company on its initial clinical study design for TRP-8803. Dr. Mashour serves as Chair of the Department of Anesthesiology, Scientific Director of the Center for Consciousness Science, and as the Robert B. Sweet Professor of Anesthesiology at the University of Michigan Medical School. Dr. Mashour is an internationally recognized expert on the neurobiology of consciousness and general anesthesia. He has authored more than 200 publications and has been the lead editor of five textbooks on anesthesiology and neuroscience. He currently serves as the principal investigator of several major NIH grants in the field of neuroscience, academic anesthesiology, and translational science.
"As a physician-scientist, I am truly excited to participate in this leading edge, neurobiological research," commented Dr. Mashour. "I have been impressed with the scientific rigor and innovation from the team at Tryp as well as their collaborative spirit. I look forward to making great strides together toward addressing unmet patient needs in a wide range of indications. The Chronic Pain & Fatigue Research Center, led by Dr. Dan Clauw, will be an ideal partner to investigate these compounds in pain medicine."
To view the original press release in its entirety click here