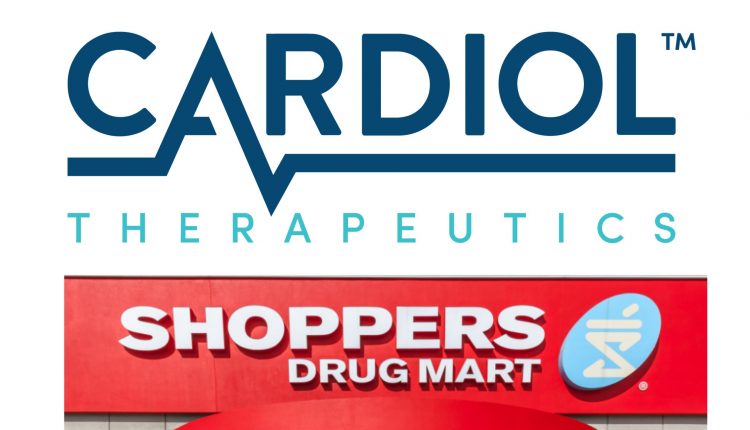 On Wednesday, Cardiol Therapeutics Inc. delivered an important and material announcement to investors. It became the first provider of synthetic cannabidiol (CBD) to pharmacies in Canada, as it commercializes its offerings through pharmacy distribution. It was an important milestone for Cardiol, which has long been at the forefront of domestic synthetic cannabinoid development.
The supplier agreement with Shopper's Drug Mart (SDM) will see the company offer its medical grade cannabidiol to cannabis patients across SDM's vast online and retail pharmaceutical channels—the nation's largest. Cardiol's exclusive manufacturing partner, Dalton Pharma Services Inc., will supply the company's pharmaceutical cannabidiol products to Shoppers for resale in all provinces and territories. Formulations will be sold initially in three dosage formats: 100mg/ml, 50mg/ml, and 25mg/ml. SDM reserves the right to resell all future products available from Cardiol's product line, subject to any and all regulations.
What makes Cardiol's agreement stand out is their unique formulation versus the competition.
Unlike other licensed producers providing SDM with dried flower or extracts that contain material amounts of tetrahydrocannabinol (THC), Cardiol is the only prescription-available product offering pure CBD—a key consideration for prescribing physicians. This is particularly advantageous in THC-sensitive subgroups such as pediatric epilepsy and senior citizen pain management, where medications containing THC—in any amount—are forbidden.
In the absence of comparable market competition—including GW Pharmaceuticals Plc, the maker of CBD formulation Epidiolex which is not licensed in Canada—Cardiol is flirting with a similar monopoly in several market verticals.
9-Figure Market Potential
It's one thing to have a quasi-monopoly, but without a tangible addressable market, it won't do a company much good. This is not the case with Cardiol Therapeutics, which has the potential to capture vast tracts of market share in several therapeutic domains.
Take pediatric epilepsy for example— a $100 million market according to company estimates.
Currently, physicians generally prescribe antiepileptics such as Lamictal to keep symptoms in check, but at significant cost. This class of drugs often produces severe side effects such as blurred vision, nausea and sleep apnea. Occasionally, they will increase the number of seizures a person is having, or produce negative effects on mood or memory. Cannabidiol produces none of these contra-indications. Antiepileptics have been known to keep users in a 'waking comatose' type conditions, which is often barely the best of two evils.
Cardiol Therapeutics believes that physicians would rapidly switch to pure cannabidiol medication in select niches if appropriate options were available. With today's SDM announcement, this is now the reality.
Similar to the rapid traction GW Pharmaceuticals gained in the U.S. for sufferers of Lennox-Gastaut and Dravet syndrome, similar adoption rates could happen here. GW Pharmaceuticals has already proved the model with a similar therapeutic agent in the adult population, growing fourth quarter FY2019 revenues to $109.1 million from $6.6 million year-over-year. Average analyst estimates for FY2020 are currently pegged at 536.08M, which if met, would be an 81.10% increase from 2019.
While the total addressable market in Canada for pediatric epilepsy is more modest, it is significant. Of the 15,500 people learn they have epilepsy each year on average, 44% are diagnosed before the age of five and 55% are diagnosed before the age of ten. Including the country's growing senior population, around 60% of new patients are young children and senior citizens.
It must also be noted that Cardiol likely won't face incoming competition from GW Pharma anytime soon. As it produces a pharmaceutical version of GW's Epidiolex, its formulation will sell for significantly less while maintaining superior cannabidiol purity that requires no THC warning label from Health Canada (<5 parts per million THC). In comparison, Epidiolex contains approximately 150 PPM and would require a THC warning label if allowed to sell domestically. The insurers that underwrite CBD therapy will likely seek the more affordable option as coverage expands in the months ahead. 
In terms of Cardiol's cash position—particularly noteworthy is cascading market conditions where financing is difficult—they appear in relatively good shape in the short term. The company has approximately $15.7 million dollars in working capital as of September 30, 2019, which would equate to over one year of OPEX at current burn rates—consisting mainly of R&D and administration costs.
Should Wednesday's SDM deal provide the anticipated revenue base traditionally absent from Cardiol's income statement, the need to raise additional capital, if required, can be delayed until better market conditions prevail. We note Cardiol is preparing a Phase 2 international trial in Acute Myocarditis (inflammation of the heart) as well as a Phase 1 oral cannabidiol trial in Q2 2020, so capital requirements will remain fungible. The former trial is a potential company changer in the years ahead, although additional commentary is beyond the scope of this article.
The Dales Report will provide further coverage as events warrant.