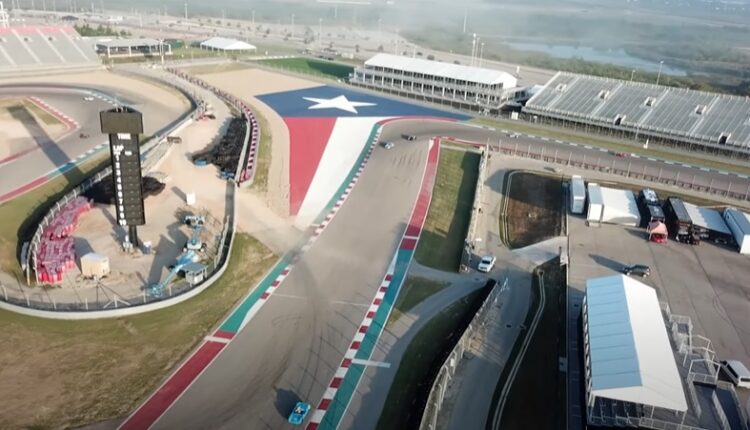 Expected Value: This Week's Top 5 Sports Betting Industry Developments
5. New Jersey Governor Backs Baker On Sports Betting, Both Push Tax Relief
Gov. Charlie Baker had some small reason to celebrate this week, when a Democrat from Massachusetts went on record saying he hoped tax relief would occur before the end of June. Unfortunately, the Democrat in question happens to be a resident of New Jersey and its current governor.
The state's Senate will meet Tuesday to begin debate on their version of the budget. Republican Minority Leader Sen. Bruce Tarr has offered amendments which would see a version of Baker's tax cuts added to the budget.
4. $1.9B MSG Sphere Las Vegas Reaches F1 Partnership
The $1.9 billion MSG Sphere will top off its 366-foot-tall steel frame later this month, Madison Square Garden Entertainment company officials revealed during the firm's earnings call last week. The entertainment arena, billed as a "new medium multisensory platform," remains on track to open late next year.
The Sphere's opening could coincide with Formula 1's arrival in Las Vegas in November of 2023. The world's most prestigious racing class recently struck a deal with officials in Southern Nevada to host a Grand Prix on and around the Las Vegas Strip in 2023, 2024, and 2025.
The F1 Las Vegas Grand Prix will challenge drivers around a 3.8-mile track that loops around the Strip. The circuit will race by the MSG Sphere as the supercars turn left onto Sands Avenue and make their way back to the Strip.
3. Ohio Sports Betting Universal Launch Date To Be Revealed On June 1
Ohio officials expect to announce on June 1 when legalized sports betting will start in the state. But on Wednesday, the Ohio Casino Control Commission (OCCC) advised that the launch will not occur any time in the near future.
The law passed by the Ohio Legislature last December called for sports betting to be up and running by Jan. 1, 2023, and the OCCC believes it will need that much time to get everything in place. In a frequently asked questions document published Wednesday, the Commission said sports betting's starting date "is likely to be close to, if not exactly on" New Year's Day.
__________
Guarateed Money: Dave Portnoy Shocks Gambling World 
| | | | | |
| --- | --- | --- | --- | --- |
| Company | Ticker | Price ($) | Weekly Change (%) | Market Cap (s/o) |
| Evolution AB | EVVTY | 98.62 | -1.00 | US$21.0B |
| Flutter Entertainment Plc | FLTR.L | 9,188 | 2.72 | US$15.2B |
| Boyd Gaming | BYD | 55.01 | -2.63 | US$6.0B |
| Penn National Gaming | PENN | 31.79 | 1.53 | US$5.3B |
| DraftKings | DKNG | 14.03 | 11.26 | US$6.1B |
| Betsson AB | BETSB.S.DX | 64.80 | -3.22 | $8.2B |
| Genius Sports | GENI | 3.05 | -7.85 | US$603.8M |
| Rush Street Interactive | RSI | 6.11 | 2.86 | US$390.7M |
In the news…
American Gaming Association submitted a letter to the Massachusetts General Court expressing concern about Massachusetts potentially banning bets on collegiate sporting events, placing excessive restrictions on sportsbook advertising, and adopting an unreasonable tax rate for sportsbook operators. 
BetMGM and its gift card partner TAPPP are unveiling a massive expansion of that progam's gift card distribution network.
DraftKings Sportsbook Canada has officially launched in the province of Ontario. The latest sportsbook to join the Ontario online sports betting fray, DraftKings Sportsbook brings a sensational app with plenty of credibility in the legal online sports betting industry.
FanDuel topped New York online sportsbooks in both handle and gross gaming revenue in the state's most recent revenue report, accounting for 42% of all eight operators' combined handle and 57% of revenue.
Hard Rock Sportsbook is the latest online sports wagering platform to commence operations in Virginia. Hard Rock's digital sportsbook is the eighth mobile platform to take legal, regulated wagers in the commonwealth. 
Iowa reported $223.5 million bet on sports in casinos and online in March, a 44 percent increase from March of 2021 when COVID-19 vaccinations were still in short supply and indoor gatherings largely discouraged. 
Kentucky: a prominent horseman said Thursday he's worried about the impact state Rep. Adam Koenig's loss in a primary election earlier this week may have on horse racing in the Bluegrass State.
Minnesota Senate made the pathway to sports betting passage clear, but tribes aren't on board — and it appears the sides are on their way to a stalemate Monday.
New Jersey's $927 million in April sports betting handle was its lowest single-month figure since August 2021, but it was still a roughly 24% increase year over year; however, revenue decreased from $54.8 million to $50.3 million year over year.
Oklahoma: A bill that would have legalized sportsbooks at tribal casinos died in the Senate for "moral reasons" and a general lack of interest, according to its sponsor in the House, State Rep. Ken Luttrell (R-Ponca City).
Ontario: Over three in 10 Ontario residents are betting on sports at least once a week and their activity of choice is the NBA.
Penn National Gaming announced the expansion of its exclusive myheroes program to recognize and engage the company's team members who are veterans, active-duty military or first responders. The team member-focused extension of the program strengthens Penn National's commitment to supporting our nation's heroes.
Playmaker has acquired creator agency and podcast network TPN Media Group, which owns sports betting information site PropsHQ.com, known as The Props Network.
Smarkets will launch its SBK sportsbook go live with SBK in Iowa later this year following an earlier launch in Colorado in June 2020 via a partnership with Full House Resorts. A further launch is also planned for Indiana with Smarkets having secured a license in the state.
__________
2. GAN Reports First Quarter 2022 Financial Results
GAN Limited (NASDAQ: GAN), a leading North American B2B technology provider of real money internet gaming solutions and a leading International B2C operator of Internet sports betting, today reported its unaudited financial results for the quarter ended March 31, 2022.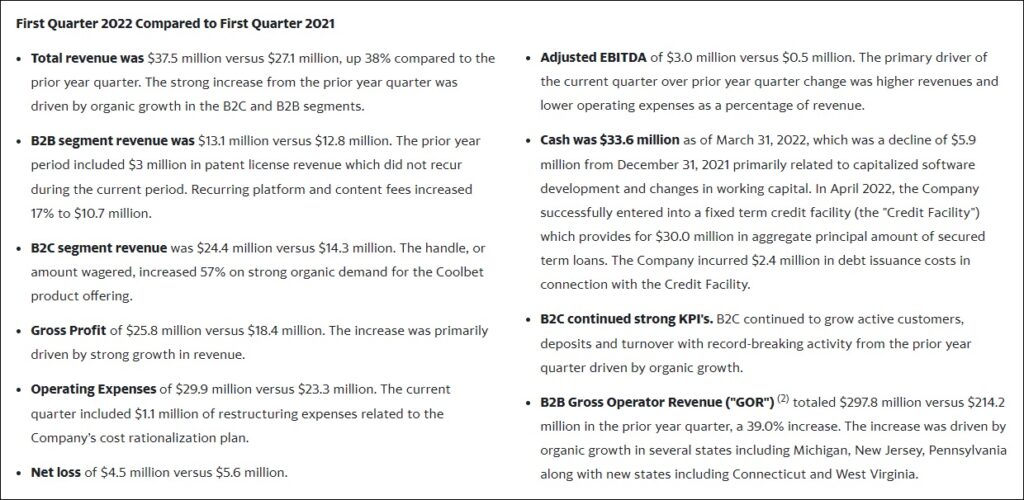 The company reports record revenue of $37.5 million growing 38% year over year, improved net loss of $4.5 million and Adjusted EBITDA of $3 million driven by organic growth & cost rationalization efforts. Gan Limited affirms full year revenue expectation of $155 million to $165 million and Adjusted EBITDA expectation of $15 million to $20 million. The company is also implementing cost restructuring initiatives in 2022 to focus on improving profitability.
1. Analyst Believes DraftKings' Risk Profile Is 'Highly Favorable'
As online sports betting continues to gain traction in new state markets, it may be time to revisit DraftKings Inc.(NASDAQ: DKNG), said Jefferies analyst David Katz. The analyst reinstated coverage of DraftKings at a Buy on Monday, saying the current risk/reward was "highly favorable."
Katz said the company should have sufficient funding to move into California and Florida, two states that seem poised to legalize online sports betting. Katz estimated that the company could launch operations in California as early as 2023, with Florida following shortly after.
Over the last few months, sentiment on online sports betting companies has waned due to concerns over increasing competition in the sector and the magnitude of cash burn. It doesn't help that betting companies have been struggling to reach profitability. In the case of DraftKings, there have been additional worries that the company has higher-than-expected marketing costs, impacting its path to profitability. But Katz believes that marketing aside, the stock could see upside soon. For one, he believes concerns over cash burn are "overblown," with the current cash balance sufficient to support further growth.