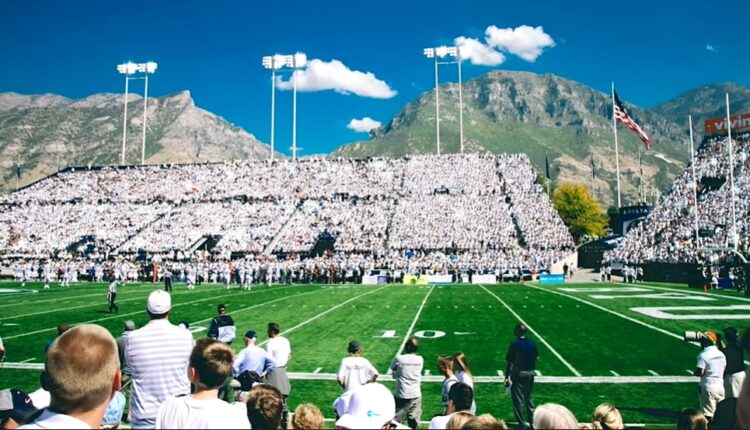 Expected Value: This Week's Top 5 Sports Betting Industry Developments
5. Sports Betting In The Carolinas Seems To Be On The Backburner
South Carolina Bill Dies With No Vote
The legal sports betting market in South Carlina would have been regulated had HB 5277 passed in the House. Both retail and online sportsbooks would have come from the bill but the session ended without a vote setting the market back at least another year.
North Carolina Deadline Incoming
The bill to launch mobile sportsbooks in North Carolina has been sitting in limbo in the NC House for weeks and those in support are beginning to get nervous.
SB 688 has already passed in the Senate and only needs the House's approval to be enacted. Governor Roy Cooper has already expressed his support for the bill, expressing his desire to sign it once it advances passed the House.
4. Vermont Establishes Committee To Explore Sports Betting
Buried deep in Vermont Senate Bill 11 is a provision creating a committee to examine the feasibility of bringing legal sports betting to the Green Mountain State that Gov. Phil Scott signed the legislation Wednesday.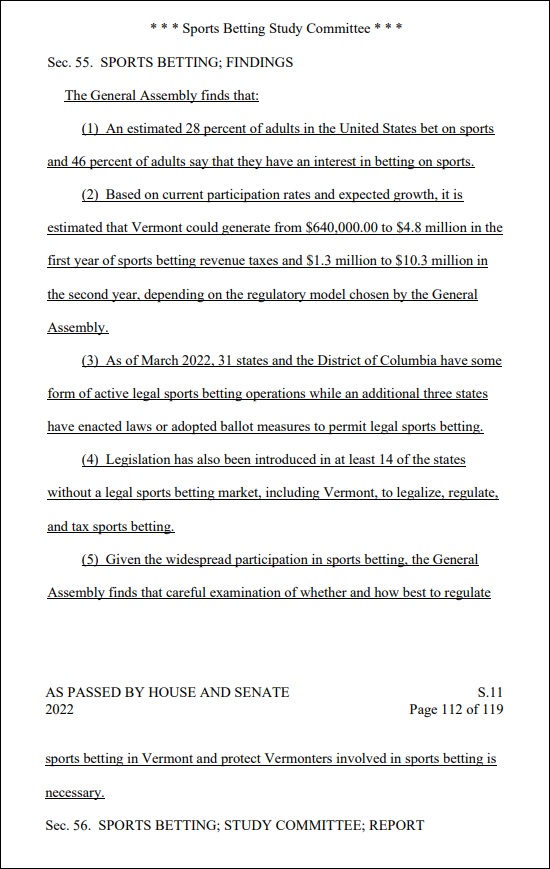 The committee is tasked with examining the sports betting study commissioned earlier by the Office of Legislative Council and the Joint Fiscal Office. Members must meet for the first time no later than September 1. They are allowed to meet no more than four times and must submit a written report to the House Committee on General, Housing, and Military Affairs and the Senate Committee on Economic Development, Housing and General Affairs no later than Dec. 15.
3. Caesars Entertainment Announced Multi-Year Partnership With Peyton Manning-Controlled Production Company
Caesars Entertainment (NASDAQ:CZR) roped-in an athlete affiliated partnership on Thursday, announced a multi-year partnership with Peyton Manning's Omaha Productions. Together, Caesars Sportsbook and Omaha Productions will launch the Omaha Audio Network, a full-service audio production network, a variety of new digital series developed specifically for Caesars Entertainment and Omaha Productions' social media channels, and a live event series later this year.
This signals Caesars Entertainment's commitment to bolster its digital broadcast assets to drive audiences to its sportsbook and gaming funnel. With an ultra-competitive environment to compete against, Caesars is enlisting the expertise of NFL legend Peyton Manning—himself a member of the ESPN broadcast team.
__________
Guaranteed Money: How Saudi Financed LIV Golf May Be Better For Bettors
In the news…
154th Belmont Stakes: A look at the track, the field, the odds and notes on each horse
Arizona reported a record $692M sports betting handle in March, up 40%. That was the highest betting handle ever achieved in the Grand Canyon State since it launched its legal market back in September 2021, and it also represents a 40% uptick from the prior month's total wagers, a sign that the entire operation is gradually maturing and expanding.
Bettor cashes just under $400k on 5-team MLB parlay placed in Las Vegas. See how it happened.
Boyd Gaming Corporation announced that the company has issued its 2021 Environmental, Social and Corporate Governance (ESG) report.
Detroit's three casinos collectively reported $108.7 million in May revenue, the Michigan Gaming Control Board reported this week, down less than 1% from $109.7 million in May 2021. Revenue from table games and slots fell 1.5% year-over-year to nearly $106.3 million, though revenue was down 9.1% from April. Retail sports betting, meanwhile, produced revenue of $2.4 million, up 37%.
DraftKings CEO Jason Robins has claimed the company's focus is 'all about profitability' as the US sports betting and igaming markets begin to mature.
DraftKings CEO Jason Robins has again reiterated his wishes to eliminate 'sharp' bettors to increase gross margins for his company over time. The comments echoed similar remarks made in the fourth quarter of last year, which drew the ire of some in the sports betting community.
TDR: DraftKings CEO Doubles Down On Intention To Eliminate Sports Betting Sharps
EveryMatrix, a Sliema, Malta-based B2B iGaming technology provider for online gaming sites finalized the acquisition of Leapbit, a Zagreb, Croatia-based sports betting developer. The amount of the deal was not disclosed.
FansUnite Entertainment announced its intention to initiate a normal course issuer bid with respect to its common shares through the facilities of the Canadian Securities Exchange.
Gambling.com Group Limited is set to join the broad-market Russell 3000® Index at the conclusion of the 2022 Russell indexes annual reconstitution, according to a preliminary list of additions posted by FTSE Russell on June 3, 2022. The inclusion on the index will take effect after the U.S. market opens on June 27, 2022.
HeadsUp Entertainment has launched "multiple revenue platforms" in six US states and Ontario in what it called "a major step forward as a licensed and approved affiliate."
Illinois became the last state to report sports betting numbers for the month of April. The state saw its bettors wager over $839 million on sports through April, an impressive total but still a 14% drop from the record-breaking $971 million handle in March.
International Game Technology has extended partnership with SuperBook's online sportsbook mobile app in Tennessee, the two groups announced earlier today; the IGT powered mobile SuperBook is also live in New Jersey, Colorado and Arizona.
Japan policymakers are throwing cold water on the idea of expanded sports wagering in the country, indicating a proposal to that effect is unlikely to gain near-term traction.
Kindred has earned a gaming license in the Netherlands, the company announced earlier today, and plans to launch its Unibet site in the country in the coming days
Massachusetts Governor Charlie Baker (R) says the issue of sports betting is quite similar to the state's legalization of cannabis.
Massachusetts senators and representatives are set to negotiate a sports betting legalization. The conference committee tasked with hammering out a compromise bill will be meeting on Thursday, in an effort to reach an agreement before the legislative session expires on July 31.
MGM announced it will sell the operations of Gold Strike Tunica in Mississippi to Cherokee Nation Entertainment for $450 million in cash. MGM also operates the Beau Rivage in Biloxi; the mobile BetMGM sportsbook app in MS is only playable within MGM casino properties.
New York: Online sportsbooks combined for nearly $1.3 billion in handle during May, according to monthly data provided by the New York State Gaming Commission. As a result, NY online sportsbooks combined for $110 million in gross gaming revenue during the month, which led to $56 million in tax revenue.
Ohio sports betting market to be one of the best in U.S., sources Say
Rush Street Interactive is adding its industry leading online sportsbook to its existing online casino at BetRivers in West Virginia
___________
2. Dave & Buster's Reports Record First Quarter 2022 Financial Results
Dave & Buster's Entertainment, Inc., (NASDAQ:PLAY), an owner and operator of entertainment and dining venues, today announced financial results for its first quarter ended May 1, 2022.
Key First Quarter 2022 Highlights
Revenue increased 24.1% from the first quarter of 2019 to a record $451.1 million compared with $265.3 million in the first quarter of 2021 and $363.6 million in the first quarter of 2019
Total comparable sales increased 10.9% compared with the same period in 2019
Net income totaled a record $67.0 million, or $1.35 per diluted share, compared with net income of $19.6 million, or $0.40 per diluted share in the first quarter of 2021 and net income of $42.4 million, or $1.13 per diluted share in the first quarter of 2019
Adjusted EBITDA increased 45.9% from the first quarter of 2019 to a record $143.2 million or 31.8% of revenue, compared with Adjusted EBITDA of $76.7 million in the first quarter of 2021 (28.9% of revenue) and Adjusted EBITDA of $98.2 million, or 27.0% of revenue in the first quarter of 2019
Ended the quarter with $139.1 million in cash, approximately $492.5 million of liquidity available under the Company's $500 million revolving credit facility, net of $7.5 million in letters of credit, and a net debt leverage ratio of 0.7x
1. AGA Commercial Gaming Revenue Tracker—Strong Growth In Sports Betting Gross Reported
US commercial gaming revenue marked its second-highest-grossing month in April, with most states reporting year-over-year growth. Revenue grew in April across all types of gaming—casino games, sports betting, and online wagering on events—to $4.99 billion, up 12.4% from 2021, according to an American Gaming Association report. It said 24 of 31 commercial gaming states that were operational a year ago posted revenue growth.
As expected, the year-over-year pace of revenue growth continued to slow in April as the comparisons move beyond 2021 months in which the industry was operating with significant COVID-related operating restrictions. On a sequential basis, gaming revenue dropped 6.8 percent from March's all-time monthly record.
Through the first four months of 2022, commercial gaming revenue stands at $19.33 billion, 24.2 percent ahead of the same period last year. While persistent macroeconomic concerns remain, including supply chain disruptions, labor shortages and rising inflation rates, the gaming industry's growth rate at the start of 2022 has the potential to be another record-setting year. Sports betting generated $497.5 million in revenue, a 74.6% gain from April 2021.