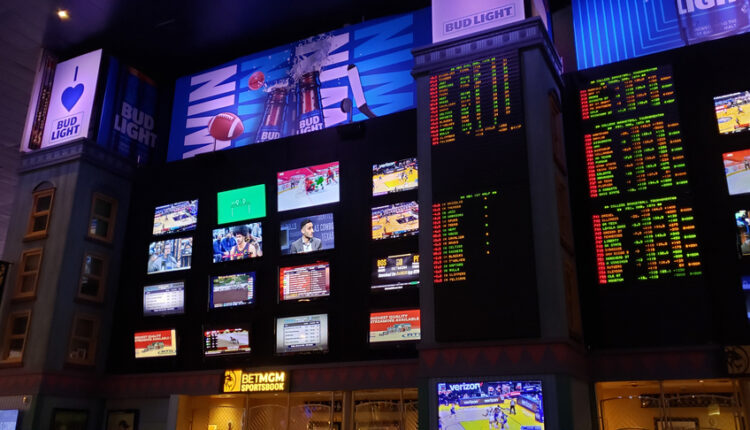 Expected Value: This Week's Top 5 Sports Betting Industry Developments
It feels like every week there is a new entrant into the Ontario wagering market and this week is no exception.
US heavyweight BallyBet (NYSE: BALY) has been approved for a gaming licence by the province's AGCO (Alcohol and Gaming Commission).
According to the company's website, the online casino will be available first, followed by the Sportsbook. The site will also feature a range of free to play sports games, which give customers the chance to win prizes.
In addition to Ontario, Bally Bet has also been approved to join New York's mobile sports betting market. The company has yet to officially launch, despite the New York market launching back in January. The company shared plans that they were looking for a Q2 2022 launch, however no updated time frame has been outlined.
An all out lobbying war has erupted in the state of California now that there are two wagering initiatives on the ballot this Fall.
The first volley being fired is a 30-second commercial titled "False Attacks" that takes aim at DraftKings (NASDAQ:DKNG) CEO Jason Robins and is funded by California tribes that would like to see wagering kept to racetracks and Native American-run casinos.
However, not all tribes are against the industry led Proposition 27, according to a press release this week. The Santa Rosa Rancheria Tachi Yokut Tribe has joined the Big Valley Band of Pomo Indians and the Middletown Rancheria of Pomo Indians in support of the initiative.
With an estimated $3 billion in potential revenue on the line, this battle is only going to get hotter.
In Other News…
888 Holdings faces obstacles after securing William Hill
'Astounding Amount Of Dirty Money' Laundered Through B.C. Casinos
FanDuel New Official Sports Betting Partner With NFL Canada
Gambling Site Loses UK License Over Rule Violations
Ontario Sports Betting Regulator Hits DraftKings With Fine
Paddy Power's CEO On Way Out Flutter Confirms
Wagering Companies Await UK White Paper Findings
Guaranteed Money: Big Moves In College Football May Be Bad For Business
As North American sports leagues continue to embrace the world of sports betting from naming rights to sponsorship, it seems the UK is heading the other way.
Once a country where gambling shops were on every corner and soccer clubs had wagering companies on their jerseys, the tide is turning the other way or at least that's the hope.
Premier League soccer has asked its clubs to vote on a voluntary ban on gambling sponsorship on shirts before potential government action.
The top tier teams may not be phased by the idea of a ban and would be easily able to gain sponsorship elsewhere. However teams in lower leagues are quite concerned, the English Football League, sponsored by Sky Bet, has said it would cost their clubs £40m a year.
As of last season, half of the leagues top teams had betting sponsors on their shirts. The government is hoping to decide on a ban before July 21.
It has been a big week for FansUnite (TSX:FANS).
The Vancouver-based global sports and entertainment company announced this week that it will be uplisting to the TSX.
FansUnite CEO Scott Burton said in a statement that "Uplisting to TSX from the Canadian Securities Exchange is an accomplishment for any public issuer, as evidenced by the number of companies that successfully make the transition."
The move is a deserved one given TDR's lead financial writer Benjamin A Smith breakdown last month where the company showed considerable topline growth while achieving its first cash flow positive quarter in history.
With the company listing on TSX, the common shares of the company will cease to trade on the CSE. The company explained that "Shareholders are not required to exchange their share certificates or take any other action in connection with the listing, as there will be no change in the trading symbol or CUSIP for the common shares."
With market volatility touching almost every sector, sports betting stocks haven't been immune from the turbulence. There is, however, some good news out this week when it comes to future of the industry and what value it may hold.
Vantage Market Research's recent analysis of the Global Sports Betting Market found that revenue is expected to reach a value of US$129.3 Billion in the year 2028.
The research firm credited increasing technological advancement and innovation as keys to the predicted market growth.
Vantage also highlighted in their report the increased penetration of connected devices as something that would augment the development of the Global Sports Betting Market over the projected period.
For context, Global Market revenue last year was valued at USE 74.2 billion.
To read last week's Top 5 sports betting industry developments, click here.