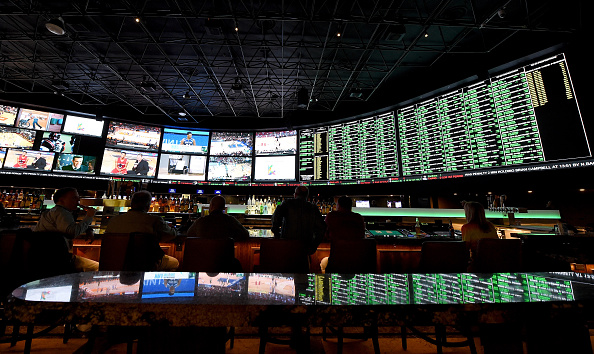 Expected Value: This Week's Top 5 Sports Betting Industry Developments
There doesn't seem to be an odds on favourite when it comes to two very different wagering propositions in California.
With both sides in the fierce debate pouring hundreds of millions in advertising spending into the battle, voters don't seem to be swayed one way or the other.
Prop 26 would allow retail sportsbooks in-person wagering at California's tribal casinos and the state's four thoroughbred racetracks. On the other side is Prop 27 that would allow sports betting statewide through online sportsbooks and mobile apps. 
Recent polling from both sides has shown that Californians are fully aware of the ballot propositions ahead of the November election, however the appetite for making a significant change may not be there.
That's troubling news for those backing prop 27, despite spending over $150 million to sway voters, 33% that said they would vote yes contrasts against 58% who said they would vote no. And of the yes voters, only 16% said they'd "definitely" vote yes.
In order for the proposition to pass it must gain a majority vote of the people.
Gambling in Australia is making a statement.
Wagering companies are now officially required to send customers a monthly statement of wins and losses in an effort to combat problem gaming.
The initiative was recommended by the 2018 National Consumer Protection Framework for Online Wagering, which came up with 10 measures to address rising social issues connected to online betting.
In addition to showing users how much they wagered, won and/or lost, statements will also include the number of bets users placed in the month and a chart displaying user gambling activity in the prior six-month period.
With the move Australia's government hopes to combat staggering estimates that  suggest Australians lost approximately $25 billion on legal forms of gambling in 2018–19, representing the largest per capita losses in the world. 
Guaranteed Money: Inside College Football Betting
In Other News…
Biden Gets Involved In Florida Betting
Issues In Kansas Betting Market
Lessons To Be Learned From Spanish Market
It may seem that betting is still a long way away in the state of Massachusetts, but when bettors do get the opportunity, DraftKings (NASDAQ: DKNG) will be their book of choice.
After a months long battle to allow sports wagering in the state, legislators finally agreed earlier this month on terms to give wagering the green light.
The licensing framework and launch date have yet to be determined, but according to a recent survey conducted on behalf of BetMassachusetts.com 37% of Massachusetts sports bettors plan to bet at least once a week on sports; and another 2 in 5 (38%) anticipate betting once a month to multiple times a year.
It also seems that bettors are more inclined to stick with home cooking as 57% of bettors chose Boston-based DraftKings as their preferred betting brand. FanDuel ranked as the second most-popular choice at 33.6%, followed by BetMGM (NYSE:MGM) (15.1%) and Caesars (NASDAQ: CZR) (11.3%).
Despite overall market volatility it was a solid second quarter for Swiss based SportRadar (NASDAQ:SRAD)
The sports data and solutions firm reported an increase in revenue of 23% year over year, beating estimates from Wall Street.
"This performance improvement is ahead of our expectation and bodes well with our long-term plan of building an attractive profitable U.S. business. This operating leverage we are seeing is a balance of accelerating revenues, streamlining the organization and cost optimization," CEO Carsten Koerl told investors on the company's earnings call this week.
The company continues to be bullish on in-game wagering, a trend that has continued to grow in the North American market. In the U.S. basketball, some 30% to 35% bets now occur during play. In mature markets abroad, live bets make up 70% to 80% of all betting according to Koerl. 
Penn Entertainment (NASDAQ:PENN) is taking full control of Barstool Sports, the company announced this week that it intends to buy the remaining shares it doesn't already own of the popular brand. 
In a filing with the U.S. Securities and Exchange Commission, Penn said it would exercise its right to acquire the remaining shares and will complete the purchase by February 2023.
Penn has owned a 36% stake in Barstool since 2020 and according to Bloomberg it will pay $387 million to own the company outright.
Following the filing Barstool Sports founder Dave Portnoy expressed frustration that Penn stock isn't getting the same love as other companies in the space. "If you look at the Penn stock, it trades with the rest of the gambling stocks almost lockstep for the past year, year and a half. We don't operate like those guys," Portnoy told Varney & Co." on Fox Business. "Those guys are spending billions of dollars on advertising and literally burning money and losing hundreds of millions of dollars. And we trade exactly like them. There's no actual differentiation."