Expected Value: This Week's Top 5 Sports Betting Industry Developments
5. NFL Suspends Calvin Ridley For Betting On NFL Games
The league on Monday announced it has suspended Atlanta Falcons wide receiver Calvin Ridley indefinitely — through at least the end of the coming 2022 season — for being caught having placed bets on NFL games over a five-day period in late November. That's when Ridley was away from the Falcons, his season over, on the non-football illness list — after he said he needed time away from the game to focus on his "mental well-being."
NFL Network's Mike Garafolo reported that Ridley placed parlay bets on his phone, and that his bets actually did involve his own team, the Falcons. However, a league investigation found that Ridley used no insider information for his bets, nor that the integrity of any game was compromised, NFL.com reported.
Ridley, 27, would have entered his fifth season in the NFL this year. He caught 217 passes for 26 touchdowns over his first three seasons, but in only five games last fall he caught just 31 balls for two scores before walking away.
4. NHL Announces First Official Canadian Sportsbook Partnership
The NHL has forged its first partnership in the Canadian sports betting market and the sportsbook they've opted to partner with might be a bit of a surprise.
Instead of waiting for Ontario to open up to private sports betting sites on April 4, 2022, the NHL has agreed to terms with PROLINE+, the government-run sportsbook operated by Ontario Lottery and Gaming (OLG).
Under the multiyear agreement, the OLG will become an official NHL partner for sports betting. This role will encompass both its PROLINE+ digital sports betting platform and the new PROLINE product at retail lottery outlets across Ontario. As part of the partnership, the NHL is providing the OLG with distribution rights to the league's official logos. They will also be holding cross-promotions across NHL digital and social channels.
3. Alabama Sports Betting Bills Advance To Senate Floor
Alabama is one step closer to offering legal sports betting – as well as a state-run lottery – after the Alabama Senate Tourism Committee moved forward on a pair of bills proposed by Senator Greg Albritton. The two bills, SB293 and SB294 are based on last year's similar SB214. That bill failed on the Senate Floor, two votes short of the 21 required to pass. The pair of bills were voted on during a public hearing Wednesday and passed by the Senate Tourism Committee by a 9 yay – 1 nay vote.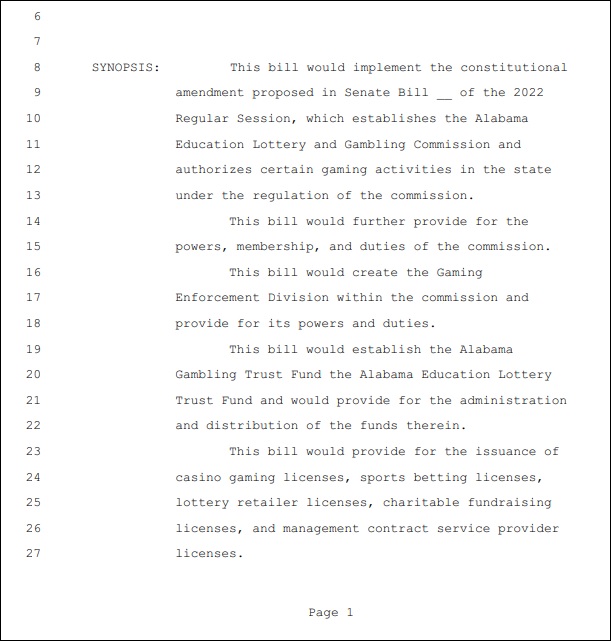 SB 293 – a proposed amendment to the Alabama Constitution – would be voted on by constituents via referendum if passed by the legislature and signed into action. The bill would officially regulate legal sports betting in Alabama and set up a state lottery system.
The second bill of the pair, SB294, would establish a gaming and lottery commission for the regulatory oversight of gaming activity. In the same vein, SB294 outlines licensing procedures, definitions, and other regulatory measures.
__________
Guaranteed Money With TDR's Ryan Doyle: The NFL's Love/Hate Relationship With Sports Betting
Weekly Performance of Top Sports Betting Companies
| | | | | |
| --- | --- | --- | --- | --- |
| Company | Ticker | Price ($) | Weekly Change (%) | Market Cap (s/o) |
| Evolution AB | EVVTY | 101.60 | 3.84 | US$21.6B |
| Flutter Entertainment Plc | FLTR.L | 8,950 | 6.54 | US$16.5B |
| DraftKings | DKNG | 16.11 | -22.13 | US$9.1B |
| Penn National Gaming | PENN | 42.67 | -7.93 | US$8.5B |
| Boyd Gaming | BYD | 64.22 | -4.22 | US$7.9B |
| Betsson AB | BETSB.S.DX | 53.80 | 6.53 | $7.8B |
| Genius Sports | GENI | 4.50 | -6.05 | US$1.1B |
| Rush Street Interactive | RSI | 7.91 | -1.61 | US$603.6M |
In the news…
Two California card rooms filed a lawsuit Monday in Los Angeles County Superior Court in an attempt to keep a sports-betting initiative sponsored by nine tribal casinos off the November ballot.
The Canadian Gaming Association has signed a Memorandum of Understanding with the International Betting Integrity Association for Ontario and the wider Canadian market.
Caesars is launching a racebook in a platform partnership with the New York Racing Association's NYRA Bets, the two groups said in a release. Horse racing fans "across the country will soon be able to download Caesars Racebook" this spring.
Colorado's sports betting regulators have suspended betting on all Russian and Belarusian leagues and events following the invasion of Ukraine.
Connor McDavid, the NHL's points leader and reigning MVP, has signed an endorsement deal with BetMGM that the company says is the first between a U.S. sportsbook and an active athlete in the four major North American leagues.
FanDuel Sportsbook brings its online sports betting experience to the passionate sports fans of Wyoming, who will now be able to place wagers across the state on professional and college football, basketball, baseball, hockey, golf, MMA, boxing, soccer, and tennis with a variety of betting and payment options available.
FansUnite Entertainment announced Monday it has received a Gaming Related Supplier – Manufacturer license from the Alcohol and Gaming Commission of Ontario, allowing the company to become a fully registered supplier of sports betting and internet gaming in Ontario, effective April 4, when the market is scheduled to launch.
Flutter, the U.S. entity of U.K. sports betting giant, may be closer to Fan Duel spinoff that CEO suggest (editorial)
Illinois took in $867.5 million in bets, up 9.9% from December's $789.6 million and was 49.2% higher than January 2021's $581.5 million. The previous record was set in October 2021 when the state had a handle of $840.4 million.
Illinois Gaming Board Administrator Marcus Fruchter banned the state's sportsbooks from laying odds on Russian contests, calling it "contrary to public policy."
Indiana experienced a decrease in total sports betting handle, mobile wagering saw a decline, posting a 17.2% loss, going from $465,487,501 in January to $385,497,672 in February.
A Minnesota House panel advanced an online & retail sports betting bill today, the first step toward legalization on what will be a long and complex legislative journey; lawmakers acknowledged extensive work remains, and the bill is set to be discussed in multiple more committees.
New Hampshire set record highs in January of 2022 in the categories of handle, tax collections, and revenue.
New York recently launched mobile sports betting market continues to thrive, as according to recent estimations the February handle has passed the US$1.5 billion mark.
Oregon: The amount wagered in sports betting during February was 33.5% higher than in the same month last year but 7.9% behind the record $42.9m set in January of this year.
PlayAGS came out with a quarterly loss of $0.25 per share versus the Zacks Consensus Estimate of a loss of $0.11. This compares to loss of $0.49 per share a year ago. These figures are adjusted for non-recurring items.
Rush Street Interactive has received its iGaming Operator Registration from the Alcohol and Gaming Commission of Ontario. RSI plans to satisfy all remaining regulatory requirements and launch its award-winning BetRivers online casino and sportsbook in Ontario on April 4, 2022, the first day online gaming will be authorized in the province.
Swedish Gambling Inspectorate revealed that total revenue across all verticals stood at SEK 26 billion (£2.04bn) at the close of the year. This represented a 5% year-on-year increase on 2020 figures of SEK 24.68bn (£1.94bn), whilst Q4 revenue grew by 2% on the corresponding time period in 2020 to SEK 7.01bn (2020: SEK 6.70bn).
__________
2. Genius Sports Reports Strong Fourth Quarter Results and 75% Annual Revenue Growth in 2021
Genius Sports Limited (NYSE: GENI), the official data, technology and commercial partner that powers the global ecosystem connecting sports, betting and media, today announced financial results for its fiscal 2021 fourth quarter and full year ended December 31, 2021. Highlights include:
Group Revenue: Group revenue increased 78.7% year-over-year to $84.0 million. On a constant currency basis, revenue increased $7 million, or 74.1% year-over-year.

Betting Technology, Content & Services: Revenue increased 52.9% year-over-year to $53.9 million, driven by growth in customer utilization of Genius' event content and new customer acquisitions. Growth was also supported by price increases powered by Genius' official data rights strategy, expansion of value-add services, and new service offerings
Media Technology, Content & Services: Revenue more than doubled year-over-year to $17.1 million, driven by the acquisition of new customers in the Americas and Europe, primarily for programmatic advertising services, and the inclusion of revenues from recent acquisitions
Sports Technology & Services: Revenue more than tripled year-over-year to $13.0 million, driven by the inclusion of revenues derived from recent acquisitions, Sportzcast and Second Spectrum
Group Adjusted EBITDA: Group adjusted (non-GAAP) EBITDA decreased to ($12.5) million, driven by accelerated investment in the business
1. Disney Plots Sports Betting Push In An Effort To Revitalize ESPN
During Wednesday's annual shareholders' meeting, CEO Bob Chapek once again mentioned bringing The Walt Disney Company into the world of sports betting through ESPN, in an effort to attract younger audiences and create new revenue. Chapek wants to "transform sports broadcasting into [a] multidimensional ecosystem" with betting and the metaverse.
The push into betting, Chapek said during its results call last month, was "driven by the consumer, particularly the younger consumer that will replenish the sports fans over time and their desire to have gambling as part of their sports experience". He added that the future of sports programming will extend to "sports betting, gaming and the metaverse".
Sports betting has exploded in the US since a 2018 Supreme Court decision ended Nevada's hold on the market, opening the door to more than 30 states to legalize it so far. This has fueled the rise of online sportsbooks – virtual spaces where gamblers can place bets – and companies providing data and other services. Goldman Sachs has projected that the US sports-betting market will reach $39 billion by 2033, from $900 million today.