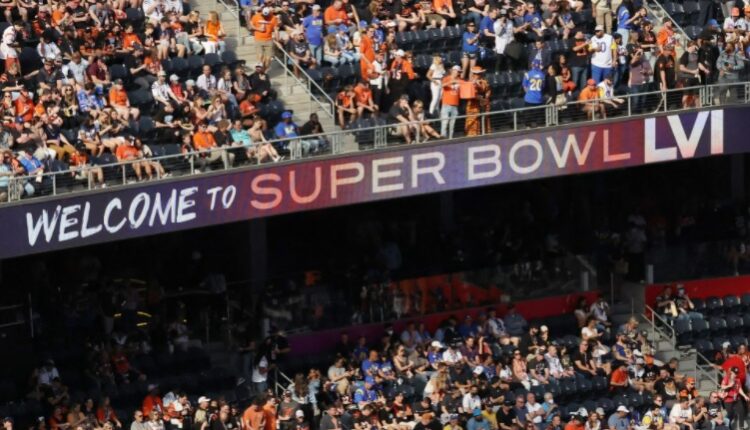 Expected Value: This Week's Top 5 Sports Betting Industry Developments
5. First 4 days of mobile sports betting generate $40.5 million in wagers in Louisiana
Nearly $40.5 million was wagered in the first four days most Louisiana residents could use mobile sports betting apps, according to figures released Thursday. Mobile sports betting became legal in Louisiana on January 28, just in time for the NFL Conference Championship games.
But the six companies that offered mobile sports betting in January posted a loss of nearly $9 million, due to aggressive promotions such as giving players a few hundred dollars in free bets for opening up an account. Without those promotional bets, the mobile sports betting sites would have posted nearly $2.7 million in revenue and paid about $400,000 in taxes to the state.
4. DraftKings pays out more than $175M on Super Bowl LVI bets
__________
In the news…
In Arkansas, the dream of mobile sports betting is getting closer to becoming a reality. A subcommittee of lawmakers looked to approve rules already okayed by the Arkansas Racing Commission on February 17.
A new study conducted by the Australian Communications and Media Authority has revealed an increase in the number of Australians gambling online over the six month period through to June 2021.
BetMGM and SportsGrid, the only 24-hour sports wagering streaming network in the US, are unveiling a content partnership.
California tribal gaming leaders have officially endorsed a second sports betting measure that proponents want to put before voters later this year.
Connecticut sports betting numbers started the new year with increases across the board. The sports betting handle for January was $158,092,481, up 5.3% from December's $150,073,755. The mobile sports betting handle had a bump to $149,352,612, up 4% from $143.57 million in December.
Indiana sportsbooks set another record in January, as they broke the $500 million handle barrier for the first time.
New Jersey reported impressive growth in its sports betting results. For Super Bowl LVI, New Jersey sportsbooks took $143.7 million in Super Bowl wagers, up 22.4% from just over $110 million for Super Bowl LV in 2021. New Jersey also reported $7.8 million in 2022 revenue from the Super Bowl, although that was a decline of 31% from 2021.
New York sportsbooks combined to pay $63.2 million in taxes in January. That comes from $123.1 million in sports betting revenue on $1.686 billion wagered, a record for the state.
South Carolina remains on the sidelines of legal sports betting. But a former US congressman says he'll fight to change that should he be elected to the state's highest office.
Yankee Stadium could have self-service standalone sports betting kiosks if a new piece of gaming legislation gains favor among New York state lawmakers.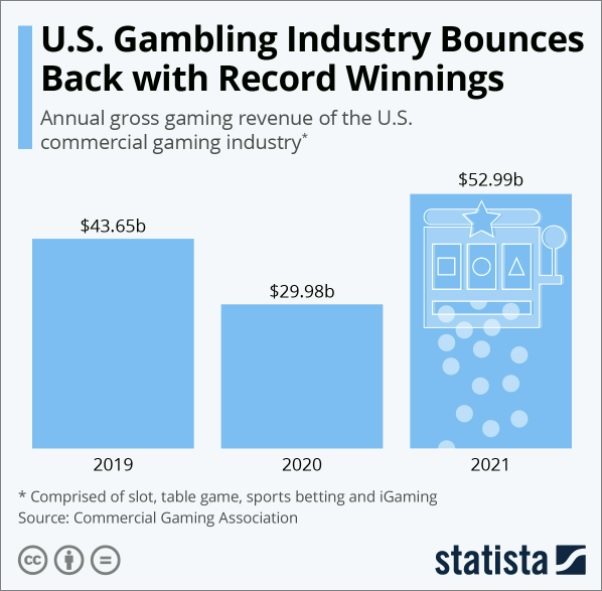 __________
3. DraftKings Fourth Quarter 2021 Results Disappoint, Shares Plunge
DraftKings (NASDAQ: DKNG) shares came under pressure today as the company's fourth quarter 2021 earnings reports disappointed the street, despite increasing its revenue forecast for full year 2022. The bugaboo appears to be steeper than expected EBITDA losses combined with a miss in subscriber growth, which lagged street expectations. Highlights:
For the three months ended December 31, DraftKings reported revenue of $473 million—an increase of 47% compared to $322 million registered in Q4 2020. Revenue was approximately $28 million greater than the average 25-analyst estimate (indicated below), and a full 8% greater than previously-issued guidance provided by the company during its third quarter earnings conference call held on November 5, 2021. The company also raised its FY 2022 revenue forecast to $1.85-2.0 billion from the previous estimate of $1.7-1.9 billion. So from a revenue generation perspective, DraftKings appears to be hitting on all cylinders.
Zack Jones: DraftKings Fourth Quarter Returns Shake Up Sports Betting Stock Landscape
2. Minnesota legislators propose bipartisan plan to legalize sports betting
Minnesota has taken a step towards opening its first sportsbooks after legislators this week proposed a bipartisan plan to legalize sports betting in the state. A report by StarTribune states that, under the bipartisan state Senate proposal, in-person sports wagering would be allowed at tribal casinos, racetracks, and online via vendors that the tribes would oversee.
There's a lot of places people want this money to go. I've been saying from the first day, this is not a big cash cow — this is about consumers and customers and having some fun.

Roger Chamberlain, Minnesota Senator
Sportsbooks could go live in the fall of 2023 if the proposal is signed into law. The proposal was put forth by state Senators Julia Coleman, Roger Chamberlain, and Karin Housley.
1. Wagering Brings In $53 Billion, Surging To New Records Last Year
The sports wagering industry took in $53 billion in revenue last year — breaking the previous industry record by more than 20% registered in 2019, according to the American Gaming Association. Last year's record also shattered 2020 levels, when a COVID-affected industry struggled with a months-long shutdown and brought in just $30 billion.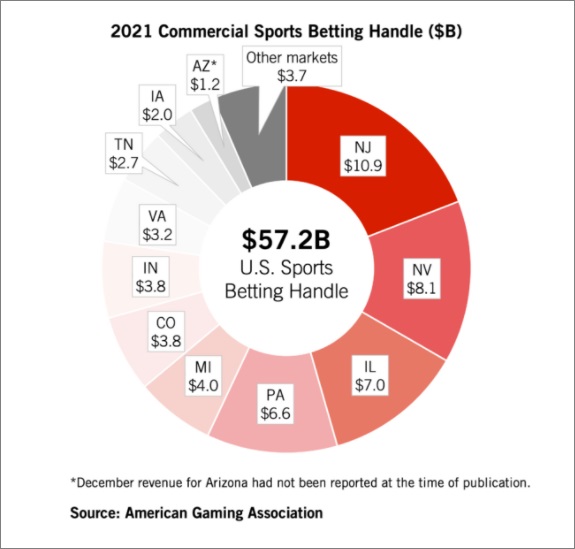 In a press release, AGA CEO Bill Miller said last year's results are "nothing short of remarkable." Growth was spurred by a massive increases in sports betting, online gambling and traditional brick-and-mortar gaming at casinos. Also, more states legalized gambling (up to 33 and the District of Columbia) and 23 of them set full-year revenue records.