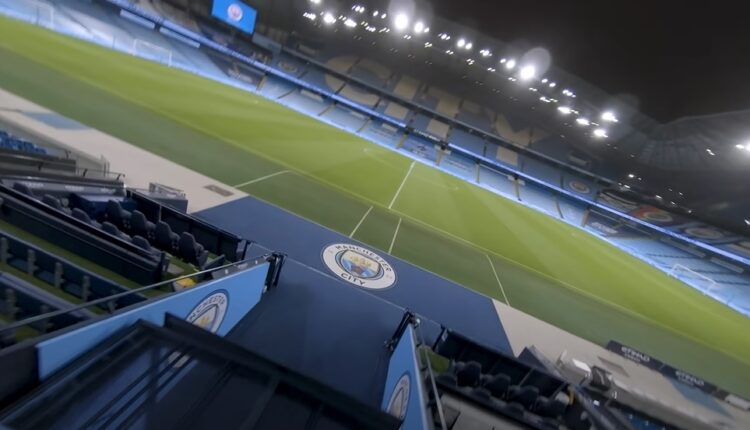 FansUnite Achieves Its First Cash Flow Positive Quarter In Company History
FansUnite Entertainment Inc. (CNSX: FANS) (OTCQX: FUNFF) reported financial results for the first quarter of fiscal 2022 on May 27. The report caught our attention as it showed considerable topline growth while the company achieved its first cash flow positive quarter in history. TDR listened to the post earnings conference call to glean more information on how FansUnite's business operations are progressing.
To recap, last week's earning report was chalk-full of impressive growth metrics. Among the most impressive, FansUnite reported:
Total revenues of $9.67 million in Q1 fiscal 2022—an increase of 804% year-over-year
Gross margin of $5.90 million (61%) in Q1 fiscal 2022—a 10% increase in margin percentage year-over-year
Positive cash flow from operations of $0.5 million in Q1 Fiscal 2022, as compared to negative cash flow of $2.2 million the previous year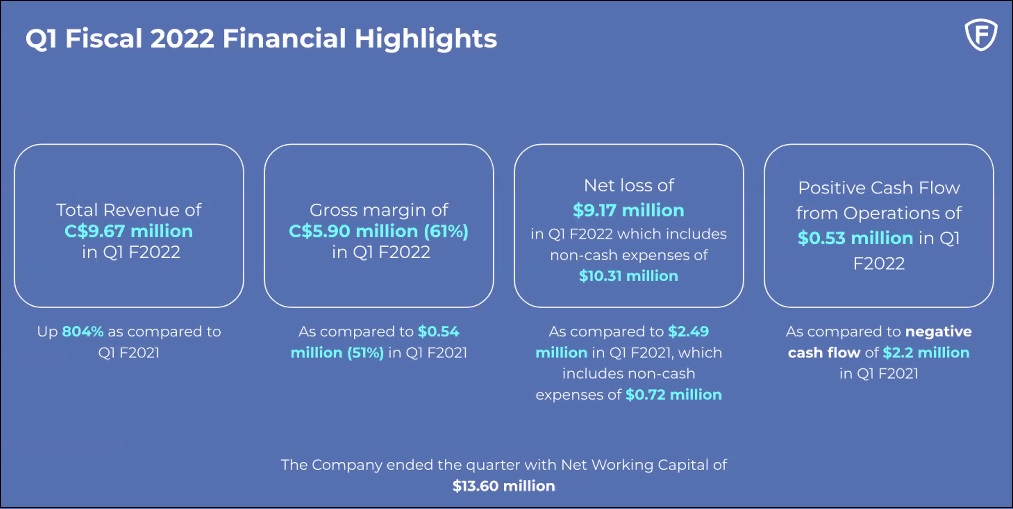 From our perspective, it's the positive cash flow that resonates most—especially in a tough capital raising environment where preservation of working capital is important. Essentially, more net cash and cash equivalents entered the company this quarter than exited from operations—aided by an expanding margin profile.
Gross margin is defined as net sales less the cost of goods sold (excluding things like interest expenses and non-cash stock compensation), so it gives us an idea that FansUnite is seeing more return on product offerings minus the direct cost to produce those products.
An expanding gross margin is all the more impressive considering direct competitors such as Genius Sports have seen a declining gross margin profile in recent quarters.
FansUnite Q1 2022 Conference Call—The 3 Biggest Takeaways
Typically, the post-earnings conference call occurs on the day (or following morning) of the earnings release. Although financial results were disseminated on May 27, the company elected until the next week to discuss these results. And for investors, it was worth the wait.
McBookie Achieves Its Best Ever Quarter
The first segment featured FansUnite CFO Graeme Moore, who recapped all the operational highlights that his company achieved this past quarter. Those achievements are illustrated on the press release, but Graeme provided additional color that the press release did not provide.
For example, we learned that McBookie—the 100% owned subsidiary that FansUnite acquired in 2020—had its best quarter in 10-plus year history. The subsidiary demonstrated significant year-over-year growth (54%) by increasing its gross win in 2021, and current growth was being fueled by Scotland's run in World Cup soccer qualifiers. Although Scotland's run has officially ended to the hands of Ukraine, the revenue boost it provided gave FansUnite a nice comp to report to investors, and hopefully, something that can be emulated down the road.
Furthermore, FansUnite plans to extract further profitability from the property moving McBookie to their own platform and direct cost model.
McBookie is described as a leading provider of sports betting services, with a focus on Scottish markets under a license to operate granted by the U.K. Gambling Commission. McBookie focuses on B2C offerings and has strategically decided to pursue an under-served market, focusing the majority of its resources on Scottish markets and clientele.
Partnership Being Discussed In The Ontario Market
Things opened up for FansUnite's in Ontario this past quarter. On March 7, 2022, the company announced that it received a Gaming Related Supplier – Manufacturer license from the Alcohol and Gaming Commission of Ontario, allowing FansUnite to become a fully registered supplier of sports betting and internet gaming, effective April 4, 2022. But it was what wasn't mentioned in the press release that garnered our attention.
On the call, CEO Scott Burton was asked whether any company had approached FansUnite to license its proprietary software solutions in Ontario? His answer was definitive: FansUnite has shortlisted its preferred candidates and that it was in talks with a potential partner for the Ontario market. No further details were given.
We're excited to see what comes next—if and when the partnership is eventually consummated.
FansUnite Is Adapting Business Strategy In Light Of Challenging Market Conditions
It's no secret that overall market conditions have been incredibly difficult and for a protracted period of time, with small and micro cap stocks getting particularly punished. For example, the Canadian Securities Exchange is down 39.66% this year alone, to levels we haven't seen since May 2020—the epicenter of the COVID crisis. Naturally, share prices of most CSE-listed companies have suffered commensurately with this dismal performance, and FansUnite Entertainment is no exception.
Needless to say, with a constrained ability to raise capital (without creating excessive share dilution), the ability to acquire growth through M&A has been placed on the backburner. But that doesn't mean the company is standing still or can't grow quickly.
In lieu of current market conditions, FansUnite will place most of its emphasis on growing its existing asset base in 2022. The company notes that although M&A will slow to a trickle, there's plenty of room for growth with the expansion of North American sports betting still going strong. That's good news for subsidiaries such as American Affiliate, a U.S. pure-play betting affiliate network that increases revenues whenever new legal states come online.