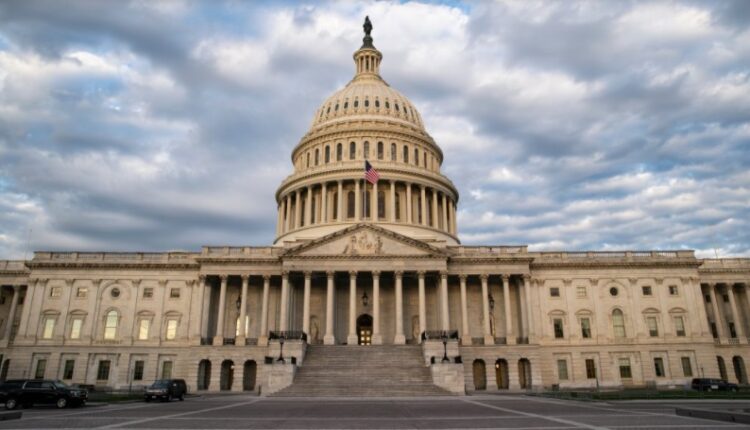 Financings Galore as U.S. MSOs Rush To Raise Capital To Start 2021
Not even two weeks into 2021 and industry money spigots have flown wide open. U.S. multi-state operators (MSOs) have already raised hundreds of millions of dollars from investors in 2021 as insatiable appetite of all-things-cannabis continues. Given the regulatory backdrop fueling a feedback loop of higher equity prices, don't expect the trend to end anytime soon.
Today, TerrAscend Corp. was the latest high-profile MSO to take advantage of its high share price, which was bouncing along 52-week highs. The Mississauga-headquartered company announced an over subscribed, non-brokered private placement for gross proceeds of approximately C$224 million, with 80% of commitments from four large U.S. institutional investors. The offering consists of 18,115,623 common shares issued at the price of C$12.35 per common share.
Yesterday, both Ayr Strategies and Columbia Care announced proposed offerings of equity shares. The former announced an overnight marketed offering of 4,000,000 subordinate voting shares, restricted voting shares or limited voting shares at a price of C$34.25/share, for gross proceeds of approximately C$137,000,000; while the latter sold 16,150,000 common shares at a price of C$8.05/share on a bought deal basis for aggregate gross proceeds of C$130,007,500.
Although three 9-figure equity financings have been announced this week alone, none were the largest U.S. cannabis deal so far in 2021.
That honor goes to Curaleaf Holdings, which is America's largest MSO by dispensary count and market capitalization. On January 6, the company announced an overnight marketed offering of subordinate voting shares (SVS). The company issued 18,975,000 SVS—including the underwriter's over-allotment option—at a price of C$16.70/share for total gross proceeds of C$316,882,500.
Subsequent to the offering, Curaleaf secured additional funding via three-year revolving credit facility for $50 million. The company obtained an interest rate on the outstanding principal of just 10.25%—one of the lowest rates witnessed in the sector for revolving credit and indicative that borrowing costs are declining sector-wide.
Last February, direct Tier-1 cannabis peer Cresco Labs secured a $100 million term loan bearing interest at 12.7% per annum for 18-months loans and approximately 13.2% for 24-months.
Including smaller financing such as the completed $40.36 million equity offering by Jushi Holdings on January 7, Subversive Capital Acquisition private placement upsizing and newly-announced Planet 13 $50 million bought deal, U.S. cannabis operators have raised close to C$1 billion in the first two weeks of 2021.
Market Conducive For Capital Raising
With equity offerings forming the bulk of recent capital raises, MSOs are capitalizing on the large market increases in share values over the past couple of quarters. Higher equity prices maximize the amount of capital that can be raised relative to equity issued, thereby minimizing dilutive effects to shareholders.
As seen in the chart below, price action in U.S. MSOs has been running hot in 2021 —as indicted by AdvisorShares Pure US Cannabis ETF. The security displays strong upward trending momentum, having never registered a weekly close below its 7-period exponential moving average. The ETF's top holdings—which include Green Thumb Industries (10.94%), Trulieve Cannabis (10.79%) and Curaleaf (10.60%)—has risen on a similar linear path.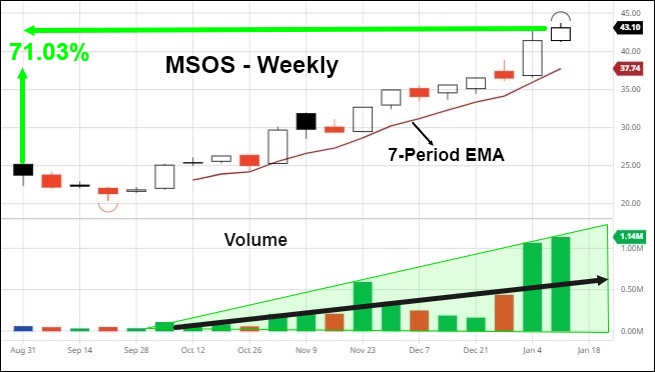 Another reason U.S. MSOs are swiftly raising capital is due to a favorable regulatory environment. This is explicitly stated by certain executives responsible to approving the deals:
This is an unprecedented time in the evolution of the cannabis industry. The 2020 election results will lead to accelerated regulatory changes at both the federal and state level and accelerated consolidation in the industry…

Jonathan Sandelman, Ayr Strategies CEO
As the U.S. cannabis industry continues to enjoy tremendous growth, and now with the Georgia results confirming Democratic control of the Senate, we anticipate the acceleration of legalization at the federal level and consequently, newly enhanced opportunities in the sector…

Boris Jordan, Curaleaf Executive Chairman of the Board
While a favorable outcome in the Georgia Senate runoff election was cited, the regulatory environment was already headed in the right direction.
On December 4, 2020, the House of Representatives voted in favor of removing marijuana from the federal Controlled Substances Act. The Marijuana Opportunity Reinvestment and Expungement Act, or MORE Act, if enacted, would have decriminalized cannabis and enabled plans to erase nonviolent federal marijuana convictions. However, with Republicans in the majority and Mitch McConnell as majority speaker, the bill was never prioritized.
Now that Democrats have taken full control of the executive and legislative branches of government, U.S. cannabis appears to be on a clear and expedited path towards normalization. The Georgia Senate sweep provides further, and perhaps unexpected, clarity on the favorable regulatory pathway that awaits. Expect additional financings as U.S. MSOs build up war chests to buildout capital intensive national retail footprints in 2021.