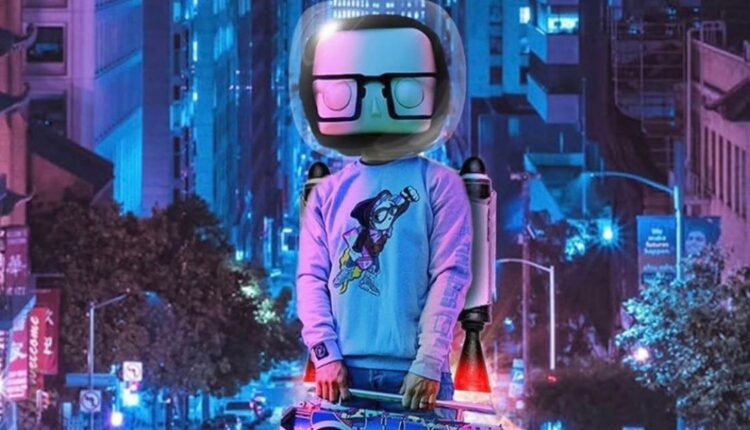 How a Small Tech Startup Became an NFL Success Story Overnight
In 2017, the NFL's San Francisco 49ers were 0-9 when a team employee coordinated with a California-based urban audio lifestyle startup called Bumpboxx in order to obtain one of the company's now-wildly popular, old/new-tech boomboxes.
The staffer — head coach Kyle Shanahan's assistant, Nick Kray — noticed that the team was getting fired up in the locker room but losing that energy in the quiet tunnel between the room and the field. He figured a super-loud Bluetooth boombox would solve that problem, and Bumpboxx delivered.
With their Bumpboxx in tow, the 49ers suddenly won six of their final seven games. They continue to swear by it, and they're now coming off a Super Bowl appearance.
That turnaround can mainly be credited to the emergence of quarterback Jimmy Garoppolo and the evolution of a revitalized roster, but Kray and Bumpboxx founder and CEO Rob Owens like to joke that Bumpboxx saved that season and spurred the 49ers into the success that followed.
That's tongue-in-cheek, but Bumpboxx's many (often informal) relationships with athletes, teams and other influencers helps explain why its signature product has taken off.
Not long after launching in 2016, Owens connected with Houston rapper Trae tha Truth, who has since become a partner and has put the company in front of about 1,500 celebrities and athletes as part of a unique, often handshake-based approach to marketing. Even if you haven't heard of Bumpboxx, you've probably seen their oversized-by-today's-standards speakers somewhere without even registering the sighting. They're all over Instagram, oftentimes not as the focal point of content, and they're in practically every professional sports locker room which means they're organically in a lot of pregame, postgame and celebration footage.
That's what makes Bumpboxx an intriguing young company. When the tech world was emphasizing small, they embraced big. When the tech world was focusing on sleek, they went vintage. And in a social-media world dominated by overtly sponsored content, they're getting a lot of their plugs without having to pay for them.
Now, with year-over-year profits up 380 percent and a deal on the horizon with what Owens refers to as a "major retailer" which he says will generate an initial order worth $350 million, we'd be smart to keep an eye on a business that Owens says continues to discuss the potential merits of an IPO.
The Dales Report caught up with Owens to talk about how his company has flourished by getting influencers to embrace its principal product without having to draw up complicated 50-page contracts with handlers, marketing managers and other middlemen.
The Dales Report: It seems like you have taken a direct approach to advertising by simply getting your product into the hands of those with influence. Is this deliberate?
Rob Owens: In the beginning, we didn't know if we'd go that route. But when I made the very first prototype, I put it on my personal Instagram page, and a rapper out of the Bay Area named E-40 sent me a direct message. He goes, 'I reposted that boombox and got 700 direct messages asking where they can get one.' And when he said that I was like, Wow, we gotta go forward with this project and I think we should go after celebrities for influence, because obviously people are looking at what they're doing and what they're posting.
TDR: All of these guys have huge social media followings so if you believe in your product and believe they'll like the product, there might not be any need for official endorsement deals. Just get them the product and the endorsement will come through organically. Is that pretty much how this has gone?
Owens: Pretty much, yeah. And it's been crazy because the artists often actually reach out to us directly on a direct message and say, Hey I really like that boombox. And what they're really in essence saying is I'd like to have one of those for free. And we don't require them to post at all, but they simply post because they love the product and they continue to post with it. When we're dealing directly with the celebrity, it's very easy to get a lot accomplished fast.
TDR: It's somewhat surprising more companies — especially startups — don't use this strategy. The middleman takes a hell of a cut, and this approach avoids that. But I guess the key is your product has to be cool. It has to be something the influencer truly believes in or it won't work.
Owens: Very true because all of these celebrities, you'll go to their place and they'll have boxes that they haven't even opened yet because they know it's clothing. They've got so much clothing thrown to them, but when they get this, it's like, Wow, I can take that to my garage and workout or put it by the pool in my backyard. Everybody loves music, so they love the product.
TDR: It also helps when you go the extra mile with customer service. Didn't you guys rush delivery Bumpboxxes to the New England Patriots in Atlanta during Super Bowl week? That gets you viral pickup online, too.
Owens: Yeah. So the Patriots have done that a couple times for the Super Bowl. They're like, We don't have any music where we're training at, and they always say they'll put one in the locker room so they'll celebrate with it. And we didn't pay anything for that. It just cost us the shipping to get the product out there. After they won, we sent the whole entire team a custom Patriots Bumpboxx.
TDR: It seems you've focused on sports more so than other realms of influencers. Beyond getting the product to musicians, is that a deliberate second avenue for you?
Owens: I wouldn't say 'second.' It's a pretty equal comparable, because we're actually one of the nation's largest distributors of baseball and softball equipment, and they're blowing through the units like crazy. Sports is big. We're in probably 90 percent of the MLB locker rooms, probably 90 percent of the NBA locker rooms and we're in every NFL locker room.
TDR: Do you fear that leagues could cut deals with specific brands and prohibit players from plugging your product in certain environments? That would likely be heavy-handed and would prompt union challenges, but you know they want their piece of the pie.
Owens: We've pretty much been given the green light all the way through. Do I get a little bit fearful that with the NFL, Bose might say, 'Hey, what's this product doing here?' Sure, but Bose isn't doing a boombox. Their main focus in the NFL is basically the headphones. So at this point we've been pretty lucky.
(Some answers were condensed for brevity.)
Owens admits there hasn't been much direct competition, but somebody will catch on and challenge Bumpboxx. That somebody may or may not adopt a similar strategy with influencers, but other businesses would be smart to follow that lead regardless of the industry.
For now, we'll keep watching Bumpboxx, potential challengers on the boombox market and those who might adopt similar approaches to marketing.
In the meantime, Owens has big plans for Bumpboxx. They're exploring the car audio industry and have preliminary plans to launch a "movie box" which would include a built-in projector.