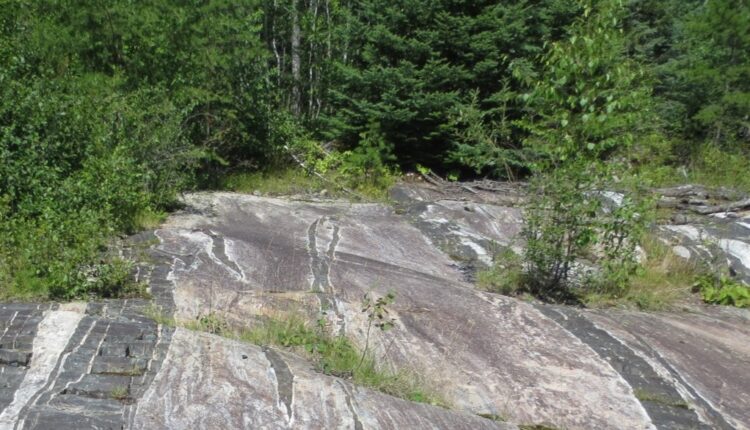 Champion Electric Metals: A Promising Lithium Junior Explorer With Potential
In a world where insatiable demand for lithium minerals is expected to sustain for an indefinite time period, Champion Electric Metals (CSE: LTHM)—formerly operating as Idaho Champion Gold Mines (CSE: ITKO)—is hoping to capitalize on this new 'gold' rush. While it is at the early stages of defining the mineralized zone at its Champion Electric Lithium Project near James Bay, Quebec, the company has proximity in its corner. Given the resounding success of Patriot Battery Metals drilling success in the region, that in itself makes Idaho Champion follow-worthy.
With the eastern flank of Idaho's Champion Electric Lithium Project adjoining directly north of Patriot's Corvette Discovery—perhaps the most heralded lithium deposit in Canada—the company is excited about the potential of experiencing similar drill success.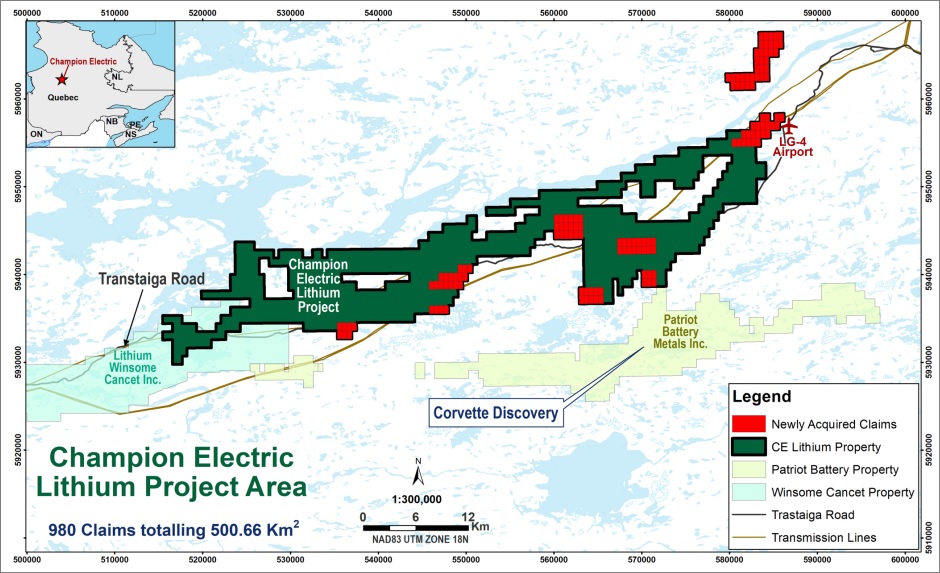 It was only 18 weeks ago that Patriot Battery Metals announced stunning grades from its 2022 drill program at Corvette, producing 156.9m interval of 2.12% Li2O—including 25.0m of 5.04% Li2O. The news propelled PMET stock by over 100% over the next thirteen trading sessions, already cementing the discovery as economically viable in the minds of many before the first NI 43-101 has even been contemplated.
The subsequent winter drill program at Corvette have done little to dampen the enthusiasm, returning mineralized pegmatite intervals of 122.6 m at 1.89% Li2O , including 8.1m at 5.01% Li2O (CV23-138), 130.3m at 1.56% Li2O , including 52.7 m at 2.45% Li2O (CV23-132), 101.3m at 1.44% Li2O , including 28.1m at 3.00% Li2O (CV23-134), and 10.1m at 2.42% Li2O and 4.0m at 4.13% Li2O (CV23-130) logged. These four drill holes define a new high-grade zone which is open on both sides of the zone.
Once airborne magnetic resonance testing and sampling is complete, the plan to submit the data and apply for a mining permit with the Government of Quebec. The company estimates that permit approval could take sixty days, allowing for drills to get into the ground this fall.
The results have cemented the eastern James Bay region of Quebec as one perhaps the hottest lithium pegmatite zones north of the 48th. They often have exceptionally large crystals of various minerals due to the slow cooling and high water content of the magma.
Lithium pegmatites are valued as a source of lithium, which is a highly sought-after element used in various industries, particularly in the production of lithium-ion batteries for electronic devices, electric vehicles, and energy storage systems.
Proximity Is Key As Champion Electric Metals Shadows Patriot's Significant Corvette Discovery
After a flurry of land claim activity so far in 2023, Champion Electric Metals now owns a total of 980 claims covering 500.66 km2 in the James Bay Region of Quebec. This is significantly larger than the 214 square kilometre land package controlled by Patriot Battery Metals at Corvette.
The same rock units that is Winsome, the same rock units that is Patriot, are the same rock units we see on our ground. So it's a matter of going in and doing the grunt work in the geology, and coming in with real drill targets, which we expect to have.

Jonathan Buick, President and CEO at Champion Electric Metals, March 21, 2023 (Source)
While its Champion Electric Lithium Project does not have the benefit of drill results in comparison to Patriot's Corvette Discovery, the adjoining proximity so close to a proven and large mineral deposits is noteworthy and advantageous for several obvious reasons:
• Potential for Discovery: Being in close proximity to proven and large mineral deposits increases the likelihood of discovering similar or related mineral resources. The geological conditions and mineralization patterns tend to extend beyond the known deposits, presenting an opportunity for the junior mining company to uncover valuable resources on their properties.
• Economic Viability: Large mineral deposits are typically economically viable to mine due to their size and grade. By having properties close to such deposits, a junior mining company may benefit from the established infrastructure and economies of scale already in place, reducing the overall development costs and increasing the potential profitability of their own operations.
• Attracting Investment: Proximity to proven and large mineral deposits enhances the attractiveness of a junior mining company to potential investors. The presence of valuable resources nearby indicates geological potential, increasing the perceived chance of success for exploration and development efforts. This can result in increased interest from investors, leading to additional funding opportunities for the company's exploration and development programs.
• Collaboration and Partnerships: When a junior mining company is located near proven mineral deposits, it may open doors for collaboration and partnerships with larger mining companies. Established mining companies often seek opportunities to expand their resource base and secure future supply. They may be interested in forming joint ventures or acquiring stakes in junior companies with promising properties nearby, providing access to additional mineral resources.
• Market Speculation: The proximity to proven and large mineral deposits can generate market speculation and excitement around the junior mining company's potential. This increased attention may lead to higher trading volumes and share prices, providing opportunities for investors who are looking to capitalize on market trends and potential value appreciation.
• Geological Knowledge Transfer: Being in close proximity to proven deposits allows for greater access to geological data and knowledge. The junior mining company can leverage the existing research, studies, and geological models developed for the nearby deposits to gain insights into the geological characteristics and potential mineralization of their own properties. This can help guide their exploration efforts and increase the chances of successful resource discovery.
While proximity to proven and large mineral deposits alone does not guarantee success for a junior mining company, it certainly increases the odds of it. Although Champion Electric Metals still needs to work through the process, obtain the requisite government permitting and produce assay results that justify the enthusiasm, the proximity to known deposits provide a compelling starting point many junior lithium explorers do not possess.
Strong Management Team And Insider Ownership
For investors that prioritize strong and vested executive ownerships as part of the due diligence process, Champion Electric Metals appears to check the right boxes. With a cheque-writing insider ownership which controls approximately 30% of the share count, the company's C-Suite is generally aligned with regular shareholder interests.
When executives and directors have a substantial stake in the company, they are more likely to act in ways that maximize long-term shareholder value. Their personal financial interests become closely tied to the company's performance, which can foster a sense of stewardship and commitment to its success.
Furthermore, the company boasts three members on the Board of Directors which have worked for major lithium companies such as Lithium Americas, LithiumOne and Neo Lithium—the latter which was acquired by Zijin Mining Group Co., Ltd. in a cash deal worth C$960 million in 2022. Lithium Americas Corp. is a sector major with a current market cap of approximately C$4.6 billion.
All told, Board members have been involved in successful lithium companies totaling over $6 billion in market value.
Champion Electric Metals: Exploring For Cobalt As Well
Champion Electric Metals is also involved in the exploration of another critical battery metal: cobalt.
The company's Idaho Champion Cobalt Properties encompass a total of 622 mineral claims, equivalent to approximately 16,975 acres. Among these properties are the Victory Project, located 6 km south of the Blackbird Mine, the Fairway Project, situated 3 km east of the town of Cobalt and 1 km north of the Blackpine copper occurrence, the Twin Peaks Project, which is 3 km from Electra Battery Materials' advanced-stage Iron Creek Project, and the Ulysses Project, positioned 2 km north of the Ulysses Mine.
Additionally, the neighboring Jervois Mining ICO Project is set to commence commercial production in 2022.
In the recent fall exploration program conducted on the Twin Peaks Project, various activities were carried out, including geologic mapping, ridge and spur soil sampling, site surveys, and a review of historical data. The exploration efforts unveiled vein and structurally controlled mineralization, which likely served as the host for historical mining.
Phase 2 field work, involving sampling, mapping, and a stream sediment survey has been undertaken this spring.