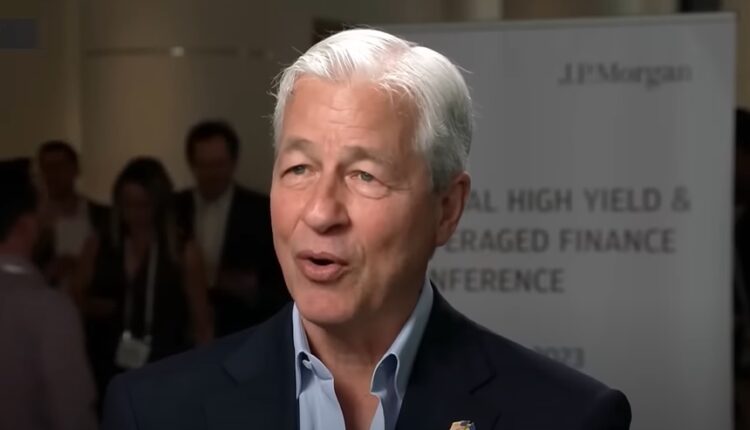 JP Morgan CEO Calls On Governments To "Evoke Eminent Domain" To Fast-Track Solar & Wind Farms
In news that has raised eyebrows this morning, JP Morgan CEO, Jamie Dimon, has proposed that governments take control of private land to build wind and solar farms to achieve net-zero targets.
In his annual shareholder letter, Dimon emphasized that green energy projects must be expedited as the window to avoid the most expensive consequences of global climate change is closing. He stated that reformations in permitting are necessary to allow timely investments. This includes the possibility of using eminent domain to accelerate grid, solar, wind, and pipeline initiatives.
Eminent domain is when a government or state agency takes possession of private property for public use and pays compensation to the asset owner.
In the United States, eminent domain is derived from the Fifth Amendment of the Constitution, which requires that just compensation be paid to the owner of the property taken. The government may use eminent domain to acquire land for public purposes such as building roads, schools, or other infrastructure, or for other uses deemed to be in the public interest. In this case, clean power generation to support global zero emission treaties and agreements.
Permitting reforms are desperately needed to allow investment to be done in any kind of timely way. We may even need to evoke eminent domain – we simply are not getting the adequate investments fast enough for grid, solar, wind and pipeline initiatives.

J.P. Morgan CEO, Jamie Dimon
Dimon's proposal is unconventional, especially coming from the longest-serving CEO of a Wall Street bank, and could be controversial, especially as U.S. states seek to curb seizure orders.
In Iowa, state legislators recently passed a bill aimed at safeguarding private property owners from eminent domain use by carbon pipeline companies. Dimon also remarked that the Ukrainian conflict is redefining the way countries and businesses plan for energy security.
He emphasized that economic growth, energy security, and climate change are inextricably linked, and that immediate action is necessary to provide energy affordably and reliably today, while making the necessary investments to decarbonize for tomorrow. He urged governments, businesses, and non-governmental organizations to work together to align practical policy changes that comprehensively address the issues that are slowing progress.
Additionally, Dimon highlighted that significant global investment in clean energy technologies is required and must continue to grow annually.
Mr. Dimon's comments come at a time when there is growing dissensus among Tier-1 investment banks and money managers about how to tackle climate change.
In December, Vanguard, the world's second largest asset manager, exited Mark Carney's global climate change alliance, saying the group's full-blooded commitment to tackling climate change resulted "in confusion about the views of individual investment firms".