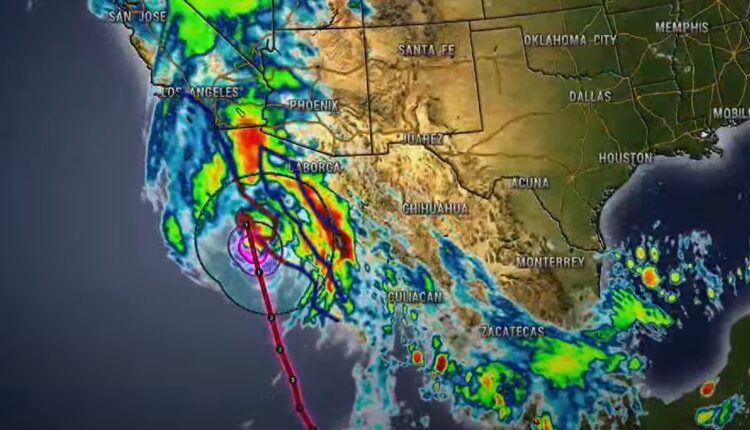 Officials Warn Of 'Catastrophic,' Life-threatening Flooding As Hurricane Hilary Approaches Landfall
As Hurricane Hilary barrels towards the Baja California peninsula, both Mexico and the Southwestern U.S. are bracing for the storm's impact.
The hurricane, which has already unleashed torrents of rain, is raising concerns about potential life-threatening flooding in the affected regions.
Tragedy struck in Baja California Sur when a family of five was engulfed by the sea while trying to cross a stream, resulting in one fatality. This incident underscores the storm's severity and the risks it poses to residents, Reuters reported.
The U.S. has also felt the hurricane's effects, with disruptions to flights and sporting events. The National Hurricane Center (NHC) said that, while Hilary is losing steam, it's expected to downgrade to a tropical storm by Sunday as it nears southern California.
Despite the weakening trajectory, the NHC has issued warnings about the potential for hazardous rains and storm surges. Areas in Baja California and California could witness up to 10 inches of rainfall.
"Flash and urban flooding, locally catastrophic, is anticipated, especially in the northern parts of the peninsula," the NHC cautioned.
Sign Up To The TDR Weekly Newsletter
President Joe Biden has been updated on the situation, ensuring coordination with state and local agencies, according to Reuters. In preparation, the Baja California peninsula has halted non-essential activities, including school sessions, until Monday.
Tijuana's authorities are also reportedly advising residents in high-risk areas to seek refuge in temporary shelters. Social media platforms have been flooded with images showcasing the storm's intensity, with scenes of flash floods in Santa Rosalia and roads being transformed into rivers.
Current data places Hurricane Hilary approximately 450 miles south-southeast of San Diego, advancing at nearly 20 mph. With wind speeds reaching up to 85 mph, U.S. officials are urging caution and preparedness.
Several flights and sporting events in California have been rescheduled or canceled in anticipation of the storm's effects.